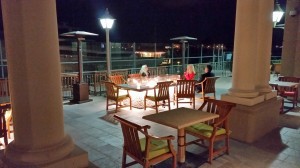 By Christopher Trela & Catherine Del Casale
It's time to "Deck the Hulls with Bows of Jolly" and watch the annual Christmas Boat Parade in Newport Harbor.
More than 100 elaborately-decorated boats will circumnavigate the perimeter of the harbor, cruising by a handful of waterfront restaurants that offer prime viewing areas. Dozens more restaurants are a short walk from the parade route.
The parade begins near the Fun Zone and Balboa Village restaurants starting at 6:30, hits Balboa Island around 7 p.m., passes Balboa Bay Resort, Pizza Nova, Billy's at the Beach and The Winery Restaurant & Wine Bar around 8 p.m., and then back to the starting point by 9 p.m.
Here's our guide to Boat Parade dining.
PARADE ROUTE DINING
Waterline at the Balboa Bay Resort is featuring a special three-course menu that includes choice of starter (cauliflower soup, tuna crudo, or beet salad with creamy goat cheese) and a main course of braised short ribs, seafood chowder, or broiled salmon filet. End with hot buttered rum or pistachio pot de crème. Cost is $70 per person. To make reservations, call (949) 630-4145 or visit BalboaBayResort.com.
A&O Kitchen + Bar at Balboa Bay Resort has a Boat Parade menu ranging from bacon wrapped dates to chicken wings to lamb meatballs. Every item on the menu is intended to be shared. Beer, wine, and cocktails are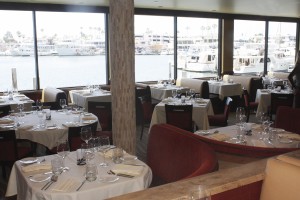 also available. Seating is first come, first serve. BalboaBayResort.com.
Billy's at the Beach will be offering a special three-course prix-fixe menu and with varied seatings that guarantee viewing of the entire parade, beginning at 6:30 p.m. The starter courses include New England clam chowder, Bermuda fish chowder or Ahi tuna tower, while entrées range from shrimp and scallops scampi style to prime charbroiled filet mignon. Sides are served family style and include lobster mashed potatoes, sautéed winter green beans, island stir fry vegetables, or fingerling potatoes. The dessert course is an assortment of freshly made holiday pastries. For reservations, call (949) 722-1100 or visit BillysattheBeach.net.
Harborside and Newport Landing will each have a similar four-course prix-fixe Boat Parade menu. The first course is a sampler appetizer plate including Ahi poke cup, coconut shrimp, and filet tip skewer. Choose
from a selection of soups or salads for the second course. The entrée course offers a wide variety items from land and sea. The dessert course is a choice of vanilla crème brulee, cheesecake, chocolate lava cake, or chef's holiday special. Price is $65 per person at either location. For Harborside reservations call (949) 673-4633 or visit Harborside-Pavilion.com. For Newport Landing reservations, call (949) 675-2373 or visit Newport-Landing.com.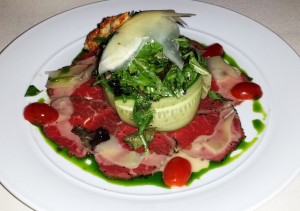 The Winery Restaurant & Bar will have a prix-fixe dinner menu from 5:30 to 8:30 p.m. every night of the parade. The first course is a Chef's Amuse Bouche. The second course offers a choice of six items including Colorado buffalo carpaccio and prosciutto wrapped wild white shrimp. The main course offers a choice of seven selections, including Christopher's favorite entrée, the New Zealand venison rack, plus grilled Australian lobster tail, and beef tenderloin and king crab legs. There are four selections for dessert, including the signature warm vanilla beignets. Price is $139 per guest and $49 for children 10 and younger. Reservations are required. Please call (949) 999-6622.
Hornblower Cruises is offering a dinner cruise with unique views of the parade on Dec. 17, 18, and 21. Cruise includes a boarding glass of champagne or cider, and a four-course seated dinner. Beer, wine and cocktails are available for purchase. There will be a DJ for dancing. Cost is $115 for adults, and $69 for children ages 4-12. Kids 3 and under cruise free. For reservations, call (949) 631-2469 or visit Hornblower.com.
 NEARBY DINING
Balboa Village and the Fun Zone offer a multitude of dining options that are a short walk to the waterfront and prime boat parade viewing.
The Sliding Door is one of our favorite restaurants in Balboa Village. It's charming and intimate, and offers an impressive menu of comfort foods (including short ribs) at reasonable prices. So does Patty Mac's, located about 100 feet from the Balboa Ferry. They specialize in mac and cheese (Christopher loves their lobster mac). Other notable new restaurants include Il Barone Pizza, Cruiser's and Maverick's Gastropub. Then there are old favorites such as Great Mex, Mint Leaf, and Balboa Barbie Q (a terrific BBQ spot).
Balboa Island is another terrific area in which to dine prior to or after the parade. The restaurants are not directly on the parade route, but they're a short stroll to easy parade viewing from almost anywhere on the perimeter of the Island.
Village Inn on Balboa Island has created three special cocktails to honor the first-ever Boat Parade Grand Marshals: actress Leslie Mann and singer Mark McGrath of Sugar Ray. The cocktails are The GingerbreadMANN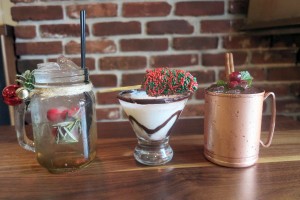 (made with cranberry rosemary ice cubes), The Village Inn Balboa Bar (a festive cocktail garnished with a piece of world-famous frozen banana), and The McGrath Moonshine Mule (served in a copper mug). The drinks are available during the entire month of December.
Once the parade travels around the harbor near Coast Highway, the waterfront restaurants are a great viewing option, but on the other side of Coast Highway is Garlic Joe's and JackShrimp, and further down A Restaurant, all great spots to dine before the parade.
Some restaurants such as Newport Beach Brewing Company, Bayside, 3-Thirty-3, Bluewater Grill, SOL Cocina and The Cannery, don't offer direct viewing, but they're a short walk from the waterfront and are usually less-crowded than restaurants along the parade route.
Parking can be challenging on Boat Parade nights, and many restaurants directly on the parade route often sell out, so your best bet might be those just off the route yet easily accessible to parade viewing.
For more information, visit ChristmasBoatParade.com.