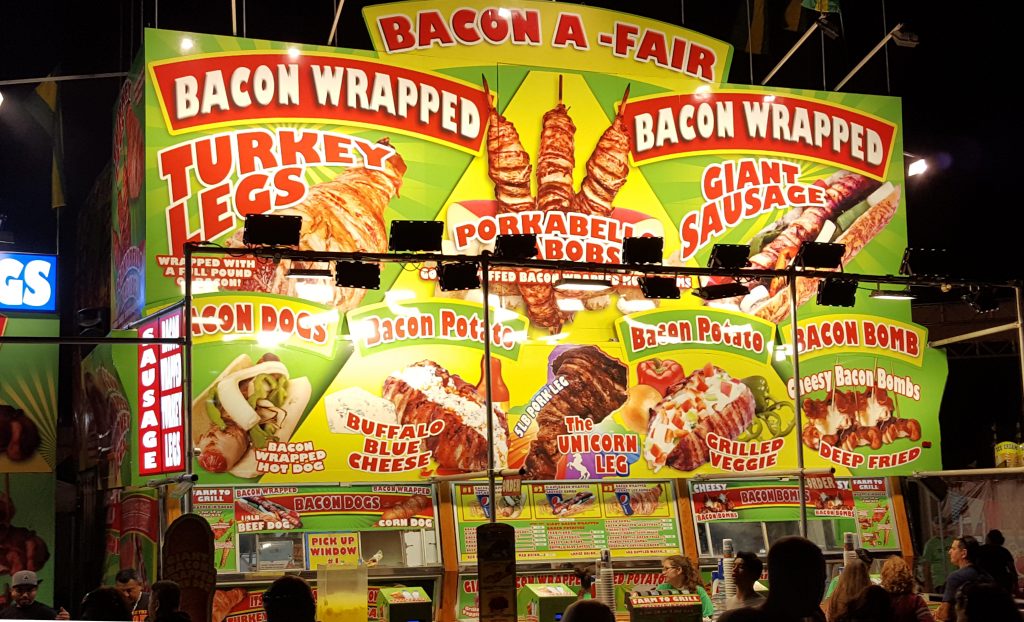 Five-pound barbecued pig leg. Bacon-wrapped Brussels sprouts. Fried peanut butter meatballs.  Krispy Kreme ice cream chicken sandwich. Fried octopus on a stick.
Yes, the OC Fair has returned, and with it another batch of outrageous culinary concoctions guaranteed to dazzle your taste buds while hardening your arteries and sending your daily calorie count through the roof.
The phrase "healthy dining" is not heard at the OC Fair, but that's the point—where else will you be able to try decadent (some might say disgusting) food you'd otherwise never even think of eating, much less cooking at home.
We had our foodie faces on last weekend when we sampled several crazy new food items at the fair. Our favorites this year: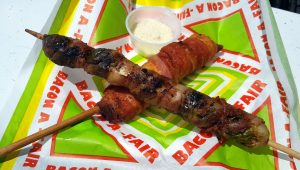 Pineapple on a stick, wrapped in bacon, grilled and rolled in parmesan cheese at Bacon-a-Fair: This food vendor is always our first stop at the OC Fair, and with good reason—everything they serve comes wrapped in bacon! This year, we loved the pineapple on a stick, wrapped with bacon, grilled and served with a side of parmesan cheese for dipping. "It kind of tasted like a pineapple bacon pizza on a stick," noted Catherine. "I loved the refreshing juiciness of the pineapple mixed with the smoky flavor from the bacon." And it was as close to health food as you can get at the fair.
Bacon-wrapped Brussels sprouts, grilled on a stick with olive oil and rolled in parmesan cheese at Bacon-a-Fair: The other "healthy" option from this food vendor, a delicious twist on grilled brussels sprouts.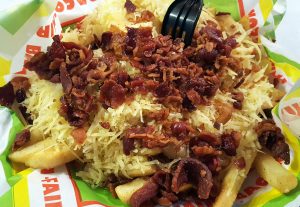 Truffle Bacon Gouda Fries at Bacon-a-Fair: The truffle bacon Gouda fries are not new, but they are a must-have every year. The cheese is aged Gouda, and who else at a fair but Bacon-a-Fair owner Mike Peterson is crazy enough to add truffle oil to a dish? Add some bacon on top, and you're good to go.
Five-pound pork leg, dubbed The Unicorn Leg, at Bacon-a-Fair: The unicorn theme was prevalent at several food vendors this year. We did not try the pig leg because we were full from the other items, but plan to go back and give it a try. And, since it's a pig leg, no need to wrap it in bacon—or is there?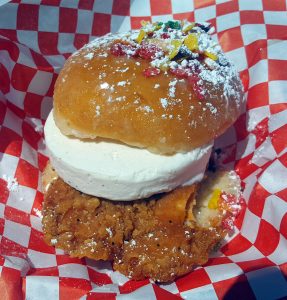 Krispy Kreme ice cream chicken sandwich at Chicken Charlie's: We can always count on Chicken Charlie's to concoct new deep fried creations for the fair, and once again he did not disappoint. This dish starts with fried chicken, adds a layer of vanilla ice cream, and puts that in between a Krispy Kreme donut—with a sprinkle of Fruity Pebbles on top. "It has a nice sweet fruity taste, reminds me of chicken and waffles but with a softer approach with the donut buns and nice cold ice cream," said Catherine.
Fried peanut butter meatballs with powdered sugar on top, at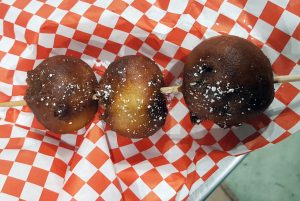 Chicken Charlie's: Catherine was too full so Christopher took the plunge and ate all three of these delicious treats, which he dubbed "a combination of entrée and dessert. The meatballs are well-seasoned, the peanut butter is not overwhelming, and deep frying the concoction locks in all the flavors. The powdered sugar adds a little sweetness. I would order these again."
Deep-fried ravioli on a stick at Pignotti's Pasta: "How can you go wrong with pasta, cheese, and fried?" stated Catherine, who loves any pasta dish. "I also had my eye on the lasagna sandwich, so I will have to go back to try that one."
A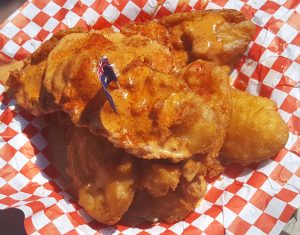 ustralian Battered Potatoes: Celebrating its 30th anniversary this year, the battered potatoes now feature a new sauce: spicy chipotle. "My favorite sauce in past years has been the chili sauce, but the new spicy chipotle has risen to the top," said Catherine. "It has a nice little kick to it and a creamier consistency then the regular chili sauce."
Cowboy Sundae at Chuckwagon: For those of you who go straight for the meat, this savory sundae has all the fixings, including layered cowpoke beans, western slaw, mashed potatoes, BBQ beef brisket, BBQ sauce and a cherry tomato, all for under $10.
One thing we were not able to try, despite walking the entire fair and asking for help at three information booths: the Unicorn Nitro Pop, described as a cotton candy ring around a colorful cup of kettle corn and whipped cream, submerged in liquid nitrogen. "Maybe it really is a unicorn, since we could not find it anywhere," said Catherine with a smile.
Want to try some of this decadent food without putting a big dent in your wallet, or your stomach? Food lovers can sample their way through the OC Fair on Thursdays from Noon to 4 p.m. with $3 samples during the Taste of Fair Food promotion. Fair admission is required and samples vary per vendor each week.
Daily culinary demonstrations can be enjoyed for free in the OC Promenade throughout the run of Fair.
The OC Fair is open Wednesday – Sunday, through August 13. For more information, visit ocfair.com.