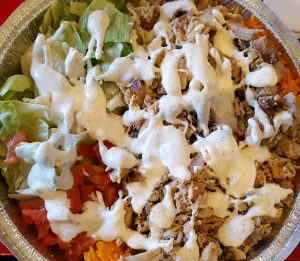 By Christopher Trela & Catherine Del Casale | NB Indy
Just because we frequently dine at upscale restaurants doesn't mean we ignore smaller spots that focus on one or two distinct items
This week, Christopher went to Halal Guys and Bowl of Heaven. Both are located in small strip malls, both have fanatic followings, and both offer relatively simple menus at affordable prices.
Christopher heard about The Halal Guys several months ago when this famous New York institution (five street food carts and two restaurants) came west and opened a small fast-serve restaurant on Bristol Street in Costa Mesa.
Lines were reportedly out the door and around the corner, which means they were probably not relying on just their reputation.
Christopher finally ventured to Halal Guys, and quickly learned why lines are still long, particularly at lunch time (the restaurant is open daily 11 a.m. to 11 p.m. or later).
The menu is indeed simple: a platter of either chicken, gyro or falafel with rice, pita, lettuce and tomatoes, or a chicken, gyro or falafel sandwich. Sides include fries, hummus or tahini with pita bread (the pita is warmed from sitting atop sizzling chicken piled on a grill).
Christopher opted for a chicken platter ($9.95), with extra white sauce, plus tahini. The portion was generous and filling, but what made the meal was the sauce. Christopher used two packets, and was pleased with the combination of flavors when everything was mixed together.
The restaurant is small, and lines can be long (but move quickly), so plan accordingly if you want to sit at one of the tables.
Visit TheHalalGuys.com for more information.
Another tiny dining spot that offers healthy but decadent delights is Bowl of Heaven in the Newport North shopping center at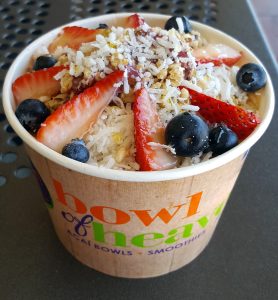 Bison and MacArthur.
Bowl of Heaven specializes in Acai Bowls, which run $7.79 to $9.79 depending on size (the North Shore Original also comes in a small bowl for $3.79).
You can customize the bowls, or just order one of the regular menu bowls, which is what Christopher did. His "Lime-A-Licious" was a combination of acai, strawberries, pineapple, blueberries, peaches, lime, organic coconut water and MAQ 7 (a proprietary blend of superfruits). On top of that mixture is organic granola (hemp and flax seed), shredded coconut, strawberries, blueberries and honey.
The taste is indeed pure heaven. Your palate thinks it's dessert, but your body knows it's healthy.
Christopher also sampled the new Almond Butter Bowl, made with dark chocolate and almond butter (the added fruit and granola did give it a somewhat healthy quotient). Wow!  
Bowl of Heaven also makes fresh juices and smoothies. For more information, visit the website at BowlofHeaven.com, where you can also pre-order your bowl for a specific pickup time.
Across the parking lot from Bowl of Heaven is Champagnes Bistro and Deli, Christopher's favorite breakfast meeting spot (Moulin Bistro and Wild Strawberry Café are also morning favorites).
Open for breakfast, lunch and dinner, Champagnes makes terrific deli and hot sandwiches and perfect pizzas, but their simple breakfast options are what keeps Christopher coming back.
His go-to breakfast treat (at least this month) is the breakfast sandwich ($7.25) with eggs, bacon or avocado, cheddar and mayo. Christopher holds the bacon and mayo, and adds mustard.
His other breakfast favorites are the old-fashioned oatmeal, breakfast burrito, brioche French toast, and the veggie omelet. All simple, all delicious, all reasonably priced.
Visit ChampagnesDeli.com for more information.