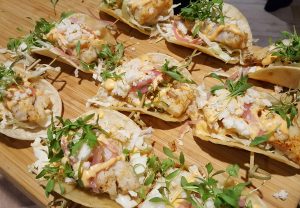 By Christopher Trela & Catherine Del Casale | NB Indy
Lighthouse Café at Marina Park on Balboa Peninsula is celebrating its one-year anniversary this week. To mark the occasion, we were invited to a special media tasting to sample some of Chef Ryan Sumner's recent creations.
We've been to Lighthouse Café several times since it opened, but always with our dogs in tow (they have a dog-friendly patio), so this was the first time we were actually inside the restaurant. It's small and cozy, with décor reminiscent of a lighthouse.
We sampled the pan seared scallops ($27.95) with sweet corn relish, baby zucchini and cauliflower puree, fish tacos
($7.95 as a Tuesday night special), red wine braised short rib ($22.95) with parsnip puree and oyster mushrooms, and two desserts: pecan banana bread pudding, and beignets with cinnamon sugar and cream cheese icing drizzle.
"I really enjoyed the short rib, it was flavorful and fell apart nicely on my fork," said Catherine. "And if you're looking for a new favorite dessert to warm you up during this winter weather chill, the pecan banana bread pudding is for you. It's soft with slight crisped edges drizzled in salted caramel and topped with sweet brûléed banana and butter pecan ice cream."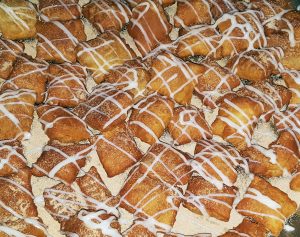 "And who doesn't love a good scallop," said Christopher. "These were cooked perfectly, and the bits of veggies with the puree were a nice addition. But I am addicted to the beignets. I lost count of how many I had, but they were a delicious and light dessert, with the cream cheese drizzle and cinnamon sugar adding the right flavor without being overpowering."
Marina Park has public boat docks so locals can bring their Duffy boats or larger yachts and do a "dock and dine" evening, or order food to bring on their boat as they cruise the harbor.
The Lighthouse is a perfect spot to dine and watch the annual Christmas Boat Parade, which runs nightly Dec. 14-18. The parade passes Marina Park, and The Lighthouse, around 8:40. The Lighthouse has a special $35 three-course Boat Parade menu available, or you can order off the regular menu.
And in case you're wondering, the Lighthouse Café is owned by Doug Cavanaugh, the founder of Ruby's and The Beachcomber (where Chef Ryan worked before coming over to The Lighthouse).
For more information, visit LighthouseNB.com.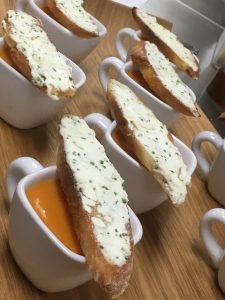 Cooking Like a Pro
We see so many chefs at work, and sample so much of their cuisine, that we're frequently in awe of their talents and wish we could cook like they do.
Catherine recently had the opportunity to learn first hand the methods of mastering the culinary arts when she took a cooking class at the CulinaryLab in Tustin.
CulinaryLab has been a place where those looking to pursue a career in the culinary went to pursue their education in professional culinary and pastry certificate programs. Now, CulinaryLab is open to the everyday person looking to develop new skills in the kitchen or impress guests with some seriously fantastic platted appetizers. a
These new single-day and short series classes focus on developing your skills as a home cook and entertainer. The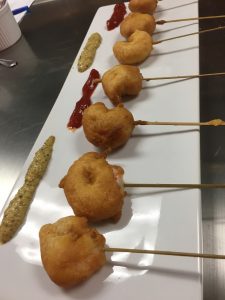 classes are open to all skill levels and provide n understanding of the entire culinary process from prepping to plating.
"CulinaryLab Home Cook Programs are designed for cooks of all levels, from newbie to experienced, who are serious about improving their cooking game. Unlike recreational cooking classes, our home cook programs are designed to create high-level skills that will last a lifetime," explains Ryan Wagner, Chef Director at CulinaryLab. "These not only provide an alternative to the limited cooking classes available to the public, but they also provide a great stepping stone to CulinaryLab's Professional Culinary Certificate programs."
The smaller class sizes (12:1 student-teacher ratio) allows the students to get a hands on experience.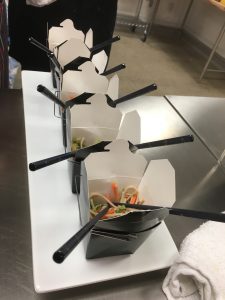 Catherine attended the hors d'oeuvres class, which she found "fun, creative, informative and useful. I learned how to make leftover risotto into a perfect party appetizer the next day in the form of shroomy risotto cakes with crème fraiche and herb salad. I also learned about the different ways I could present dishes like using a white or clear plate or if a buffet or tray pass would be better. When making the shrimp corn dogs with honey mustard and spicy ketchup, we got to get creative with the sauces to either be functional or fun on the plate. I loved that we made four completely different dishes in color, cooking style, presentation and taste. The class was well rounded and easy to follow. By the end of the course I felt like I could execute all four dishes with confidence and ease."
And for those serious about going on and pursuing the culinary arts, CulinaryLab offers apprenticeships at noted local restaurants, including Five Crowns, Provenance, Bosscat and Roy's (all in Newport Beach), plus other local favorites Pascal, Old Vine, and Studio.
If you want to wow your guests with your culinary skills this month, check out the "Not Your Mama's Holiday Cookies" class on Dec. 4, and the "Ooey-Gooey Candy Chewy" class on Dec. 14.
Classes begin at $99 for a single course. For more information, call (714) 788-3576 or visit culinarylabschool.com.