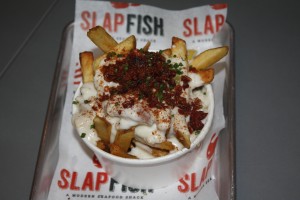 By Christopher Trela & Catherine Del Casale
Slapfish
Seafood and Newport Beach have long been a perfect match, so it's no surprise that Slapfish, a "modern seafood shack" founded in Huntington Beach in 2012 by Chef Andrew Gruel, would eventually open a Newport location.
The new restaurant, located near Jack's Surfboards at 2727 Newport Blvd. on the Balboa Peninsula, is the first Slapfish franchise, with many
more planned for So Cal. Slapfish offers fresh, sustainable fish dishes that are simple yet bold in their concept and flavors.
And, as we found out in our trip to Slapfish, the dishes can also be messy, but in a good way.
The menu contains just over a dozen options including appetizers and entrees, but that's plenty because what they do, they do extremely well. It revolves around a variety of daily and seasonally changing features, including chowder fries, clobster cakes, East Coast style lobster rolls, fish and chips, Baja fish tacos, and lobster toast.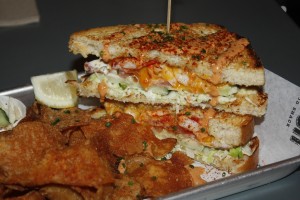 The restaurant's ambiance matches the menu. It has 35 seats, and feels like a fast-casual eatery only with better food and décor.
To sample the menu, we ordered the chowder fries ($6.50)—a bowl of fries with clam chowder ladled on top plus a topping of bacon bits.
"I love clam chowder, and fries, so this is the perfect combo," noted Christopher.
"I love the Mermaid Fries with the Awesome Sauce ($3.50)," said Catherine. "The hand-cut fries are drizzled with an arugula, spinach and romaine based sauce that reminds me of a chipotle aioli. It's topped off with a fried egg."
We also had the clobster grilled cheese sandwich ($15): half lobster, half crab, tomato, and Awesome Sauce.
"This is messy—I love it," said Christopher between bites.
"I really like the fish-and-chips burger ($9), which had fresh flakey whitefish crisped to a golden brown topped with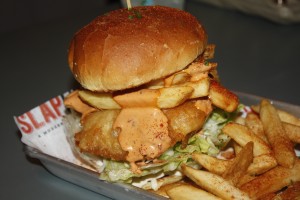 fries and Awesome Sauce in a fresh bun and served with some of their fresh cut chips (the American kind)," said Catherine. "I am also impressed with their Batch Craft fountain soda, which is locally produced, gluten free and made with pure can sugar. The Shirley Temple flavor was amazing!"
"Don't you mean awesome?" asked Christopher with a smile.
For more information, visit slapfishrestaurant.com.
Social
In a non-descript strip mall at Harbor Blvd. and 19th Street in Costa Mesa is a new restaurant unlike anything in the area.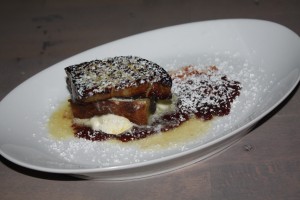 It's called Social, a new-American inspired restaurant that offers classic Southern dishes made with fresh California ingredients. They also feature one-of-a-kind craft cocktails using only housemade syrups, Cordials and bitters.
Chef Jeffrey Boullt worked at Commander's Palace in New Orleans, where he learned the finer points of Cajun and creole cooking. After making his way to California and working in kitchens here, he combined both styles by opening Social late last year.
Given that background, it's no surprise that Chef Boullt would offer a special Mardi Gras menu that's available through Fat Tuesday (Feb. 17).
The authentic menu includes chicken and Andouille gumbo, crawfish etouffee, decatur street muffaletta, po boy
with corn fried oysters, fried frog legs with remoulade, oysters Rockefeller, seared foie gras atop pain perdu with smoked cherry jus, shrimp and grits, and peel and eat crawfish.
Bar Director Mike West has created a themed cocktail called The Last Day of Sin, made with foie gras infused cognac, armagnac, apple cider shrub, and herbsaint rinse with dried apricot garnish.
Christopher has been to New Orleans three times and literally ate his way through town, so when he heard about the Social Mardi Gras menu, he knew he had to try it.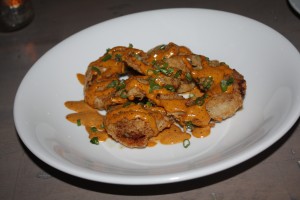 "The Last Day of Sin cocktail is fun and flavorful, and goes great with the foie gras dish," said Christopher. "You can eat your foie gras and drink it too. The frog legs ($15) are a decadent treat, perfectly seasoned and cooked."
Christopher also tried the house specialty: Brussels sprouts with honey, sweet potato, ham and hazelnuts ($12).
"This dish is addicting," stated Christopher. "I'm coming back to try more of the menu before Mardi Gras is over, although the regular Social menu looks intriguing too."
For more information, visit socialcostamesa.com.