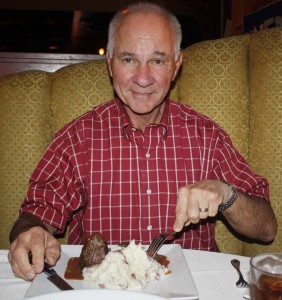 By Christopher Trela & Catherine Del Casale
One of our favorite times of the year is almost here: Newport Beach Restaurant Week, which has expanded from one week to two this year (Jan. 19 – Feb. 1).
Over those two weeks, 60 restaurants throughout the city are offering a variety of prix fixe lunch and dinner menus at prices designed to draw new patrons into the restaurants.
"We started expanding Restaurant Week two years ago with an extra weekend, and this year we said let's try it for two weeks," explained Jim Walker, president of the Newport Beach Restaurant Association and the co-owner of The Bungalow Restaurant in Corona del Mar. "It seems to stimulate the public and encourage them to eat out more often. The price points are great, so many restaurants are participating, that it becomes a community event."
Christopher had dinner with Walker earlier this week to sample The Bungalow's restaurant week menus, which are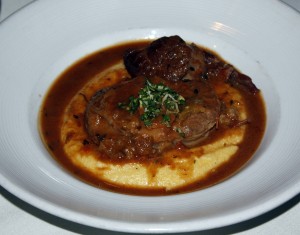 $20 for a three-course lunch and $30 for a three-course dinner, and learn more about Restaurant Week.
Entrée options for dinner at The Bungalow are osso bucco (veal shank, braising jus, white truffle and gouda polenta), peppered filet medallions (red skin mashed potatoes, Diane sauce), and escolar (baked in a saffron broth, with red skin mashed potatoes, tomato & olive ragout).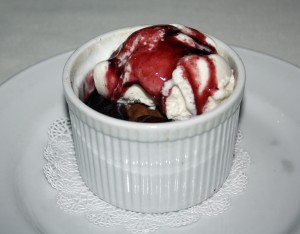 Christopher was impressed with the flavors of all three entrees, particularly the veal with the white truffle and gouda polenta. And his first three words while sampling the chocolate soufflé cake for dessert were "wow, wow, wow!"
"If you're going to put out a Restaurant Week menu, it should be a good value and reflective of what you're capable of in your restaurant," noted Walker. "It's an opportunity to put your best foot forward, and after its over have people say 'I want to go back to The Bungalow because I had a great experience there.' We're not cutting corners or giving smaller portions, we're not giving a lesser quality of meat, it's the same product we put out day in and day out. If you come back to The Bungalow, you'll get the same quality of product."
Walker's sentiments were echoed by Sindi Rae Schwartz, owner and executive chef of Muldoon's Irish Pub, whichhas been in Fashion Island for 40 years.
We had dinner with Chef Sindi this week, and again were impressed with the values she is offering with her $20lunch menu and $30 dinner menu.
At dinner, start with soda bread and sweet butter, and then an amuse bouche of smoked salmon on potato pancake.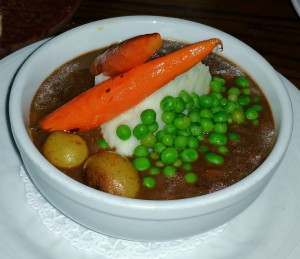 Choose a pub salad or soup of the day, and then one of three entrees: Irish stew (with a touch of Guinness), fish & chips, or traditional corned beef and cabbage. Dessert is either a mini dark chocolate sundae or a mini Irish berry trifle.
"I've updated the menu to more California items, but if you look at our sales, the top seller is Irish stew," Chef Sindi told us. "After 40 years, people still want to try the Irish food."
"I love that your Restaurant Week menu provides you with authentic Irish options," said Catherine. "It gives you with the opportunity to try something that may be outside of your usually comfort zone, like corned beef and cabbage, although my favorite would have to be the Irish stew. At this time of year, with the cold weather and the fire going in your cozy dining room I can't think of a better dish to complement the atmosphere."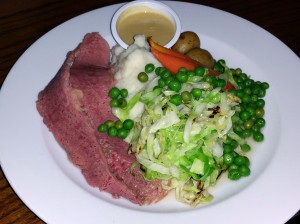 "I agree, the stew is terrific, but I'm in love with your corned beef and cabbage," enthused Christopher.
"We make our own corn beef," said Chef Sindi. "We wash it carefully, and cook it with our own seasoning. And we had to put the fish and chips on the menu, people love it. We think the menu is a nice way to lean about Muldoon's."
We also found out that Muldoon's still has its famous wassail (mulled wine) on the menu through the end of January—perfect accompaniment to any meal.
For more information, visit TheBungalowRestaurant.com or MuldoonsPub.com. For details on Newport Beach Restaurant Week, visit DineNB.com.