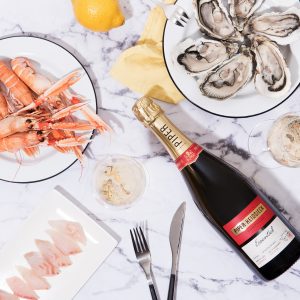 Montage Holiday Brunch
Two of our favorite words are champagne and brunch. Add to those holiday and the Montage Resort in Laguna Beach, and you have the Montage Champagne Holiday Brunch on the Studio Lawn, set for Sunday, Dec. 10 from 10 a.m. to 1 p.m.
This is a chance to sip Piper Heidsieck champagnes wile gazing out at the ocean—or at your plate loaded with everything from made-to-order omelets to seasonal salads to carved meats. There will be a raw seafood tower and oyster bar, and a pastry station that features warm gingerbread.
You'll be treated to bottomless Piper Heidsieck champagne, and you can sample the exclusive Piper Heidsieck Rare 2002.
The cost for this culinary celebration is $125 per person, plus tax and gratuity. Call (949) 715-6420 or visit montagehotels.com/lagunabeach.
Nobu for Lunch
If you just can't enough of that terrific Nobu sushi, you're in luck: Nobu in Lido Marina Village opens for lunch starting Nov. 4.
The lunch menu offers Nobu signatures and exclusive new dishes including the Nobu Lobster Roll, the Tonkatsu Sando, and the Takumi Burger.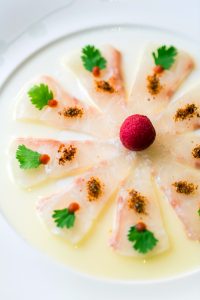 We're told that additional off-the-menu dishes are on the horizon, so you can experience the latest chef creations alongside Nobu Style signature dishes like Yellowtail Sashimi with Jalapeño and Black Cod with Miso.
The new lunch menu will be offered daily on the first-floor waterfront patio and in the bar & lounge from noon until 5:30 p.m. For reservations, call (949) 429-4440 or visit noburestaurants.com.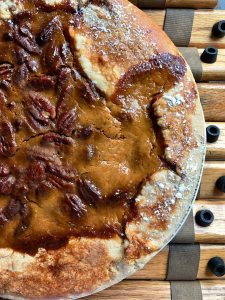 Just Desserts at Provenance
Executive Chef and Restaurateur Cathy Pavlos has introduced new desserts and dessert cocktails at her Provenance restaurant in the Eastbluff Village Center.
The new desserts include twists on seasonal classics such as Apple Pie a la Mode on the Beach with Caramelized Granny Smith Apples, Bourbon-Candied Pecan Sauce, Spiced Cookies, Caramel, Vanilla Bean Ice Cream, and Cinnamon Sand.
Or how about Old Fashioned Gingerbread Waffles with Brandy Spiced Poached Pears, Toasted Walnuts, Burnt Honey, and Crème Anglaise?
One of the winter cocktails we can't wait to try: Provenance Espresso Martini with Absolut Vanilla Vodka, Tia Maria Coffee Liqueur, and an Espresso Shot in a Martini Glass Lined with Housemade Chocolate Sauce!
We'll be sampling these decadent desserts next week and will report back soon.
For more information, visit provenanceoc.com.