It's December, and while the temps may be getting colder, the culinary world is heating up with restaurant openings and special seasonal dishes.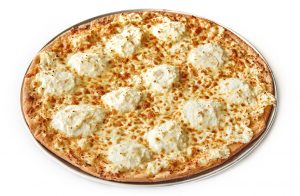 Dreaming of a White Pizza
If you're dreaming of a white Christmas, why not a white pizza?
Fresh Brothers is ringing in the holiday season with a new White Pizza available now through New Year's Day at all 18 locations, including its two stores in Newport Beach.
The three cheese White Pizza features dollops of creamy ricotta, romano and crushed garlic on fresh-made crust drizzled with extra virgin olive oil, layered with ricotta and topped with all-natural mozzarella.
"We wanted to pay homage to the classic white pizza while showing Fresh Brothers' commitment to quality by using premium ingredients," says Scott Goldberg, Executive Chef of Fresh Brothers. "For example, we blend part-skim ricotta and whole-milk ricotta–just the right combination with all-natural mozzarella and romano on pizza dough that we make from scratch every day."
"We wanted to create a fresh and flavorful new pizza for families and friends to share during the holiday season," said Adam Goldberg, CEO and Founder of Fresh Brothers.
And since Christmas is all about giving, we went to Fresh Brothers and got a large white pizza to bring to our office to share with fellow writers. Of course, we also had to get some of the fabulous meatball sliders and chicken sliders, wings, and a salad.
The verdict? In a word: Yum!
For more information, visit FreshBrothers.com.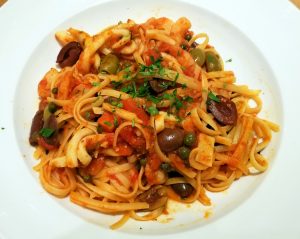 Casa Barilla
The Barilla brand of pasta has been around for more than a century, but it's only been in the past several years that the company has opened its own brand of pasta-based restaurants, mainly in New York.
However, a new Café Barilla opened in South Coast Plaza last month, and we couldn't be happier. Open for lunch and dinner, the 2,600-square foot restaurant occupies the space vacated by Rainforest Café, and serves a variety of pasta, pizza, panini, and salads.
"This is the lifestyle we were raised on," says Barilla's Executive Chef Alfonso Sanna, who has cooked professionally for more than 30 years in both Italy and the United States. "The Italian way of eating is one of the healthiest in the world."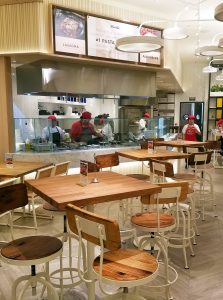 We had dinner at Café Barilla this week, and were impressed with the food, and the convenience.
"This is a great spot if you need to stop in for a quick bite during your holiday shopping, or if you want something filling before heading to a show a South Coast repertory or Segerstrom Center, which is just a short stroll across the bridge," said Catherine.
Upon entering Barilla, customers order at the counter, take a seat, and within minutes your meal arrives (you can even watch it being prepared in the open kitchen).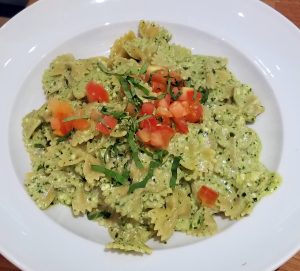 "I like the fact that you can customize your pasta by choosing the whole grain, organic or gluten free option. The menu indicates which dishes are vegetarian, vegan, whole grain, signature, or my personal favorite, good for you and the environment."
Catherine chose farfalle Genovesi ($9.95), a vegetarian option that includes Protein Plus pasta, homemade pesto genovese, fresh ricotta and chopped tomatoes, while Christopher ordered linguine vesuvio ($12.95), sautéed with calamari and shrimp, with capers tomatoes, olives and spicy tomato sauce (which was not too spicy). "The pasta was served steaming hot and had a nice creamy consistency to the sauce without being heavy," said Catherine.
For more information, visit CasaBarilla.com.