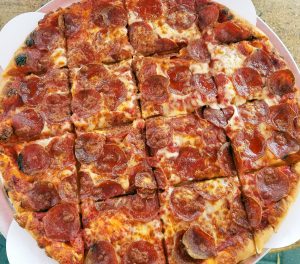 It seems like every food has a special day reserved for it, but one that Catherine has bene looking forward to is National Pepperoni Pizza Day on Sept. 20.
Of course, for Catherine every day is pizza day, but on this special occasion we're going with a brand that is not your everyday pizza: Fresh Brothers.
The popular family-owned pizza chain has two locations in Newport Beach: one in Harbor View Center on San Miguel, and another in Westcliff Plaza on Irvine Avenue.
Fresh Brothers offers an all-natural pepperoni pizza, which we think is tastier and far less greasy than regular pepperoni pizza.
According to Fresh Brothers, their all-natural pepperoni has no artificial ingredients, is minimally processed and contains no nitrates. The all-natural mozzarella on the pizza is made without preservatives, fillers or artificial ingredients, and no GMOs.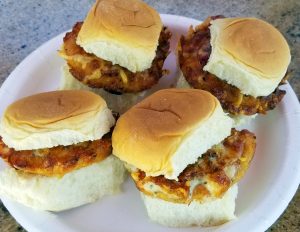 According to Adam Goldberg, CEO and Founder of Fresh Brothers, "using all-natural pepperoni is another example of how we listened to our customers who are seeking better-for-you ingredients for themselves and for their families. So far, we've heard a ton of positive feedback."
We sampled the pepperoni pizza earlier this week, along with some wings, chicken sliders, meatball sliders, and the signature Sweet Knots. The pizza remained our favorite, but the sliders (served on King's Hawaiian sweet rolls) were delicious.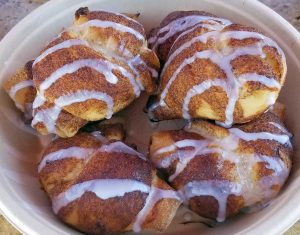 Things we love about Fresh Brothers: The dough is made fresh daily with no egg or soy; Nothing is ever fried—only baked; plenty of gluten-free, vegan and dairy-free options are available.
A fun fact we learned while dining at the Westcliff Plaza location: Fresh Brothers sells personal pizzas at all Newport Harbor High and CdM High games. And because the schools play each other this Friday, Fresh Brothers expects to sell more than 500 pizzas at the game.
For more information, visit FreshBrothers.com.
Fun Pepperoni Pizza facts:   
"Peperoni" is the Italian word for large peppers, as in bell peppers, and there is no Italian salami by that name, though some salamis from Calabria and Apulia are similarly spicy and flushed red with dried chilies.
Americans consume 251.7 million pounds of pepperoni each year.
36 Percent of pizza orders that specify pepperoni as a topping.
3 billion pizzas are sold in the U.S. each year