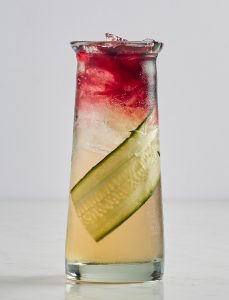 September is California Wine Month, and California Pizza Kitchen (including the location in Fashion Island) is celebrating the occasion – and our hot weather – by featuring the restaurant's signature Sangria.
Sangria selections include the Orchard Sangria (white wine, St. Germain Elderflower, Monin Stone Fruit, orange & cranberry juice), Red-Berry Sngria (red wine, Rémy VSOP, Monin Blackberry, Perfect Purée Raspberry, cranberry juice and lemonade), and a Beehive Sangria (white wine, Cointreau, Monin Lavender, Perfect Purée Strawberry, honey and lemon).
You can also get a Sangria flight with three 3oz pours of those Sangrias.
One more Sangria available at CPK: the Sparkling Sunset Sangria, described as a mashup of California merlot and French rosé along with St. Germain Elderflower, agave nectar, fresh lime and sparkling water.
So what makes a good Sangria?
"The quality of the ingredients," stated Ashley Ceraolo, senior vice president of marketing and beverage at California Pizza Kitchen (and a 2016 Wine Enthusiast Magazine 40 Under 40 Tastemaker). "We use fresh ingredients instead of pre-boxed syrups or purees. We use fresh juices and fruits."
Ceraolo said that the fruit in a Sangria is very forgiving and adds natural sugars and more complexity to the drink.
"Cherries and peaches are one of the best combinations, but you can add any kind of fruit, especially to a white Sangria," she said. "For traditional Sangria you need a Spanish red wine which does not have high tannins—you want something soft and mellow. I prefer Pinots for my red Sangria because they are a little fruitier and low in tannins. For white, pinot grigio or pinot gris. Right now, rosés are trending, so we have a new Sangria called the Sparkling Sunset Sangria, which features M. Chapoutier 'Belleruche' Rosé which has beautiful components of cucumber, St. Germain, agave and lime."
For winter, Ceraolo said red berries and red wine are the perfect combination.
"People think of red for the holiday season, and berries have always been a popular mix. For summer we've had crisper notes of lavender and strawberry. You can pair our Sangria with strawberry shortcake or the strawberry salad."
Of course, CPK has a nice wine list that goes well with pizza and pasta, but at the moment, Ceraolo said the Sangria is outselling regular wines.
You can sample the Sangria at the CPK inside Fashion Island. Visit CPK.com for more information.