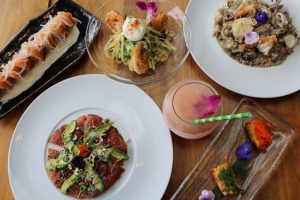 Roku is Rocking the Sushi
Sushi Roku is celebrating its second anniversary in a big way this week: 50 percent off the entire food menu on Monday and Tuesday (dine-in and dinner only).
Sushi Roku will also offer an exclusive anniversary menu through June 20 with a la carte specials designed to showcase the sushi experience for which the restaurant is known.
The anniversary menu includes: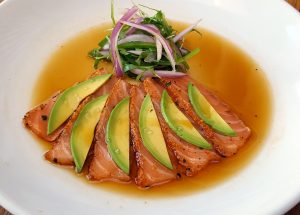 Uni Toast: Japanese Bread, Uni, Japanese Garlic Butter Sauce, Red Caviar, Green Caviar, Black Caviar.
Tuna Pizza: Flour Tortilla, Marinated Tuna, Spicy Tuna, Wasabi Aioli, (Bacon or Crispy Mushroom), Balsamic Reduction, Chili Serano, Kaiware Sprouts.
Bamboo Seafood Risotto: Bamboo Rice, Prawns, Calamari, Scallops, Shimeji Mushrooms, Butter Shallot Chicken Stock, Reggiano Parmesan Cheese, Black Truffles.
Kuma Roll: Crab mix, Avocado, Smelt eggs, Salmon, Maui onions, Bonito flakes, Roasted garlic onion sauce.
Summer Ramen: Bincho Grilled Prawns (Garlic, Salt and Pepper), Cucumber, Micro Cilantro, Poached Egg, Crispy Mushroom, Baby Frisee, Miso Sesame Soy Sauce, Ramen Egg Noodles.
Anniversary Roku Fusion: Svedka Vodka, Pineapple, Honeydew, Cantaloupe, Watermelon Dry Ice, served with a bamboo straw.
Carnival Cake: Cotton Candy, New York Cheese Cake, Strawberries, Bacardi 151 Rum.
Guests will also have an opportunity to experience craft cocktail, sake and wine pairings to complement the menu.
We love Sushi Roku – even Catherine, who is not a sushi fan, changed her mind about sushi after dining here. We plan to take advantage of the half-off menu next week.
Visit sushiroku.com for more information.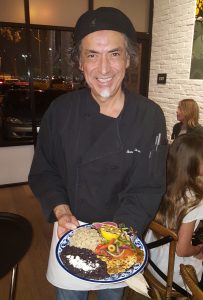 Taco Rosa Serves GMO-free Corn Masa
Ivan Calderon, founder and chef of Taco Mesa and the upscale sister restaurant Taco Rosa (with a flagship location in Newport Beach) recently introduced a new concept: Taco Mesa Tortillería Orgánica & Café in Orange.
The new restaurant has a large kitchen and will be providing artisan GMO-free corn masa and tortillas to all his locations.
"With this evolution of our brand, we continue to honor our ancestors, our bodies, and the earth," explained Chef Calderon. "We are committed to decolonizing and indigenizing Mexican cuisine by taking it back to its roots, which is why sourcing the GMO-free corn and taking an artisan approach to making masa is such an important step for us."
According to Calderon, 92 percent of all corn in the world is genetically modified. In February, Calderon made the switch to GMO-free corn at all six of his locations, but the opening of Taco Mesa Tortillería Orgánica & Café gives him control over sourcing, along with the creative freedom to mix unique corn masa blends that incorporate superfoods and spices.
He can produce up to 200 dozen tortillas per hour. Calderon intends to wholesale his GMO-free corn products to local retailers and restaurants.
For more information, visit tacomesa.com and tacorosa.com.