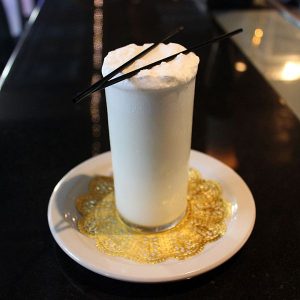 "Taste of Louisiana" at Bluewater Grill
Mardi Gras and "Fat Tuesday" concluded earlier this week, but Bluewater Grill intends to carry the celebration into March with a "Fat Tuesday" tasting of its own.
The festivities begin on Tuesday, March 13 with a "Taste of Louisiana" event that combines California-inspired versions of Redfish, Gumbo and Crabcakes with specialized drinks. Also featured are Bluewater Grill Oysters Rockefeller.
As part of the festivities, Bluewater bartenders will pour the New Orleans Fizz, also known as the Ramos Gin Fizz, created in the late 1800s by New Orleans favorite son Henry C. Ramos. As legend has it, the cocktail became so popular that by the 1915 Mardi Gras celebrations, Ramos' 35 "shaker boys" had trouble keeping up with demand. Bartenders will demo the drink's famous vigorous shaking ritual to give it its unique fizz.
The cost of the March 13 pairing event is $34.95 per person. However, if you miss that event, a sampling of Redfish, Gumbo and Oysters Rockefeller will be available off the menu, and guests can add their own New Orleans Fizz from the bar menu to complete their personal Louisiana celebration.
For more information and reservations, visit bluewatergrill.com.
Best Bartender
On January 29, bartenders from across Orange County put their skills to the test to concoct the best Espolon tequila or Plantation Rum cocktails in a "Best OC Craft Bartender" competition hosted by Huntington Beach's Pacific Hideaway.
Bartenders from The Recess Room, Social Costa Mesa, Provenance (Newport Beach), Watertable, Tanner's Huntington, Mix Mix Kitchen Bar, 320 Main, The Blind Pig and Pacific Hideaway competed to win $500 and bragging rights.
The first round included a battle of cocktails. The top three contestants were then challenged to putting together a cocktail with only a few secret ingredients including Giffard's Wild Elderflower Liqueur, avocado, bananas and more.
Three impartial judges determined the winner.
Pacific Hideaway's head bartender, Casey Lyons, took home the ultimate title and prize. In second place was Grayson Diercksmeier from Social Kitchen + Craft Bar in Costa Mesa. Third place was Tanner Johnson from Watertable in Huntington Beach.