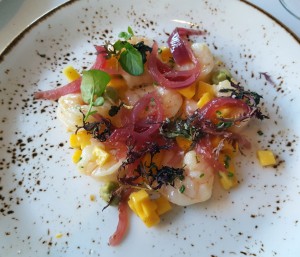 It's outrageous and in-your-face funny, but that's to be expected for a musical penned by the folks behind the equally-outrageous animated series, "South Park."
Yes, "The Book of Mormon" has returned to Segerstrom Center, much to the delight of a packed house on Wednesday night that laughed and applauded throughout the show.
For those unfamiliar with the Broadway blockbuster that nabbed nine Tony Awards (including Best Musical), "The Book of Mormon" was written by South Park creators Trey Parker and Matt Stone, with music from the Oscar-winning composer of Disney's "Frozen" and "Avenue Q," Bobby Lopez. Translation: a fast-paced, tune filled production that carries the "explicit language" warning.
The musical comedy follows the misadventures of a mismatched pair of missionaries, sent halfway across the world to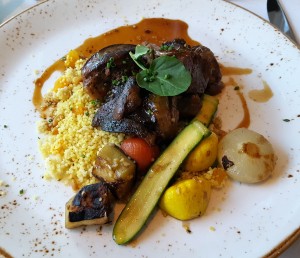 spread the word of Mormon.
Before getting a dose of "Mormon," fellow Indy writer Shelly Zavala and I dined at Leatherby's Café Rouge, where the brilliant Chef Ross Pangilinan creates a prix fixe, three-course themed menu ($47 per person) for each musical that comes to town.
For "The Book of Mormon," Chef Ross turned his creative culinary motor into high gear. The first course dishes (named after "Mormon" songs) were the "Orlando" shrimp and tropical fruit salad with avocado and greens, and the "Baptize Me" soup, which this night was a carrot and ginger puree. Both dishes quickly disappeared from our plates.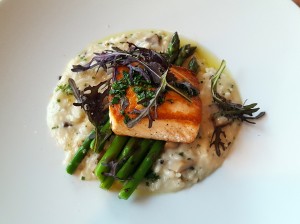 The entrees were the "I Am Africa" braised lamb shank with Moroccan couscous, apricot, pine nuts and roasted vegetables, and the "Tomorrow is a Latter Day" wild isle salmon with forest mushroom risotto with asparagus and chives.
"This salmon is one of the best I've ever had, maybe in my top three," said Christopher. "It's soft and moist yet firm enough to not fall apart on the fork, and it's melt in your mouth with a flavor that lingers. But the lamb shank is also excellent, and matches the song title perfectly."
Dessert was the "Spooky Mormon Hell Dream" tiramisu, and the "I Am Here for You" house made sorbet. I was able to snag a spoonful of tiramisu before Shelly gave me the "I need chocolate" look, so I contently polished off the sorbet.
After a short stroll to Segerstrom Hall, we took our seats and prepared for our "Mormon" experience.
Two and a half hours later, we were on our feet, giving the cast a well-deserved standing ovation.
I enjoyed "The Book of Mormon" when it was at Segerstrom Center two years ago so I knew what to expect, but Shelly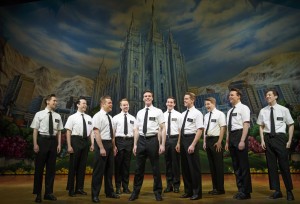 was a "Mormon" newbie, so I waited for her reaction.
"It was different than I expected," she said after the show. "I didn't think it would have that much of a plot, or that much music."
"And characters that you care about," I added. "You can see why they offer the explicit language warning, but judging from the audience reaction, that didn't seem to matter. Once you get past the outrageousness of the show…well, the entire thing is outrageous, but also oddly endearing, and highly entertaining."
For information on Leatherby's Cafe Rouge, visit PatineGroup.com.
For tickets to "The Book of Mormon," visit SCFTA.org.