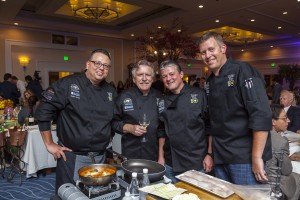 By Christopher Trela & Catherine Del Casale | NB Indy
 One of the tastiest charity events in Orange County is the annual Table for Ten culinary experience, held this year at the at Laguna Cliffs Resort & Spa on March 6.
This extravagant affair benefits two Orange County charities: Vocational Visions, which provides programs, services and personalized support to develop the talents of adults with disabilities, and The Teen Project, which provides teens aging out of the foster care system the resources and support of an intact family in order to allow them to successfully transition to adulthood.
Table for Ten featured nearly three dozen of the best OC chefs all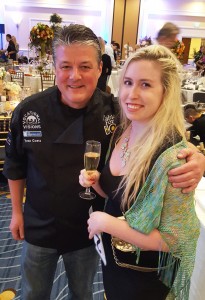 cooking table-side for tables of ten guests. At each table, chefs and their team create unique table designs, and then prepare a multi-course dinner (with paired wines) under the watchful eyes of their dining guests.
As dining writers, we look forward to this event every year, because it's always fun to see a room filled with elaborate centerpieces and exquisite table settings, and we can prowl the room and observe the myriad menu creations in between courses at our own table.
The evening began with a festive cocktail reception, where guests enjoyed libations and hors d'oeuvres courtesy of Anne Manassero from Manassero Farms and Pascal Olhats of Pascal and Café Jardin.
"I loved the crostini topped with fresh strawberry rhubarb and foie gras," said Catherine.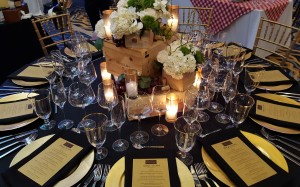 We were able to sneak into the ballroom before dinner and observe the last minute preparations. As always, we were dazzled by the décor and inventiveness of the table settings, which ranged from subtle wine boxes and floral designs at The Winery Newport table to elaborate (and tall) foliage at others.
"The centerpieces were even more extravagant this year, ranging from large trees with lanterns to delicate china and floral arrangements," noted Catherine.
Once the doors opened, we found our seats at the Catal table, where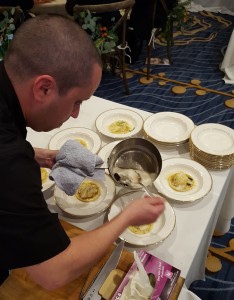 Chef Alfonso Ramirez (formerly with Pinot Provence in Costa Mesa) was already working on the first of his five courses, which included langostines, ravioli with sage, ribeye cap, and other delights.
During dinner, a live auction (led by gavel girl DawnMarie Kotsonis) featured over-the-top "Best of Chefs" dining experiences, as well as exotic trips;
Dinner costs were absorbed by the restaurants and chefs, so between the special underwriting from event sponsors, the live and silent auctions, and Fund-A-Need, Table for Ten was able to give $300,000 to The Teen Project and Vocational Visions.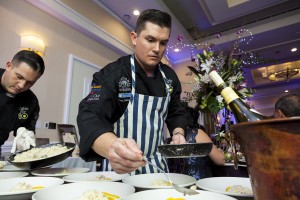 In addition to Chef Pascal, Newport Beach chefs participating this year included Yvon Goetz (The Winery Restaurant), Rachel Haggstrom (Balboa Bay Resort), Tony Trujillo (CUC!NA Enoteca), Mark Hibbs (Fig & Olive Newport Beach), Brian Doherty (Fairmont Newport Beach), Franco Barone (Il Barone Ristorante), Andy Arndt (Newport Beach Marriott Hotel & Spa), Marc Johnson (Oak Grill At Island Hotel), David Martin (The Pacific Club), Jean Pierre-Dubray & Micah Severeid (Coliseum Pool & Grill at The Resort at Pelican Hill), Yvon Goetz (The Winery Newport Beach), Jimmy Chang (Tommy Bahamas Island Grille), and Talia Zimmer (True Food Kitchen).
"This is a unique charity event, and it's amazing how many chefs come out and volunteer their time to raise funds for the various charities," said Catherine.
For more information, visit tableforten.org.