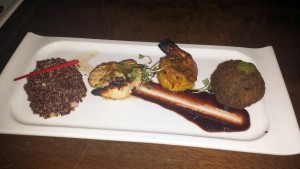 Still looking for a last minute spot for your New Year's Eve dining? Try Tamarind of London in the Crystal Cove shopping center, where they have a three course prix fixe menu for $72 per person.
I recently sampled some of the items from their New Year's Eve menu, and was very impressed. You have a choice between two appetizer plates, one of those for vegetarians. They both include grilled organic quinoa which has a lot of flavor, and a spinach kebab. The meat option also had a multi-seasoned piece of malai chicken and a buttery, juicy piece of shrimp, while the vegetarian has a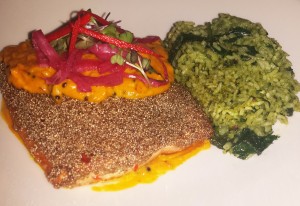 couple potato cakes (aioo tikki and potato croquet).
The menu also gives you five different entrees for you to choose from: an Indian cottage cheese in a buttery tomato sauce (Shahi Paneer), Spiced Chicken Vindaloo, Tandoori Bihari Steak, Australian lamb (Kashmiri Rogan Josh), or Slamon Johl. I was especially impressed with their Salmon Johl which was a poppy seeds crusted Atlantic salmon which had a great texture and burst of flavor from the poppy seeds without it being too much. It was served with warm naan, spinach rice and Moilee curry.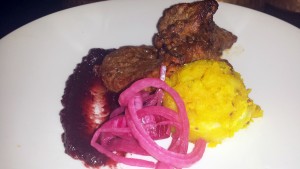 Another of the stand out dishes was the Tandoori Bihari Steak, the tri-tip which was seasoned with unique spices that I wasn't used to which kept my taste buds happy. When you paired it with some of the cranberry chutney it created this sweet and savory combination that was fantastic.
To complete the meal you can enjoy the Triple Chocolate Torte which has a dark chocolate mousse with Godiva white chocolate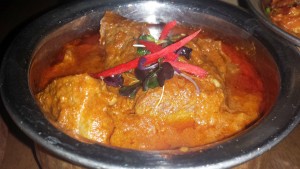 Bavarian cream and homemade Red curry ice cream. They make everything homemade, even the ice cream!
Visit www.TamarindofLondon.com