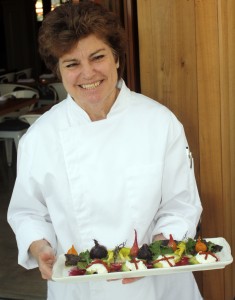 By Christopher Trela & Catherine Del Casale
'Tis the season for tradition, and nothing says tradition like a traditional Thanksgiving dinner.
A handful of restaurants in Newport Beach are offering Thanksgiving feasts ranging from prix fixe dinners to generous buffets.
Here's a roundup of some of our favorites:
Provenance
"You Host, We Roast!"
That's the message on the sign board at the entrance to Provenance in Eastbluff announcing Provenance's first Thanksgiving dinner.
Served on Nov. 27 from 4 to 8 p.m., the prix fixe menu is $42.50 per person and offers a cornucopia of tasty options.
First, start with a basket of their famous biscuits and honey butter, then proceed to either butternut squash bisque with crème fraiche, or clipped garden lettuces with verjus vinaigrette.
For the main entrée, it wwill be difficult to choose between these three selections: Diestel free range turkey breast and rich turkey gravy, certified angus beef tri tip with horseradish cream and port wine reduction, or Loch Duart Scottish salmon with pomegranate glaze.
The entrees all come with apple and sausage stuffing, caramelized garlic crushed potatoes, roasted maple yams, green beans, and cranberry chutney.
For dessert, enjoy a dessert bar with mini euro pastries.
A full bar and wine list is available.
For kids under 12, a special turkey dinner is available for $19.95.
There will be limited seating for this dinner and reservations are mandatory. For more information or to secure a spot, call (949) 718-0477.
True Food Kitchen
They're not open on Thanksgiving, but you can order a whole squash pie for your Thanksgiving feast. It's only available for a limited time during the holiday season. We've had the squash pie, and were surprised by how good it tastes. Christopher is a pumpkin pie fan, but gobbled up a piece of squash pie and ordered a second piece.
Visit TrueFoodKitchen.com or call (949) 644-2400.
Pelican Hill Resort
The restaurants at Pelican Hill Resort are cooking up some creative and diverse Thanksgiving dining menus for Thanksgiving Day.
Executive Chef Jean-Pierre Dubray creates a Thanksgiving brunch buffet with classic dishes, accompanied by live entertainment and children's activities, 11 a.m. to 4 p.m. $115 per adult, $55 per child.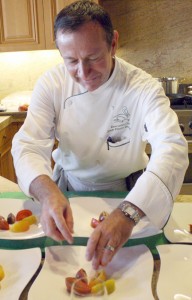 At Andrea Ristorante, savor Chef Marco's rustic Tuscan holiday menu, and live guitar music, noon to 10 p.m. $130 per adult.
At Pelican Grill & Lounge, Chef Derek offers a four-course California grill menu from 11:30 a.m. to 10 p.m. Entertainment includes a pianist, bass player and vocalist. $120 per adult, $60 per child.
Coliseum Pool & Grill serves a breakfast buffet from 7 a.m. to noon, and then from noon to 10 p.m., a Thanksgiving à la carte dinner menu features turkey specials. Breakfast buffet is $55 per adult, $25 per child.
Call (855) 467-6800 or visit pelicanhill.com.
Oak Grill
The Island Hotel elevated its dining experience this year with the opening of Oak Grill, which means an elevated Thanksgiving dinner.
This year, two different Thanksgiving dining options are available.
You can have a festive meal at the Island Hotel's Private Event Space served from 11 a.m. to 4 p.m.
For $65 per adult (free for children 12 and under), enjoy familiar foods inspired by the contemporary cuisine of Grill, including free-range turkey with all the fixings, customizable risotto, farmers market salads made to order, and more.
Live music completes the experience. Parents can watch football after their meal while kids explore a children's craft area.
Option two is Chef Marc Johnson's creative prix fixe four course Thanksgiving dinner at Oak Grill for $85 per adult (with an option of wine pairings for an additional $25).
Start with slow roasted butternut squash soup with banana bread croutons or baby kale and charred pear salad, followed by a second course of pumpkin ravioli with sage brown butter or fall vegetable risotto with port gastrique.
For the main course choose either turkey with cornbread fennel stuffing, seared Atlantic salmon, or filet mignon. End with pumpkin pie, dark chocolate pudding or a pecan pie donut sundae.
For more information, or to make reservations, visit OakGrillNB.com or call (949) 760-4920.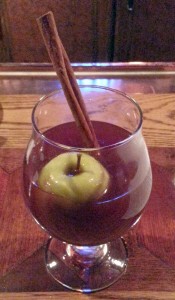 Muldoon's
Wassail is back!
We love Muldoon's wassail (mulled wine), but they only serve it during the holidays, which means starting Thanksgiving eve you can enjoy this tasty adult treat.
Muldoon's is closed Thanksgiving day so enjoy a Thanksgiving eve feast, or place an order for Diestel turkey breasts, Irish stew or apple pie for pickup Thanksgiving eve.
Contact Mary Murphy, GM of Muldoon's, at (949) 640-4110 or [email protected].
Bayside
Bayside is serving a three-course prix fixe Thanksgiving menu for $46 per person or $19.75 for children 12 and under from 1 to 8:30 p.m. A limited a la carte menu is also available. Live entertainment from 4:30 to 8:30 p.m. visit BaysideRestaurant.com or call (949) 721-1222.
Harborside
Harborside in the historic Balboa Pavilion is serving a Thanksgiving buffet upstairs in the Grand Ballrooom from noon to 7 p.m. The buffet includes carved turkey, prime rib, stuffing, mashed potatoes and gravy, sweet potatoes, salads, salmon and seafood dishes, chicken, a chocolate fountain, pies, and more.
Cost is $32 for adults and $14 for children 5 to 10. Call (949) 673-4633 for reservations.
Back Bay Bistro
Known for their weekend brunch, Back Bay Bistro has expanded the brunch menu for Thanksgiving Day dining. From 11 a.m. to 4 p.m., enjoy a Thanksgiving feast that includes salads, soups, carving stations, seafood, an array of sides, and desserts. Cost is $45 for adults and $19 for children under 10. Call (949) 729-1144 or visit NewportDunes.com.
The Bungalow
The Bungalow in Corona del Mar is offering a three course, prix fixe menu for $50 per person. First course options: Corn chowder with applewood smoked bacon, butternut squash soup with cinnamon crème fraiche, Bungalow salad with bay shrimp, or Caesar salad.
For entrees, choose from pan roasted turkey breast with whipped mashed potatoes and house made stuffing, prime rib of beef, filet mignon, prime bone-in rib eye ($10 supplement), Northern Australian lobster tail ($15 supplement), blackened wild king salmon, or grilled swordfish.
Desserts include pumpkin pie, chocolate soufflé cake, berries & ice cream, or vanilla crème brulee.
Call (949) 673-6585 or visit TheBungalowRestaurant.com.
Balboa Bay Resort
Balboa Bay Resort's Waterline Restaurant serves a three-course Thanksgiving dinner from 2 to 7 p.m. that features corn bread with maple butter, butternut squash soup, pumpkin spice cured salmon, choice of citrus marinated turkey breast with oyster stuffing, filet of beef with bone marrow condiment, or buttermilk bread crusted sea bass with turkey jus and spelt risotto. Dessert is a choice of sweet potato cake with cranberry coulis or a pecan bar with coffee cremeux and milk chocolate mousse.
Live piano music and Bayfront dining guarantees a relaxing Thanksgiving dinner.
Cost is $85 for adults and $42 for children (4 – 12 years old). Call (855) 923-8301 or visit BalboaBayResort.com.