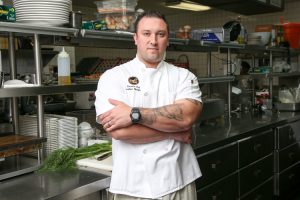 Whenever someone asks me for a recommendation on a good steak restaurant in Newport Beach, my answer is usually the same every time: A Restaurant.
I've dined at A Restaurant several times and absolutely love their steaks—which is saying a lot from someone who prefers salmon over ribeye.
"Over the last few years, we have formed an identity of a steak house—steaks are 50 percent of our sales," A Restaurant partner Jordan Otterbein told me recently. "That's what really defined what we are here."
Otterbein and his business partner McG are working on a new definition for their new venture under their company umbrella, River Jetty Restaurant Group: an American dining concept called CdM that is scheduled to open in late summer on Coast Highway where the old Crow Bar and Kitchen used to be.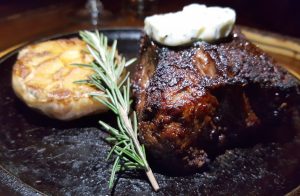 A Restaurant chef Jonathan Blackford has been appointed Corporate Executive Chef to guide both A Restaurant and the new CdM.
"The old Crow Bar space is being completely remodeled," said Otterbein. "We've completed the interior demolition, so it's a blank slate. Whatever you remember about the inside of Crow Bar is no longer there. We're keeping the downstairs area and we're going to have a speakeasy concept there. We've already hired a great mixologist, one of the best. It's going to be a cool room that seats 16 to 20 people."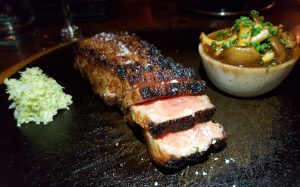 When diners enter CdM they'll encounter a large rectangle bar in the middle of the restaurants with booths on each side, similar to A Restaurant.
"It will have really high-end aesthetic, finishes, custom furniture, but not so nice that it has to be an expensive restaurant," noted Otterbein. "It will be similar to A Restaurant pricewise. Most people think we're reasonable but maybe on the higher end, but it's because of the quality of the steaks we sell."
Indeed, the A Restaurant steaks are a cut above the norm. The A5 steak they offer is a melt-in-your-mouth experience that made my taste buds swoon with delight and put a smile on my face.
But why open another restaurant that's only a mile or two down the road from your current restaurant?
"CdM will have super high end creative American cuisine," explained Otterbein. "It will be less steak centric. We have a pizza oven there, we'll have a couple of pastas, burgers, chicken, salads."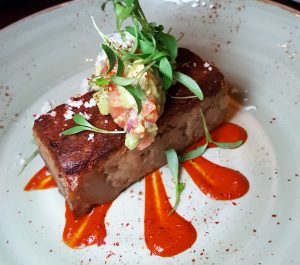 "We wanted to do things that sets us apart from other restaurants in the area," said Chef Blackford. "We'll have two very nice dry curing charcuterie cabinets, so I'll be making my own salami and prosciutto. We're going to have pastas made in house, a pizza oven, stuff we can't do here at A Restaurant."
Chef Blackford said the menu will be focused on American cuisine, which to him means a little bit of everything.
"Growing up in Pittsburgh, we had a heavy Italian, German, Polish influence that you don't see out here that much, so it's nice to add that to the menu," he said. "Out here you have Spanish and Asian influence, so it's fun to throw that on the menu too. When it all boils down to it, it's American. We just want to do good, tasty, creative food that we think people will enjoy. At the end of the day we just want to serve delicious food. That's the goal."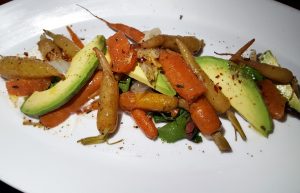 That's also the goal at A Restaurant, where Chef Blackford has been adding some new spring menu items, including a crab bruschetta.
"My wife is obsessed with avocado, but I'm from Pittsburgh and not a big fan," admitted Chef Blackford. "We have to try avocado toast wherever we go, so I said I am doing one here that I like. We take ciabatta bread and thin sliced avocado, then I make a cold crab salad. I add pea greens and warm pea puree underneath. It's very springy and super tasty. I also have a celery root steak with Kansas City BBQ sauce, and we just changed the soup to Italian wedding soup, which is the first time we have had that on the menu. I also just got some white asparagus, the best in the world, so I'm coming up with a dish for that, with truffles. Halibut is coming back in season, and we'll have lamb for spring."
Chef Blackford could add just about anything to his menu and I'd try it, which is why I'm looking forward to sampling his new items, and to the opening of CdM.
For more information, visit ARestaurantNB.com.