By Christopher Trela & Catherine Del Casale | NB Indy
Seven lunch items for $5 each—at The Bungalow?
Sounded too good to be true, so Christopher went to The Bungalow in Corona del Mar for lunch last week to check it out. He discovered that it was indeed too good—and true!
"We've created some new, unique items that we feel will please just about any appetite, and are also offering some of our prime steaks at lunchtime for the heartier eater," said Jim Walker, co-owner of The Bungalow.
Walker's partner Louie Feinstein said that "we hope to see many guests enjoying these new dishes on our covered patio
that was remodeled when we launched lunch a year ago."
"I'm calling this a Lucky 7 lunch—you're lucky to get seven dishes this good for $5 each," said Christopher. "And these are not small-portioned lunches—they're all very filling, and delicious."
The seven items: Hoisin Glazed Shrimp & Mango Salad; Smoked Turkey, Apple & Kale Salad; Red Dragon Chicken Salad; Shrimp BLT Sandwich; Lemon Rosemary Chicken Salad Wrap; Grilled Mahi Mahi & Wild Rice Salad; and Roasted Farmer's Market Vegetable Wrap.
Christopher wanted to sample several of the $5 items, so he started with the Red Dragon Chicken Salad with marinated pulled chicken breast, Napa slaw, cashews, fried wanton strips, and toasted sesame seed dressing.
"Wow—the portion is larger than I expected. I love the pulled chicken mixed in with the slaw, which is one of the best I've tasted. The cashews and wanton strips give the salad more dimension and a little crunch, and the dressing is perfect."
Next, he ordered that Shrimp BLT Sandwich, which has jumbo prawns and Applewood smoked bacon with lettuce, tomatoes, saffron aioli, and naan bread.
"I've never had naan used as a bun before, but it works well to hold the shrimp and bacon. The aioli is excellent."
Finally, the Lemon Rosemary Chicken Salad Wrap, with pulled chicken breast, rosemary, spinach, tomatoes, lemon, Italian dressing, and mayonnaise, inside a whole wheat tortilla.
"Again, an amazing value for $5—the chicken is tender, and all the ingredients blend perfectly."
The wraps and sandwich all come with shoestring fries, although Christopher was able to substitute fresh fruit with his sandwich.
The $5 lunch is available weekdays through Sept. 30. For more information, call (949) 673-6585 or visit thebungalowrestaurant.com.
Big Fish Tavern Has Big Flavors
The Bungalow owners Jim Walker and Louie Feinstein purchased House of Big Fish in Laguna Beach last year, and have been quietly remaking the restaurant, and the menu. They've also renamed the restaurant Big Fish Tavern.
Being Bungalow fans, we decided to dine at Big Fish Tavern to compare menus. We're glad we did.
Big Fish Tavern has a similar layout to the old House of Big Fish, although the décor is toned down yet welcoming. There is a large bar and lounge area with high top tables, and a covered patio that looks out to downtown Laguna and the ocean..
The menu is, as the name implies, heavy on fish dishes, although they also have burgers and salads, as well as starters such as filet mignon tips ($11) and short rib sliders ($10).
We learned that two of the most popular items were the Hawaiian ahi poke ($14) and the Peruvian style crab and shrimp ceviche with chili, corn, sweet potato and avocado ($14), so we ordered both.
On the advice of our server, we also ordered the hangover burger with fried and bacon ($12.50), which we learned was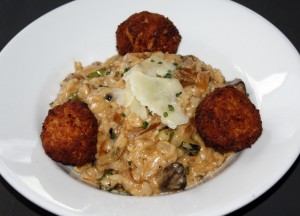 popular during televised sporting events, and the lobster meatball truffle risotto ($15) with asparagus and mushrooms.
We added the catch of the day: grilled Opah from Fiji ($24) served with pineapple-mango salsa, quinoa and roasted vegetables.
"I've never had such large pieces of ahi—the chunks make it easier to eat because you can spear them and not worry about having them fall off your fork," said Catherine. "I love the jar container for the ceviche, it really helps to keep all the flavors marinated together. I can really taste the lime."
"Again, generous portions of crab and shrimp, and the corn off the cob is a nice touch," added Christopher. "But for me the winner is the lobster meatball truffle risotto—it has that Wow! factor. So creamy, loaded with flavor. But I have to admit that burger is a beautiful, messy handful, and the opah is perfect for those who want a nice healthy fish dinner.
With the meal we had a glass of Sea Dog Blueberry Wheat, which Catherine deemed "delicious," and prohibition ale.
To complete the meal, we shared the upside down key lime pie, a fun twist on a familiar dessert.
Big Fish has specials every Sunday game day, Taco Tuesday specials, and Happy Hour Monday through Friday from 4 to 7 p.m. at the bar.
For more information, visit bigfishtavernlaguna.com.