By Christopher Trela and Catherine Del Casale | NB Indy
I've been captivated for months by South Coast Collection and OC Mart Mix in Costa Mesa. This trendy yet tasteful assortment of boutiques is also home to a handful of unique restaurants that are drawing dining fans from throughout Orange County.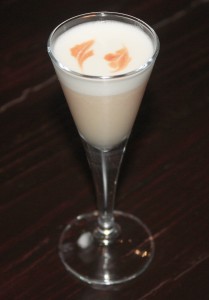 The newest of these is ARC, the creation of Newport Beach residents  Marin Howarth and Noah Blöm. I'd heard a bit of buzz surrounding this small but mighty restaurant that offers eclectic takes on rustic cuisine, so I welcomed the opportunity to attend a recent media tasting.
Catherine was unable to join me, as she started a three-day juice cleanse that day (details to come in a future column), so I went solo to the tasting.
Sitting at the counter, I was able to view the entire kitchen and watch every dish being hand-prepared and cooked over firewood-flamed grills and in a brick oven.
"We focus on flame, flavor and finesse. Everything we do is cooked over an open fire," noted Chef Blöm, who along with his culinary crew prepared a handful of dishes from the simple yet intriguing menu.
Our selections included Calamari with potato, lemon and pepper; meatballs with garlic, whiskey and toast; and chicken casserole with broccoli and cheddar.
The dishes are served in the skillets they are prepared in, and arrive still steaming.
We also sampled several creative cocktails, including a grappa sour with guava, elderflower and egg white; one called "Fighting Chance" with bourbon, calisaya and Creole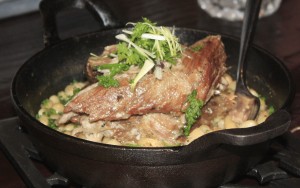 bitters; and my favorite: "Cigarettes & Coffee," made with rye whiskey, smoke and coffee.
The experience was so much fun, and the food so good, that I brought Catherine with me for a return visit.
"This menu looks fun," said Catherine as we settled into seats at the bar overlooking the flurry of activity in the kitchen.
"Since our column is called Off the Menu, I'm actually ordering something that's not on the regular menu," I confided. "Last time, a woman setting near me was enjoying a large burger, which she told me was on ARC's 'secret' menu. Apparently, if you know about it, you can order from it."
First, though, we ordered drinks. Catherine chose the "Italian Snow Cone," made with cynar, aperol, citrus and herbs. I went for the "Cigarettes & Coffee."
"I like this, it's a mix of sweet and tangy with just a hint of basil," said Catherine.
"This is the perfect whiskey cocktail," I said between sips. "Should go perfect with the burger."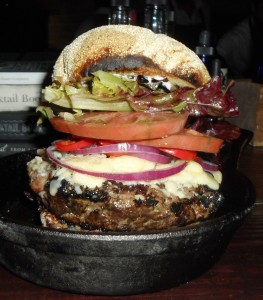 "This menu has enticing options that don't give much away as to what is actually in the dishes, but that actually makes it more exciting, especially since you can watch them cooking the food," she noted.
Catherine couldn't decide between the meatballs (which I had tried previously) or the pig dish, which came with beans (soaked in duck fat), maple and herbs, so we ordered both.
Everything arrived at once, steaming hot and perfectly plated–in skillets.
"This is so easy to shred with my fork, and I like the slight kick from the duck fat soaked beans," said Catherine. "I also like how the meatballs have a nice crisp outer edge."
"Ummmm…" I mumbled as I took a giant bite out of my giant burger. "This is one awesome burger, and it goes perfectly with the cocktail."
Current kitchen and bar menus can be found online at arcrestaurant.com. ARC is located in South Coast Collection,  3321 Hyland Avenue, in Costa Mesa. ARC is open daily from 11 a.m. to 11 p.m. For more info, call 949-500-5561.