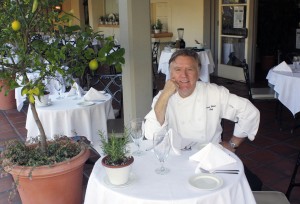 By Christopher Trela & Catherine Del Casale | NB Indy
 This week we cover three special events: a Garden Fusion Dinner at Sherman Library & Gardens, a Tommy Bahama Island Grill dinner, and the Balboa Island Wine Walk.
Garden Fusion Dinner at Sherman Gardens
Sherman Library & Gardens launched a Garden Fusions dinner series last year that became so successful it's returned again this year through October.
What's made it so successful? The dinners are a combination of information featuring guest speakers who are knowledgeable about various aspects of horticulture and gardening, and superb cuisine courtesy of our favorite French chef, Pascal Olhats, who owns Café Jardin at Sherman Gardens.
On Wednesday, May 27, the Garden Fusion series continues with "Artful Displays: From Garden to Plate," and highlights the inaugural sculpture exhibition, "Metaling on the Garden."
The dinner begins at 6 p.m. with hors d'oeuvres and a discussion with Ruben Flores of Laguna Nursery, who will discuss art in gardens and explain how to select and display outdoor art that adds color and drama to a garden.
Then, it's on to a three-course dinner dubbed "Art You Can Eat," created by Chef Pascal. The dinner includes "art" beet salad, braid of salmon and halibut steamed and served with sorrel vermouth sauce, roast stuffed free range chicken with truffle sauce, and mini croque en bouche for dessert.
A signature drink is included during hors d'oeuvres. Other beverages, tip and tax not included.
Cost is $55 per person for Sherman Gardens members, $65 for non-members. Call Café Jardin for reservations at (949) 673-0033, or visit SLGardens.org.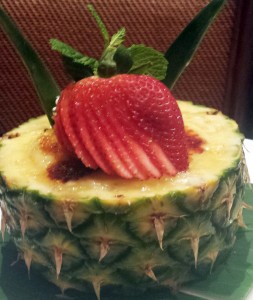 Tommy Bahama Dinner
Catherine recently attended a media dinner at Tommy Bahama's Island Grill in Corona del Mar, where she sampled dishes based on recipes from the cookbook "Flavors of Aloha: Cooking with Tommy Bahama," which was compiled by author Rick Rodgers, who was at the media dinner along with Tommy Bahama Director of Culinary Don Donley.
The Hawaiian and Asian inspired cookbook features dishes such as coconut and curry marinated pork satay, sweet Maui onion and bacon dip, and wasabi and roasted garlic mashed potatoes.
"My favorite appetizer (among several we tried) was the roasted Korean chicken wings with gochujang, soy, honey, ginger and sesame," said Catherine. "The wings were juicy and had just the right amount of spice to sweet ratio. For the main entrée I enjoyed the Kona coffee crusted skirt steak and the ginger glazed wild king salmon. Usually I'm a meat and potatoes type of girl but this salmon was to die for! It had hoisin, garlic, fresh ginger and sesame seed. The glaze was sweet without overpowering the salmon, I can't wait to get in the kitchen and try to make it myself.
You can't go wrong with dessert here. I especially loved the pineapple crème brûlée. It was presented in a scooped-out pineapple which gives you ample opportunity to scrape off some fresh pieces of pineapple. This dessert will be a hit at any dinner party—the presentation is phenomenal."
For more information on Tommy Bahama Island Grill, visit TommyBahama.com.
Balboa Island Wine Walk
We recently mentioned the inaugural Balboa Island Wine Walk in one of our columns, but recently uncovered additional information to share with readers.
The Balboa Island Wine Walk takes place on Saturday, May 30 from 3 to 7 p.m. along Marine Avenue. Attendees get a commemorative wine glass with a map to participating venues that will be pouring tastes of wine.
While perusing the event's Facebook page, we discovered the names of wineries participating in the Wine Walk: Ranchita Canyon Vineyard, Swanson Vineyards, Montes Limited Selection Wines, Ancient Peaks Winery, Hess Collection, Napa Cellars, J. Lohr Vineyards & Wines, St. Francis Winery & Vineyards, St. Supery Estate Vineyards & Winery, Raymond Vineyards, and Delicato Family Vineyards.
According to event info, as guests stroll they can enjoy live entertainment, food and activities, in addition to the wine tastings.
Pre-sale tickets are $40, or $45 on the day of the event. A limited number of VIP tickets are available at $75. The event is dog friendly, and will be held rain or shine.
For event information and tickets, visit BalboaIslandWineWalk.com or call (949) 675-0501.