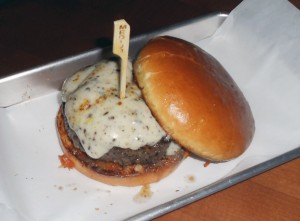 It's after 10 p.m. on a Tuesday night. Where do you go for a late night meal?
Newport Beach has plenty of fabulous restaurants, but few stay open late. Yard House in Fashion Island is a welcome exception. In fact, they're encouraging diners to "get their grub on" by launching a new Eat Late menu that's available daily after 10 p.m. and served until close–usually 1 a.m. or later.
According to Yardhouse, the menu is inspired by the urban street food movement and matches the late night mood: lower lighting, louder music, communal spirit.
"Our new Eat Late menu is designed for people making their last stop of the evening after a night on the town or working the swing shift," said Carlito Jocson, executive chef for Yard House. "The menu is really reflective of the ambiance at that hour: loud, laidback and casual."
I was invited to sample the new menu, and was impressed with all four items, starting with the Monte Cristo Pups: Ham, turkey and Swiss cheese mini sandwiches deep-fried and dusted with powdered sugar, served alongside a jalapeno peach syrup. The large, bite-sized portions were perfectly done–crispy on the outside and gooey on the inside.
Up next was the Pastrami Dog: An all-beef hot dog topped with thin slices of pastrami, yellow horseradish mustard and fried green cabbage drizzled with malt vinegar. The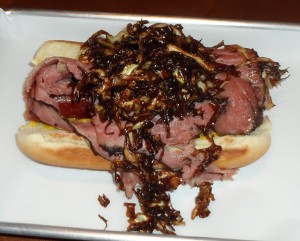 generous portion was nearly impossible to eat by hand. The flavors in the pastrami and hot dog blended well, and the cabbage added extra texture to a fun dish.
My favorite was the Black Truffle Cheeseburger: A natural beef patty grilled and topped with house-made truffle cheese, tomato bacon jam and placed on a potato bun. The truffle cheese provided an intense flavor without going over the top, and the burger was cooked to perfect. Again, the flavor combinations worked perfectly. The burger does not come with fries, but you can add them to any order (try the sweet potato fries with maple bacon cream dip–insanely good)..
I also sampled the Chilaquiles dish: A crisp mound of tortilla chips tossed with onion and smoky chipotle sauce then topped with jack cheese, sour cream, guacamole, tomatillo sauce and a fried egg. Imagine recreating nachos as a late night breakfast dish, and you'll get the picture. Not the easiest dish to eat, but certainly fun and flavorful.
And just for fun, I tried the S'mores Brownie: chocolate brownie with graham cracker crust and roasted marshmallows. The dish is huge, perfect for sharing, and decadent. The perfect ending to a late night meal.
And in case you're wondering, these new items are in addition to Yard House's normal late night happy hour, offered in most areas Sunday – Wednesday and features select half-price, full portion appetizers and drink specials.
For more info, visit www.Yardhouse.com.