By Christopher Trela and Catherine Del Casale | NB Indy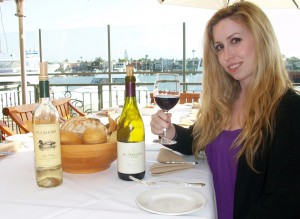 "Remember when we went to the Newport Beach Wine Festival at Balboa Bay Resort last year?" I asked Catherine.
"How could I forget–the wine and cheese pairing seminar was so much fun, and educational," she replied.
"And the barbecue on the lawn next to the beach had so much great food and wine everywhere you looked," I reminded her.
"Is it time for this year's Wine Festival?" asked Catherine excitedly.
"It is indeed–three days of food and wine events over Memorial Day weekend. And, since this is the 10th annual Wine Festival, Balboa Bay Resort intend to make this the best one yet. Take a look at their brochure."
"I see one that combines three of my favorite things: white wine, France and cheese," noted Catherine.
"I've got my eye, and my palate, on the Bordeaux Blends from Around the World seminar," I said, reading over her shoulder. "And this year, instead of a barbecue, they're doing a Seafood on the Bay event."
"Can we go to the Grand Tasting on Saturday night?" asked Catherine.
"We must go," I stated. "I went two years ago, and it's a decadent evening. Picture this: 50 wineries, each pouring a handful of wines, plus an array of cheeses, pates, seafood,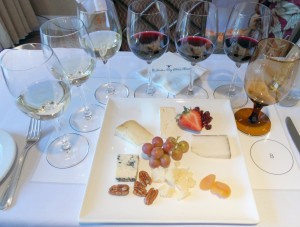 carving stations–"
"Stop, you're making me hungry," said Catherine with a laugh.
"Then let's go talk to the folks at Balboa Bay Resort and get a little preview of the weekend."
We met up with Balboa Bay Resort GM Dieter Hissin and Marketing Manager Kevin Gasparro, who – over glasses of wine – guided us through the weekend's events.
The first event is the Friday night wine dinner with master sommeliers.
"The theme this year is Northern versus Southern hemisphere, instead of the old world vs. the new world, because that's kind of outdated now," explained Gasparro. "The southern hemisphere is just growing leaps and bounds–Chile, Argentina, and Australia for that matter. I think those areas are just dynamite. But the other event that's different this year is the beer for breakfast event. It's beer, rustic food…it's s really fun idea."
"The Sunday afternoon event is all seafood, white wine, some red wines as well, and cheeses and desserts. And beer. There will be a martini bar, a salsa band, so it's kind of easy going fun," said Hissin.
"Last year we did a wine and cheese pairing seminar, which was terrific," I told them. "But you have some great seminars this year too."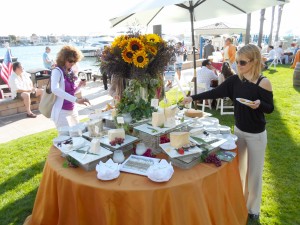 "There's one where we just do French white wine–we have imported 10 white wines from France, and we'll go through a blind tasting demo," explained Hissin. "There are going to be lots of cheeses that go well with white wine. Another seminar has Bordeaux blends from around the world, which are wines that use the traditional five Bordeaux varietals."
"On Sunday is an Australian Shiraz versus French Syrah seminar," added Gasparro.
"And the grand tasting on Saturday night," I added. "And I almost forgot the final event: Cigars, Cognacs, Spirits and Sweets. I went to that last year–what a great ending to a wine festival."
"I think I know where we'll be spending most of our time this Memorial weekend," smiled Catherine.
 For complete details on the Newport Beach Wine Festival, visit BalboaBayResort.com.