By Christopher Trela and Catherine Del Casale | NB Indy
 Catherine can consume pizza every day and not grow tired of this Italian staple. That's why she was excited when we were invited to the opening of Johnny's Real New York Pizza at The Bluffs shopping center in Newport Beach.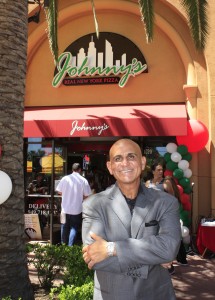 It was a festive occasion that included a ribbon cutting ceremony with Mayor Keith Curry, live music, giveaways, and of course, samples of Johnny's cuisine (garlic knots, cinnamon knots, and pizza).
Johnny's menu lists a handful of signature pizzas ($12.95 to $24.95 depending on toppings and size), including the Solattzo (mushrooms, olives, onions, bell peppers, artichokes, mozzarella, and tomato sauce), the Andolini (housemade meatballs, Genoa salami, sweet Italian sausage, fresh herbs, mozzarella, and tomato sauce),and the Fontaine (pepperoni, mozzarella, and tomato sauce).
Other items include housemade penne Bolognese, spaghetti with meatballs, sloppy Joes, and New York style fries. You can also get slices of pizza ($3.25 to $4). 
The Bluffs restaurant is Johnny's second location–owner John Younesi opened one on Coast highway in Corona del Mar in 2011.
A lawyer by day, Younesi hails from the East Coast but has lived in Newport Beach since 2001. So naturally, we wondered what a lawyer was doing running a pizza place.
"I saw a need for something that people didn't know existed, and if you don't know what you're missing, you don't know there is a need," Younesi told us at the opening.
"Where i grew up, we had pizza after playing stick ball. It was what you remembered, but it was a memory that was long gone. I wanted to bring it back. I knew how to work with dough, knew the right toppings and cheeses, so I thought we could introduce people to New York pizza."
Younesi's prior restaurant experience was a 125-seat Italian restaurant in Dana Point, but eventually realized that pizza was the direction he wanted to go. The response has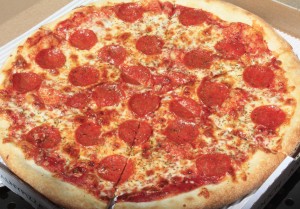 been nothing but positive.
"People say they've never tasted anything like this," said Younesi proudly.
We agree. After sampling several huge slices that we had to fold in half to eat (a tradition in New York), Catherine ordered a whole pie to go, although we nibbled on that pizza too.
Catherine's take on her pizza experience: "My favorite slice was their Andolini 'The True Sicilian' and also Johnny's favorite. It had homemade meatballs, Genoa salami, sweet Italian sausage, fresh herbs, mozzarella, and tomato sauce. The toppings were evenly spaced and not overflowing for the thin, delicious New York-style crust."
Johnny's has turned into a family affair. Younesi's son, Sam, a junior at Corona del Mar High School, works at Johnny's. So does his daughter Jacqueline when she's not studying at USC. Johnny's at The Bluffs is open Sunday through Thursday from 11 a.m. to 10 p.m., and Friday and Saturday from 11 a.m. to 11 p.m.
The restaurant is located at 1320 Bison Avenue at MacArthur Blvd. For more information, call (949) 718-1337, or visit johnnysrealnypizza.com.