By Christopher Trela & Catherine Del Casale
Catherine hails from Napa Valley and knows how good those wines are, but even she admits that Paso Robles rivals Napa in quality and creativity.
Christopher is a longtime fan of Paso wines, and he enjoys making an annual trek north for the Vintage Paso weekend (formerly called the Zinfandel Festival) March 20 – 22 to taste fabulous zinfandel wines, which Paso has become known for.
The trip is also an excuse to indulge in the Tobin James Cellars James Gang Festival, held this year March 20 and 21, and to visit other favorite wineries. This year, we intend to visit one we've never been to: Bianchi Winery, which has strong ties to Newport Beach.
Bianchi Winery
Winning awards is nothing new for Bianchi Winery. Pouring Bianchi wine at one of the most famous Academy Awards viewing parties is pretty special.
Bianchi Winery General Manager Beau Bianchi rubbed elbows with Hollywood's finest at Elton John AIDS Foundation's 23rd Academy Awards Viewing Party at West Hollywood Park in Los Angeles.
His family's Paso Robles winery was the featured wine sponsor at this exclusive event.
Beau and his wife Brandee joined celebrities including Alex Baldwin, Heidi Klum and Ozzy Osbourne in toasting award winners with Bianchi's 2012 Chardonnay and 2011 Merlot alongside a menu designed by renowned chef Gordon Ramsay.
"We have a relationship with the guy who has been dong the catering for the party, he owns Rockwell Table and Stage, and we had him up to the winery," explained Bianchi during a recent interview at his Newport Beach office, which overlooks Newport Harbor. "He has been a supporter of our wines and had Elton's staff taste the wines, and they thought it was a good fit. We get asked to do it every year. It's a great event and raises a lot of money for charity. We're lucky to be a part of it."
Bianchi is also lucky to have a flourishing winery in Paso Robles, which was recently named Wine Regions of the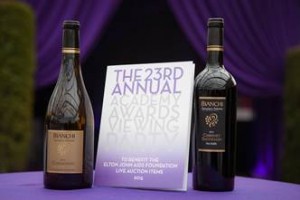 Year by Wine Enthusiast magazine.
"We found property in Paso in 2000 and fell in love with area," recalled Bianchi. "Back then there were maybe 70 wineries, now there are around 300. It's a 35 by 25 mile appellation with lots of micro climates."
Bianchi produces nearly 20,000 cases of wine a year and hand picks the appropriate appellations for each varietal.
"In Paso we stick to reds, except with pinot noir we go to Santa Maria Valley, which grows some of the best Pinots in California," explained Bianchi. "Our sauvignon blanc is from Monterey, and chardonnay is from Santa Barbara County."
Locally, Bianchi said his wines are served at Billy's at the Beach, 3-Thirty-3, Mastro's, Javier's, Island Hotel, and several others (they're often in The Winery Restaurant, a wine cork's throw from Bianchi's office). You can also find Bianchi wines in many Laguna Beach restaurants, where Beau and his wife live.
"Bianchi is 99 percent restaurants, not in grocery stores," noted Bianchi. "That's how we built Bianchi. We sell almost 7,000 cases to So Cal restaurants, which is up from 800 cases five years ago, so we're growing."
For more information, visit BianchiWine.com.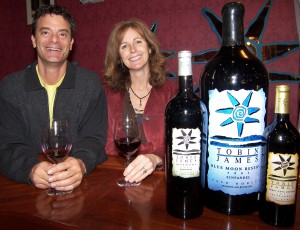 Tobin James Cellars
Christopher has been a Tobin James fan since first visiting the winery in 2000, and introduced Catherine to the Tobin James experience several years ago. Anyone who has been to the Tobin James tasting room would agree it's an experience—the theme is Wild West, and the authentic décor accents the theme.
We caught up with Tobin James co-owner Claire Silver recently, who told us their wine club now numbers over 25,000 members—the most of any winery in the world.
"We have loyal members, we treat them better than we want to be treated, that's what it's all about," said Silver.
Tobin James makes more than 40 different wines, and yet Silver says they're still the biggest little winery "in the sense we make our wines the same way as when we were little. We're very hands on, it's all still hand crafted, we just make more of it now. And the quality keeps getting better."
That's saying a lot, because the quality is already excellent. Their flagship wines are some of the best under $20 wines you can buy, while their reserves (such as the Silver Reserve or the coveted Blue Moon label) are stellar.
Tobin James is known for its blends, and for sourcing grapes from small vineyards that offer specific flavor profiles.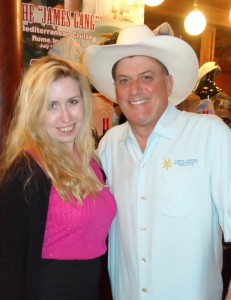 So what's Silver's favorite Tobin James wine at the moment?
"We just released a 2013 Syrah Rose, and it's going crazy," she said. "It's so bright and refreshing, with beautiful citrus notes. It's a gorgeous wine."
"For the Zin Festival, we're releasing the 2012 French Camp Zinfandel, and the 2012 Fat Boy Zinfandel," she added.
Tobin James Cellars has a huge So Cal following, and is available locally at the Pavilions on Bayside, Hi Time Wine Cellar, and select restaurants.
The Tobin James wine celebration on March 20 and 21 features some two dozen local restaurants serving signature cuisine, four different musical acts, and dozens of different Tobin James wines available for tasting. Tickets are on sale now. Call the winery at (805) 239-2204 or email [email protected], but do it soon because the Festival usually sells out.
For more information, visit TobinJames.com.
By the way, we have tickets for the March 21 Festival, so if you're going, be sure to say hi—you can usually spot us near the Fat Boy Zinfandel booth.