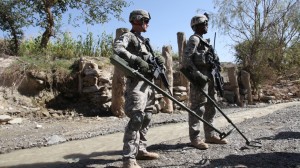 Working Wardrobes, an Orange County nonprofit specializing in helping people overcome difficult challenges to find work and achieve self-sufficiency, is hosting a special screening of the documentary, "The Hornet's Nest," on Thursday, March 12 at 7 p.m. at the Lido Live Theater in Newport Beach.
Admission is free thanks to generous sponsor Plaza Bank, a full service community bank serving the business and professional communities in Southern California and Las Vegas.
"The Hornet's Nest" shares the story of Mike Boettcher and his son Carlos. embedded with the 101st Airborne Screaming Eagles "No Slack Battalion" in the Kunar Province of Afghanistan as the troops engaged hundreds of Taliban in Strong Eagle III.
The 95-minute film follows Mike and Carlos as they try to reconnect as father and son, while providing unparalleled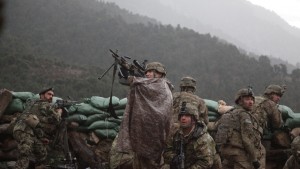 access to the action on the front lines, showcasing some of America's most advanced fighting units.
The Hornet's Nest was directed and produced by Christian Tureaud and David Salzberg through their HighRoad Media banner in association with BASE Productions, Inc.
"The Hornet's Nest is a riveting, powerful film that every American should see," said Dr. William Perry, Former Secretary of Defense under President Clinton and current National Security Advisor.
"This film exemplifies the heroism and courage of our military personnel who face endless battles, roadside bombings and sniper fire from an invisible enemy," said Harry Humphries, former Navy SEAL and Executive Director of VetNet, a division of Working Wardrobes that provides career readiness and life skills services to veterans returning from war. "The film also builds awareness for the support our troops need when they return from service."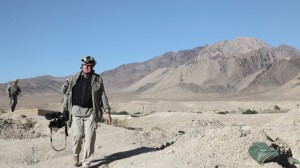 Working Wardrobes' VetNet division provides training and job placement services for veterans, helping them successfully transition to the civilian workforce. It also partners with companies around Orange County to provide a working knowledge of the veteran talent pool and the advanced life skills they bring as employees, including leadership, loyalty, mission dedication, organizational skills and a strong work ethic.
A special discussion and Q & A session with David Salzberg, the film's co-director and producer, will immediately follow the screening.
"To say this project was important to me is an understatement," said Salzberg. "This film is critically important for all civilians to see. It is not scripted, and it is not a Hollywood representation. It is an up-close look at the extreme situations our military members face on the front lines. I'm proud of the film, and I'm pleased to be able to screen it in conjunction with the VetNet team who work tirelessly to help veterans find jobs after service."
Space is limited. To RSVP for this event, visit: workingwardrobes.org/hornets-nest-screening.
To learn about additional sponsorship opportunities, contact Megan Harless at (714) 210-2460 or by email at [email protected]
For more information on "The Hornet's Nest," visit thehornetsnestmovie.com.
Working Wardrobes is an independent nonprofit organization that empowers men, women, veterans, and young adults overcoming difficult challenges to confidently enter the workforce and achieve self-sufficiency. The organization provides career training, job placement assistance and professional wardrobe services in an environment of dignity and respect.
Since 1990, Working Wardrobes has grown to serve over 80,000 men, women, veterans and young adults overcoming difficult challenges including alcohol and substance abuse, prison re-entry, homelessness, catastrophic illness, traumatic financial losses, military to civilian transition and underemployment. It assists CalWorks recipients, clients of social service agencies, and individuals in 60 shelters or programs in Orange County, Los Angeles, San Diego and the Inland Empire. The Working Wardrobes social enterprise model serves as an example of self-sustainability to organizations nationwide.