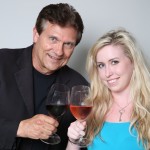 We've been out and about during Newport Beach Restaurant Week sampling a variety of prix fixe menus at various prices points for both lunch and dinner.
We discovered some terrific dishes and were reminded just how good our town's restaurants are.
Newport Beach Restaurant Week runs through Feb. 1, and you can bet we'll be visiting more participating restaurants listed on the DineNB.com website.
Our favorites so far: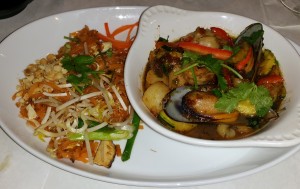 Royal Thai: $10 lunch and $20 dinner. Is it possible to get a quality three or four course meal for those prices? The answer is a resounding yes. The dishes we tried were authentic and full of flavor, while the restaurant's décor was airy and comfortable. The four course dinner menu starts with satay and meek rob, then a second course of soup or salad. Christopher ordered the Tom Kah soup, while Catherine had the Royal Salad with spicy lime dressing. Both were tasty segues to the main courses: Crying Tiger (medallions of prime cut spicy beef) and Red Sea (shrimp, scallops, calamari, mussels in seafood and garlic sauce). The portions were perfect and the spices appropriate for each dish. Dessert was passion fruit crème brulee. If you go for lunch, the menu is similar minus the first course. Both menus offer a dozen entree options. A great intro to Royal Thai!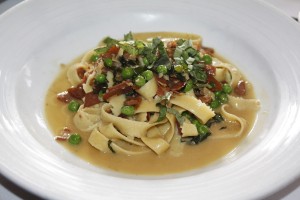 Modo Mio: $15 lunch, $30 options. We came for lunch because we could not believe the price and menu options: $15 for choice of starter (insalata All'Italiana, salmon carpaccio, or arugula salad with kiwis and pears), choice of three entrees (Catherine had the rigatoni with marinara, eggplant, and shaved parmesan, Christopher had the tagliatelle with ham, peas, onion, tossed in olive oil, herbs, garlic, and white wine). We were impressed with the generous portions, and our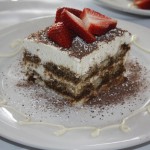 palates were pleased by the tastes. We were blown away by the presentations and flavors of the two desserts: tiramisu and lemon cheesecake (the latter is addicting). The dinner menu has additional options for first course and entrée. One of the best values on the Restaurant Week list.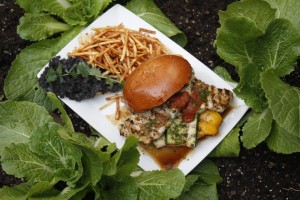 Café Jardin at Sherman Gardens: $25 lunch and $40 dinner. Normally open daily only for lunch, Chef Pascal Olhats is opening up his restaurant for dinner on the weekends just for Restaurant Week. Christopher sat down with Chef Pascal to try some of the dishes, and as always was impressed with what Chef Pascal is concocting in his kitchen. Both the lunch and dinner menus are three courses each, and have Pascal's French influences. Christopher loved the combination of flavors in the salmon gravlax dish with watercress,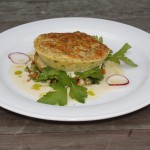 shaved fennel and dill lemon sauce, and the baked Dungeness Crab soufflé with garden vegetable brunade and yuzu beurre blanc. His favorite was a lunch dish: grilled pork loin steak on a brioche bun with thin fries. It was a tasty handful, and considering the courses and pricing, great values. And what better setting than the beautiful Sherman Gardens.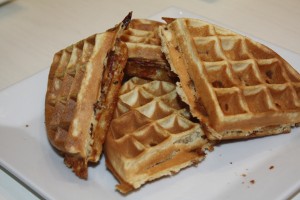 The Waffle Affair: $10 lunch. Choice of savory waffle and a beverage. Sounds basic, but the waffles here are anything but ordinary. "The salame and fontina savory waffle is much better than your everyday sandwich," said Catherine. "It's easy to eat on the go without a mess because all of the salame and cheese is baked inside." We also tried the mini sausage bites, and the red velvet waffles. Christopher enjoyed his pumpkin latte with the waffles. A fun new restaurant that looks to be catching on with locals.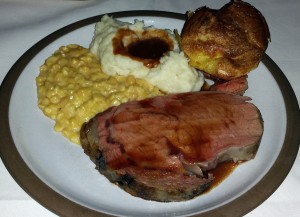 Five Crowns: $50 dinner. Catherine had never been to Five Crowns, so this was the perfect intro for her. The restaurant celebrates 50 years in business this year, and it's still going strong. The classic English ambiance remains the star attraction, as is the prime rib, which is almost a must when you come to Five Crowns. Ours was a perfect medium rare, and came with Yorkshire pudding, mashed potatoes and a really delicious creamed corn. Combined with a first course of soup or salad plus dessert, and a terrific wait staff, and you've got a classic Five Crowns experience.
Red O: $25 lunch, $50 dinner. We've been to Red O but not for several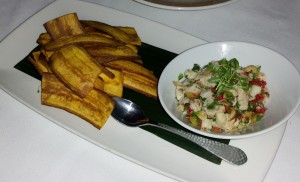 months, and were pleased to see a refreshed menu with some terrific new options along with old favorites (we've been a fan of their short rib enchiladas). We tried the Restaurant Week dinner menu, and were thoroughly delighted by the dishes. We started with classic albacore ceviche served with plantains, and duck taquitos (slow-cooked duck leg with tomato-árbol chile sauce), followed by entrees. "I was extremely impressed and surprised by the eight ounce filet mignon," said Catherine. "I usually would never choose to order the filet mignon when I'm at a Mexican or Spanish influenced restaurant, but it was wood grilled, juicy and full of flavor, and the chipotle crema has a touch of heat that just enhances the flavors. It is served with cotija mashed yukon gold potatoes, which are creamy and delicious." We also had a side of Mexican street corn, grilled and deconstructed with cotija and a serrano cilantro crema. Dessert is either cuatro leches cake or caramel flan, both of which are good, but we also tried a piece of goat cheese cheesecake, which was sensational.