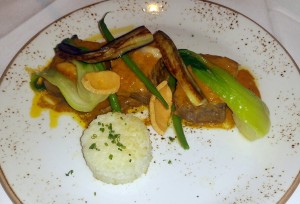 By Christopher Trela & Catherine Del Casale
We always dine at Leatherby's Café Rouge prior to seeing a Broadway musical at the adjacent Segerstrom Center, because Chef Ross Pangilinan always creates an inventive menu that revolves around the theme of each show.
"The Lion King" is in town through November 1, and the show brings an impressive pedigree. The North American touring productions of "The Lion King" have been seen by more than 15 million people and grossed over $1 billion.
Since the show premiered on Broadway in 1997 (winning six Tony Awards including Best Musical), 22 global productions have been seen by more than 80 million people.
Chef Ross also has an impressive pedigree. Born in Tennessee and raised in an Asian-American Orange County home,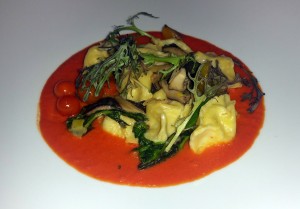 Chef Ross enrolled at Le Cordon Bleu in Pasadena after graduating from High School. He went on to work at various Southern California restaurants and in France for the two Michelin-starred Les Trois Marche restaurant.
Chef Ross joined Patina Restaurant Group as a sous chef at Pinot Provence in 2005. After two years, he returned to France to work in the Michelin-starred Regis restaurant, but came back to the states as a sous chef at Patina. He went to Las Vegas to open the Sinatra restaurant, then became Executive Chef at Leatherby's Café Rouge in 2009.
His menus focus on contemporary Californian cuisine with international influences. They're always fun, interesting, and clever—dazzling to the eye and playful on the palate (soft, crunchy, and an interesting combination of flavors).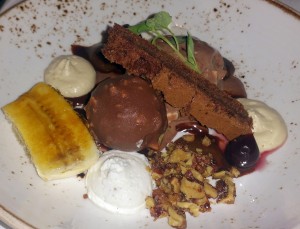 His "Lion King" menu is no exception. He delivers a three course, prix fixe dinner ($45) that included elements of the show's songs and plot in each course.
The first course is a choice of "Circle of Life" deviled eggs (life starts with eggs) with salmon caviar, pickled mustard seed, chicken cracklings and mustard frills, or "This Land" salad with greens, apples, grapes, walnuts and pomegranate.
The main course is a choice of "He Lives In You" braised beef short ribs "kare-kare" style with bok choy, eggplant, haricot vert, peanut sauce, toasted rice, beef marrow and shrimp chips, or "Can You Feel the Love Tonight" burrata agnolotti, vodka sauce, roasted broccoli rabe, melted leeks and tomato, and trumpet mushrooms.
The short ribs were so tender (and tasty) that a fork easily cut through them, while the burrata agnolotti is a lovely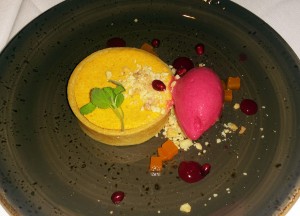 vegetarian dish with just the right combination of ingredients to complement each other.
Dessert is "Hakuna Matata," a house made rocky road ice cream sundae with chocolate sauce, banana, whip cream, nuts, cherry and a brownie—a chocolate lovers dream. We also ordered the butternut squash cheese cake with cranberry sorbet and orange ginger crumble—probably Christopher's favorite dessert at Café Rouge.
The service here is always attentive, the ambiance upscale yet comfortable. Even better—it's only a one minute walk to Segerstrom Hall.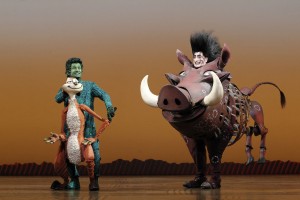 Because it had been so long since we'd seen "The Lion King," it was almost like watching a new musical unfold before our eyes. We were reminded why this show is so popular—dazzling staging, creative costumes, and a story that resonates with all ages.
We were immediately caught up in the tale of lion cub Simba and his father, king Mufasa, who live in the African Pride Lands. A tragedy occurs, Simba's wicked uncle, Scar, takes Mufasa's place, and Simba flees the Pride Lands, only to return later to fulfil his destiny to be king.
We noticed that unlike most musicals, the audience included many children. This is indeed a terrific show for kids, full of life lessons, and it's a great introduction to the world of musical theater.
For tickets to "The Lion King," call (714) 556-2787 or visit SCFTA.org.
For information on Café Rouge, visit PatinaGroup.com or call (714) 429-7640.