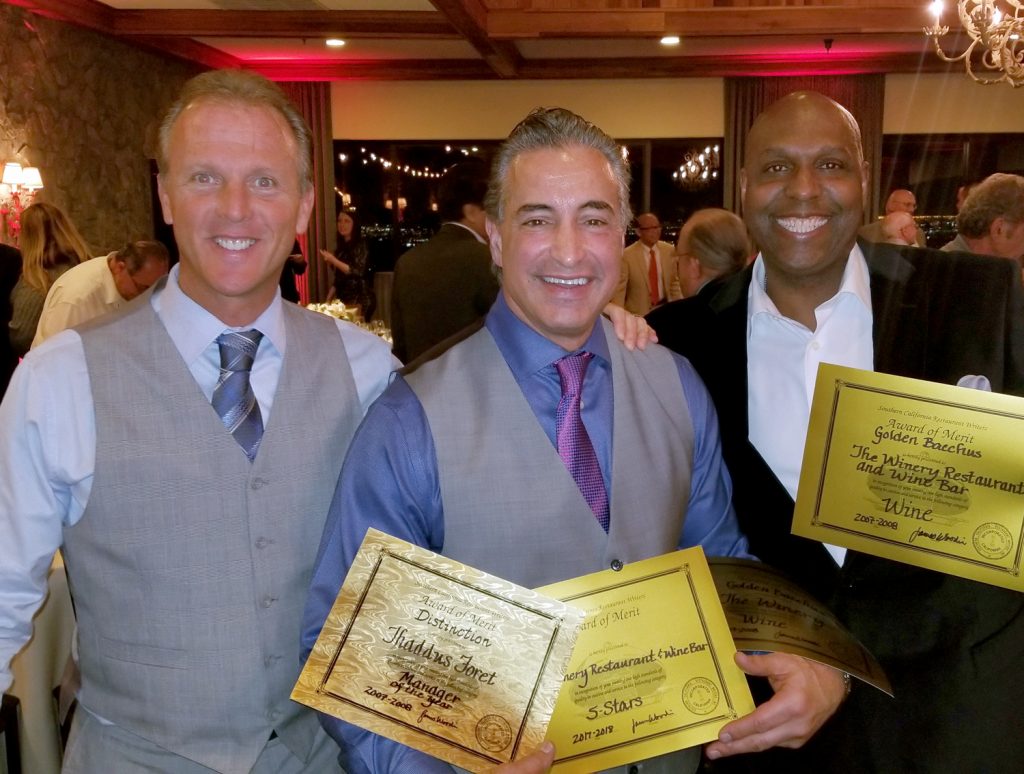 The Southern California Restaurant Writers (of which I'm a member) presented their 44th annual restaurant awards last Monday night at Orange Hill Restaurant.
Congratulations are in order for Thad Foret of The Winery Newport Beach for being named General Manager of the Year.
Anyone who knows Thad knows the award is well deserved. He is an upbeat, friendly presence at The Winery, knowledgeable on wine as well as cuisine. 
And Thad needs to be congratulated for participating in the Assistance League of Newport Mesa's annual "Dancing for Tomorrow's Stars" fundraiser held last weekend at the Grove of Anaheim. 
Over the past month, he had been posting photos of himself practicing his two ballroom dance routines. The practice paid off—he was named Best Male Dancer at the event, and helped raise several hundred thousand dollars for charity.
By the way, over the years the Southern California Restaurant Writers have bestowed numerous awards on The Winery, including Bryan "Spike" Bradford at The Winery Tustin (he is now at the new Winery Restaurant in La Jolla) who was named Maitre d' of the Year, and Daniel Garcia, who was named Chef de Cuisine of the Year when he was at The Winery Tustin. Other awards have included Restaurateurs of the Year, Five-Star Dining Award, Chef of the Year, Sommelier of the Year, Golden Sceptre Award, and the Golden Bacchus Wine Award.
Other local restaurants to win a Golden Bacchus Wine Awards this year: Bayside, Five Crowns, and Il Barone.
And in case you haven't heard, the Winery Restaurant partners have completed their culinary triple crown by opening a third restaurant in La Jolla, at a new Westfield UTC shopping center.
Based on photos that Winery Executive Chef Yvon Goetz has posted on Facebook, the La Jolla Winery is as visually dazzling as its Newport counterpart.
Unique to La Jolla is a separate 1,300-square-foot wine bar within Westfield UTC, called appropriately enough The Wine Bar by The Winery. Shoppers can grab a glass of wine and small bites, or indulge in a flight tasting.
For more information, please visit thewineryrestaurants.com.