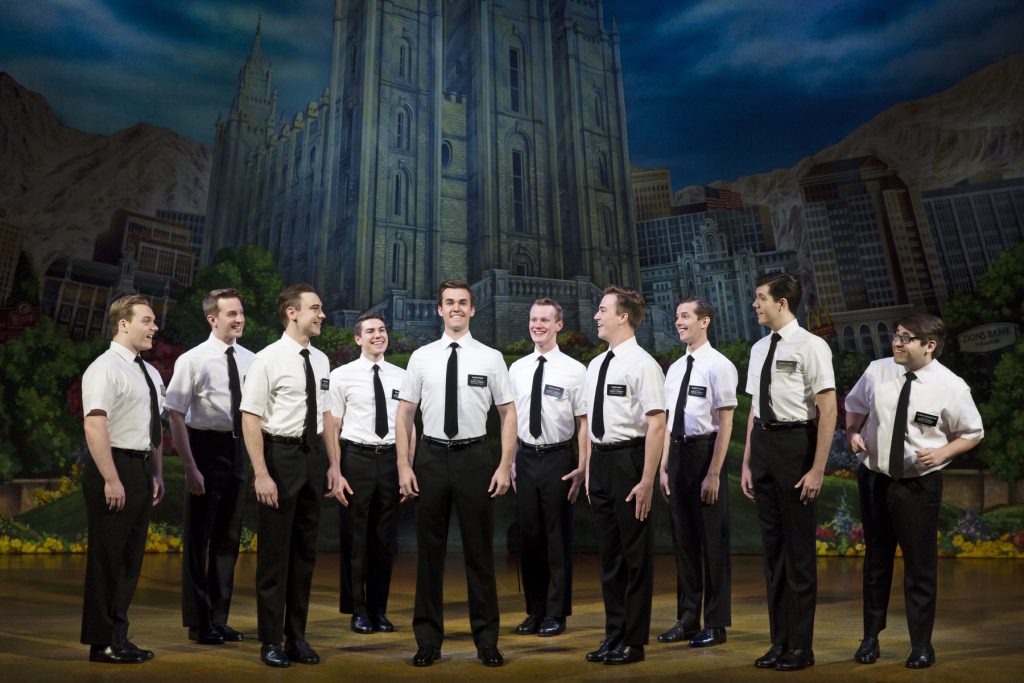 By Christopher Trela & Shelly Zavala
 "I believe that ancient Jews built boats and sailed to America. I am a Mormon! And a Mormon just believes."
Belief is the prevalent theme of the wildly popular Broadway musical "The Book of Mormon," which makes fun of everything from religion to race to politics while telling the tale of a pair of Mormon church elders and their two-year mission.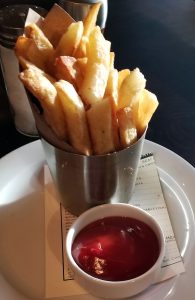 "The Book of Mormon" has returned to Segerstrom Center through April 1, and it's as funny and outrageous as ever. We caught a performance of the show earlier this week, and decided to dine at Water Grill and then walk over to Segerstrom Center.
This was Shelly's first time at Water Grill, and she was impressed with the decor, and the fact that the large restaurant was packed on a Wednesday night.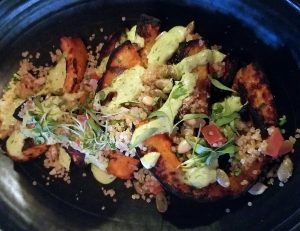 We started with some fluffy cheesy bread and soft butter while we perused the menu. We decided to skip the appetizers and shellfish options and go straight for an entrée and sides. Being a seabass fan, Shelly agreed to split the wild local white sea bass ($37) with farro risotto and parmesan cream. For sides we settled on roasted brussels sprouts with bacon & chestnuts ($11), roasted butternut squash ($10), and triple fried French fries ($7). This was all accompanied by an excellent red wine blend from Bedrock Winery—a present from former Pacific Symphony board chair Mike Kerr, a fellow wine fanatic who knows his vino. By the way, Water Grill does not charge corkage, a rarity in restaurants these days.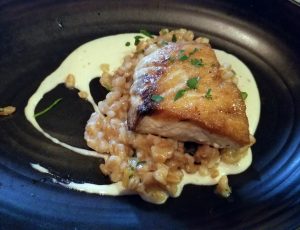 "The sides were great, and the service was impeccable," said Shelly. "I'm a little disappointed by the fish, it was dry and the sauce did not help. The risotto was somewhat bland and I did not taste much cheese in the dish."
"The cheese in the sauce was…subtle. Maybe some sort of beurre blanc sauce would have worked?" wondered Christopher. "But I agree, everything else was terrific–love those triple fried fries!"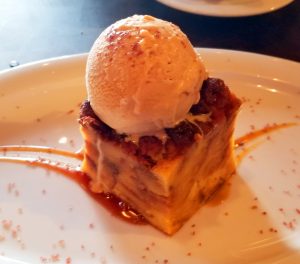 Our server could tell the fish was not a hit, so he offered to bring her dessert. Shelly ordered the pot de crème, while Christopher had the caramel bread pudding with red sea salt ($11), which might have been the hit of the night.
After dinner we left our car at Water Grill and strolled over to Segerstrom Center for "The Book of Mormon."
For those unfamiliar with the show, it was created by Trey Parker and Matt Stone of "South Park" fame, along with Robert Lopez ("Avenue Q"). "The Book of Mormon" won nine Tony Awards, including Best Musical.
The show begins with Mormon missionary Kevin Price hoping to complete his two-year mission in Orlando, Florida, but instead is assigned to Uganda with fellow missionary (and polar opposite) Arnold Cunningham. They arrive in a Uganda village rife with diseases and danger, and are serenaded with a profane song which signals to the audience that the wild theatrical ride has begun. Add a handful of quirky characters, an hilarious interpretation of the Mormon bible, and a spooky Mormon hell dream sequence, and you have the makings of an outrageously funny musical.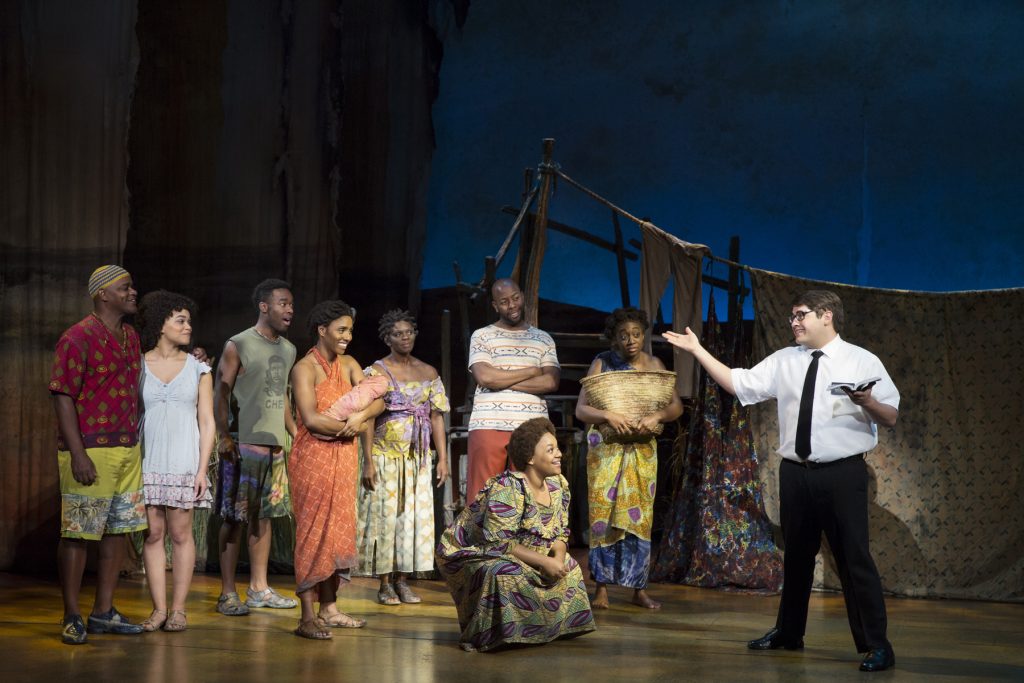 "The Book of Mormon" pokes fun – make that skewers – religion and other topics with outrageous humor, yet retains a sense of charm thanks to characters that are more endearing than you first realize.
Elder Price's song, "I Believe," while funny and clever, is a reminder that we each have a belief system that guides us—no matter how misguided that belief might be.
"This show is not for the faint of heart—nor the faint of morals," noted Shelly.
"True, but this production is so well done, and you actually do come to care about the characters," said Christopher.
"The song and dance numbers, the singing—all well done," added Shelly. "The audience was really into the show."
"The standing ovation was well-deserved," said Christopher.
For more information on Water Grill visit WaterGrill.com. for more information on Segerstrom Center, visit SCFTA.org.