By Christopher Trela & Catherine Del Casale
Going out to dinner for Valentine's Day? You're not alone. Valentine's Day is usually the busiest day of the year for restaurants, which is why most offer special prix fixe Valentine's menus. This year, with Valentine's Day on a Saturday, many restaurants are promoting a weekend of Valentine's dining (and it's usually easier to get a table the day before or after Valentine's Day).
Seems like nearly every restaurant in Newport Beach has created a Valentine's Day menu. Here are a few you're bound to love.
You can also visit DineNB.com for a complete list of Valentine's Day restaurants.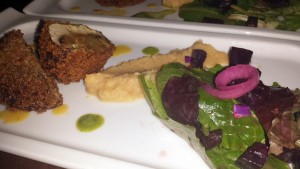 Tamarind of London
This upscale Indian restaurant in the Newport Coast Shopping Center has a three-course menu for $75 per person on Feb. 14 that starts with a choice of a mushroom stuffed with seasonal vegetables and paneer tikka with fresh mint & green chilies, or
Peshawari chicken tikka and grilled black pepper prawns, baby eggplant and potatoes with pickling spices.
For an entrée, choose between Hyderabadi chicken curry braised with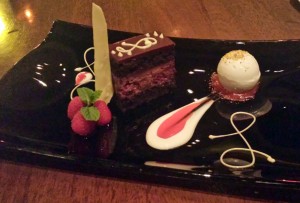 browned onion and tomato, or lamb mughul korma with smoked onion and yoghurt sauce. Both are served with naan, saffron basmati rice and raita. Dessert is dark chocolate & raspberry gateaux with blood orange yogurt sphere
A vegetarian set menu will also be available
"I was really impressed with the portabella mushroom stuffed with seasonal vegetables," said Catherine, who sampled the Valentine's menu earlier this week. "The vegetable pureed filling was delicious, and I never would have guessed that it was made up of potatoes, carrots, zucchini, squash and ginger. Another highlight of the meal is the dessert. This rich chocolate cake with hints of coffee and raspberries has layers of rich creamy chocolate, chocolate ganache and a glazed chocolate top. It moves away from the usual chocolate and strawberry dish and goes for a sweet blood orange coulis and sweetened yogurt sauce. After scraping my plate clean of this delicious dessert, I learned that it was also gluten-free!"
(949) 715-8338 / tamarindoflondon.com.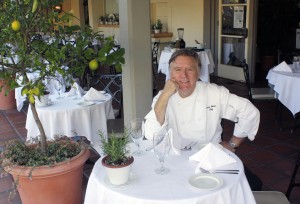 Café Jardin at Sherman Gardens
Normally open only for lunch, Café Jardin is offering Chef Pascal's special prix fixe Valentine's dinner menu from 5 to 8:30 p.m. for $80 per person that includes an amuse bouche followed by a choice of wild mushroom soup with truffle Chantilly or red and yellow steamed beets with marinated feta and frisee lettuce. For an entrée, choose between pan roasted barramundi bass with Spanish rice and shrimp bisque sauce with broccolini blossoms, or roasted rack of lamb with provencal grilled vegetable tain with sweet garlic pesto sauce. Dessert is Pascal's famous flourless chocolate heart cake for two.
As live harp music fills the air, diners can also stroll through Sherman Gardens, which will be illuminated for the evening with a romantic luminary trail through artistic Valentine-themed displays and a cozy fire pit (non-diners can also stroll through the gardens between 5 and 9 p.m. for $5 per person).
(949) 673-0033 / SLGardens.org.
Port Restaurant
During Valentine's weekend at Port Restaurant in Corona del Mar, the entertainment co-stars with the menu because the ever-popular Jimmy Hopper returns to town and performs on Friday and Saturday evenings over Valentine's Day weekend.
Friday night, Feb. 13, is Single's Night at Port, which means you might meet your perfect match and return the following evening for Port's prix fixe Valentine's dinner.
Two seating are available on Valentine's Day. The early seating is 6 to 8 p.m. and features three courses for $89 per person. The late seating is 8:30 to 10:30 and features four courses for $119 per person. Entrée options include Chilean seabass, prime filet mignon or port kabob trio. Vegetarian options are also available.
(949) 723-9685 / portcdm.com.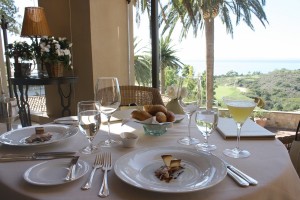 Pelican Hill Resort
The romantic ambiance of a Tuscan villa blends with unparalleled epicurean experiences at Pelican Hill restaurants. You can enjoy a four-course Italian lovers menu at Andrea Restaurant, a three-course menu at Pelican Grill or Coliseum Pool & Spa, or an intimate and sensual dining experience with Dinner of the Senses—a seven-course menu for two served in a private poolside cabana, each course eaten by hand without the use of utensils.
We've dined at Pelican Hill restaurants many times, and honestly love the cuisine and ambiance at each of the restaurants. It's difficult to beat Pelican Hill for an exceptional dining experience.
Dinner of the Senses / February 14: An intimate and sensual dining experience, Pelican Hill's popular Dinner of the Senses stimulates each of the five senses. Created by Coliseum Pool & Grill's Chef Micah, the seven-course menu for two is served in a private poolside cabana. Each course is eaten by hand without the use of utensils. Customized music, flowers and décor are available upon request. Advance reservations strongly recommended. $180 per person, or $230 per person with wine pairings.
Il Menu dell' Amore / February 13-15: Andrea presents a special Italian lovers' menu, offering four courses with "his and hers" choices. Named one of America's Top 10 Most Romantic Restaurants by GAYOT and Southern California's Most Romantic Restaurant by Los Angeles Times readers, Andrea offers a casually elegant ambiance, heated ocean-view terrace, live guitarist and Italian wines. $130 per person, or $190 per person with wine pairings.
Valentine's Dining at Pelican Grill / February 13-15: Chef Luke designs a special three-course menu for two. Spend an evening or afternoon on the ocean-view terrace, near the dining room fireplace or adjacent to the open-display kitchen. $120 per person, or $160 per person with wine pairings.
Valentine's Dining at Coliseum Pool & Grill / February 13-15: Chef Micah offers a three-course dinner menu featuring Mediterranean cuisine. Dine among Italian-inspired architecture with a spectacular view of the Pacific Ocean and one of the world's largest circular pools. $105 per person, or $130 per person with wine pairings.
(855) 467-6800 / PelicanHill.com.
 The Winery Newport
The Winery has an "Oh Baby" Valentine's Day dinner celebration Feb. 13 – 15, and Oh Baby is it great! For $89 Friday or $99 Saturday, enjoy an amuse bouche followed by a choice of appetizer (yellow fin ahi tuna tartar, Maine lobster & saffron consommé, lobster ravioli & vegetable brunoise, prosciutto wrapped white shrimp, and several more) and entrée (pink peppercorn crusted Hawaiian monchong, beef tenderloin and shrimp napoleon, herb crusted New Zealand lamb rack, bone-in filet, New Zealand venison with applewood smoked bacon, Australian lobster & cured lemon risotto), and choice of several decadent desserts. Sunday has a similar menu for $69 or $89 depending on entrée. One of the few Newport restaurants where cuisine, ambiance and view combine for an exceptional experience.
(949) 999-6622 / TheWineryNewport.com.
True Food Kitchen
True Food Kitchen's Valentine's Day options are perfect for the couple looking for a healthy yet tasty dining experience. The three-course prix fixe menu includes such options as herb hummus, edamame dumplings, roasted tandoori chicken, spaghetti squash casserole, steak tacos, and our favorites: Tuscan kale salad and squash pie. The dinner is only $25 per person!
(949) 644-2400 / TrueFoodKitcchen.com.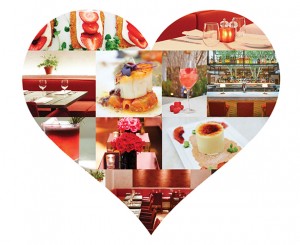 Fig & Olive
This Valentine's Day weekend, Feb. 13 – 14, Fig & Olive offers a three-course prix-fixe dinner for $79 per person (additional wine pairings available for $35 per person). Options include roasted butternut squash cappuccino with prosciutto, ricotta, fig, and olive crostini; grilled Maine lobster with truffle artichoke tapenade, puff pastry, wild mushroom, and smoked pimento olive; Chilean sea bass with spaghetti of zucchini, carrot, sundried tomato, lemon, celery root purée emulsion, and Coratina olive oil; filet mignon comprised of grass fed beef marinated with rosemary, thyme, garlic, haricot vert, caramelized shallot, and olive oil chive mashed potato topped with Arbequina olive oil béarnaise; roasted rack of lamb with herbs de Provence, goat cheese gnocchi, and sautéed wild mushroom.
(212) 924-1200 / figandolive.com.
Cucina Enoteca
You can celebrate an Italian San Valentino at Cucina Enoteca in Fashion Island with a three course menu that features California twists on Italian staples. Dishes include olive oil poached prawn, duck bolognese + rye cavatelli, and pannetone bread pudding. Cost is $48 per person.
(949)m 706-1416 / cucinaenoteca.com.
Fleming's Prime Steakhouse & Wine Bar
Fleming's Prime Steakhouse & Wine Bar at Fashion Island celebrates Valentine's Day Feb. 13-15 with both the regular a la carte menu and two set menus: salmon & signature petite filet mignon for $59.95 or lobster & filet for $69.95. Start with pan-seared scallops with goat cheese polenta, scallions, and seared grape tomatoes. Next, choose Fleming's salad or a modern Caesar, then proceed to your entrée.
(949) 720-9633 / flemingssteakhouse.com
The Beachcomber at Crystal Cove
Ocean views compete with terrific cuisine at the Beachcomber, which offers a four-course menu on Feb. 14. Start with a choice of salmon cornet or herb parmesan sweet potato gnocchi, followed by English pea soup or a baby ruby beet salad. Entree selections include a surf & turf combo with grilled petite filet and butter poached Maine lobster tail, pan seared Chilean sea bass, pancetta wrapped Mary's organic roasted chicken or Frenched lamb chops. For dessert, share a decadent chocolate cake with raspberry coulis. $90 per person.
(949) 376-6900 / thebeachcombercafe.com.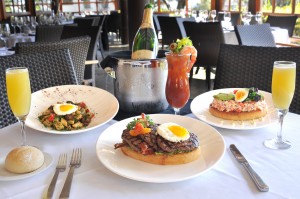 Bayside Restaurant
Bayside offers a three-course Valentine's Day brunch with free-flowing champagne and mimosas for $58 per person, and a three-course dinner for $68 per person. The brunch has a choice of eight starters (including white asparagus soup, griddle crab cake and roasted ruby beets) and choice of eight entrees (include Maine lobster benedict, frittata, pacific swordfish, and sautéed tiger prawns), and choice of desserts. Dinner features similar starts but adds such items as farm raised venison to the entrée selections.
(949) 721-1222 / baysiderestaurant.com.
Back Bay Bisto
Not three, not four, but seven courses are included in this Valentine's Day feast for $85 per person. Start with lobster gougére with micro greens and sweet vanilla rum, followed by red pepper bisque with mascarpone cream, petrale sole and salmon rubik style with red beet vinaigrette, raspberry sorbet, choice of cabernet filet of beef, roasted rack of lamb, or cider glazed duck breast. Follow that with winter greens and goat cake, and then a chocolate tower with raspberry garnish.
(949) 720-1144 / newportdunes.com/back-bay-bistro