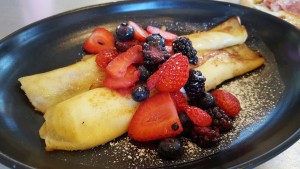 By Christopher Trela & Catherine Del Casale | NB Indy
"Let's do brunch."
That's a popular phrase in Newport Beach, with more and more restaurants offering special weekend brunch menus.
One of those is Cucina Enoteca in Fashion Island, which has a brunch every Saturday and Sunday for only $28.
Choose one entrée from a list of eight options, plus unlimited visits to the antipasti bar, which we discovered has a nice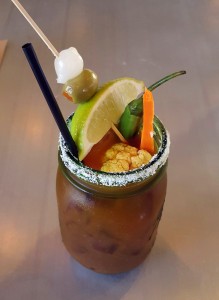 selection of breads, cheeses, meats, salads and desserts.
We started with cocktails—Christopher had the Bloody Mary which has black pepper and roasted garlic infused vodka, while Catherine went for a seasonal Bellini prepared tableside, which is a nice touch.
"Tableside Bellinis are my favorite, and they have new fun flavors," said Catherine. "I tried the strawberry banana this time and it was delicious! The consistency was perfect and the flavors were appropriate for breakfast."
"And I enjoyed my bloody Mary—definitely spicy, which I like," added Christopher.
For entrée, we ordered the sweet crespelle with mascarpone and macerated berries, and the asparagus and prosciutto pizza with a hen egg, opal basil pesto, and garlic besciamella.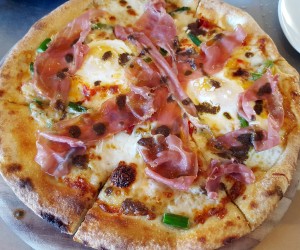 "I love their entire brunch concept," said Catherine. "You get a handful of choices for your brunch entrée and are able to access the antipasti bar throughout your meal. For people who come hungry, like me, this is a great concept because you don't have to wait for your meal to be cooked before you can start grazing the antipasti bar, which has small bites ranging from pastries, fruit and cheeses to risotto, meats and baked veggies. They keep it interesting by changing their antipasti bar up each week so you can always find something new."
The main entrée brunch items ranged from sweet to savory.
"I went the sweet direction with the sweet Crespelle," added Catherine.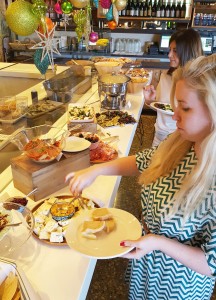 "The portion size was great and I even ended up taking half of it home."
"You also took home part of the pizza," Christopher reminded her. "Between the entrees and the antipasti bar, that was a filling and satisfying brunch."
We dined in the bright and airy dining room, which was a nice switch because we've been to Cucina Enoteca several times in the past but sat either on the patio or near the open kitchen where we watched the chefs prepare the meals.
Of course, no matter where you sit at Cucina Enoteca, you'll have a fabulous experience.
For more information,  call 949) 706-1416 or visit UrbanKitchenGroup.com.