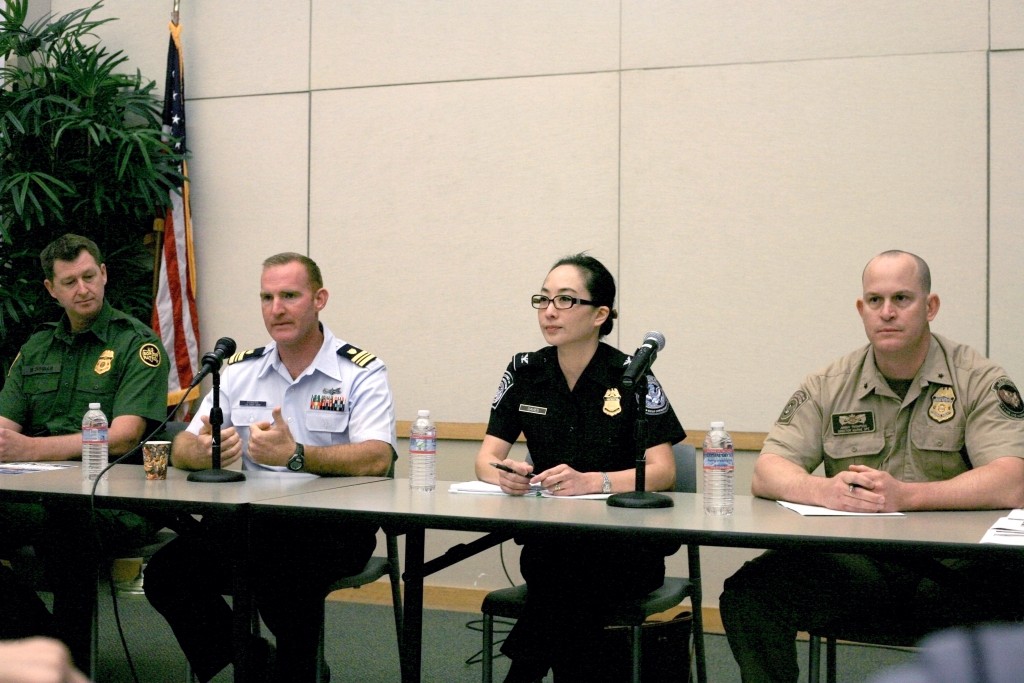 About 50 people attended an early morning discussion this week concerning how authorities are protecting the U.S. border, specifically the California coastline, against various threats.
The event was Newport Beach Chamber of Commerce's monthly Wake Up! Newport meeting held Thursday in the Friend's Room at the library. April's topic was homeland security.
Speaking on the panel were: Director of Marine Operations for the Department of Homeland Security, Customs and Border Protection, and the Office of Air and Marine, Jeremy Thompson; Section Chief of Tactical Operations for U.S. Customs and Border Protection, Cheryl Davies; U.S. Coast Guard Lt. Commander Beau Powers; and U.S. Border Patrol agent in charge, Mark Dunbar.
Some of the issues covered included terrorism, other types of threats, overt and covert threats, working with local agencies, challenges like super tunnels and ultra light aircrafts, what each agency is responsible for along the border, and more.
They primarily focused their discussion on panga boats, interagency cooperation, and how the public can help.
In 2009, the open-bowed panga boat threats became more common, Dunbar said.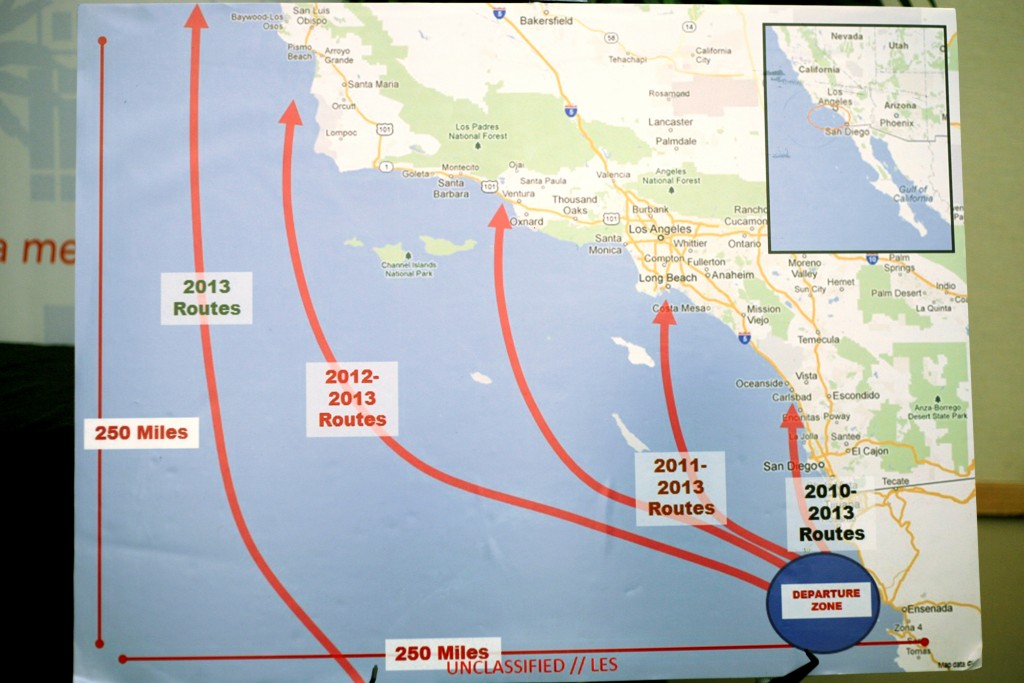 "They're coming around and circumventing the land border and hitting us on the northern side," he noted.
A human or narcotic smuggling panga boat is usually an open, 35-foot or so vessel, usually with a center console. It may be loaded down and move awkwardly in the water.
They also advised members of the public to watch out for boats full of oil drums since a lot of the smuggling boats fuel up while at sea.
They almost always land at night and pull a tarp over and sleep during the day, Thompson explained.
There are attempts to cross in a panga boat on a weekly basis, Thompson said. But sometimes they leave their departure point but don't make it to U.S. soil because of various reasons (bad weather, motor breaks down, etc.). Many also get caught at sea by authorities. So they aren't landing on a weekly basis.
It's an evolving threat trend, Thompson said.
"As we make interdictions we see that they're changing their tactics," Powers said.
They put more fuel on their boats so they can head further offshore and further north or try to find new landing locations, he explained. It's a challenge, he added.
"An element of stopping transnational criminal organizations is deterring them, disrupting their efforts to make it harder for them," Powers said.
At first, they had the departure points just over the border in Tijuana and landing in the San Diego area.
Now, they have landed as far north as San Mateo, near San Francisco, he added.
They will travel hundreds of miles, he said.
"Through the years, as we've coordinated working together, we've been able to push them further and further south -their logistic bases for the south, and then further out to sea and further north," Dunbar explained.
Coordinating with other agencies has significantly helped their overall efforts, they agreed.
Together, they've created three Regional Coordinating Mechanism (ReCoM) along the California coast: San Diego, Los Angeles and Long Beach, and San Francisco.
All agencies are members of all three ReCoMs.
Part of ReCoM is joint intelligence sharing, Dunbar explained.
"What we've tried to do is break down some of those stove pipes of information within our agencies… and share with each other and share also with the state locals," Dunbar said.
They also meet often to do joint planning and then joint operations, he noted.
"It's a very dynamic approach to addressing these threats," Powers said.
They can't be constantly patrolling and searching for threats on the water, so most of what they do is largely intel driven, Powers explained.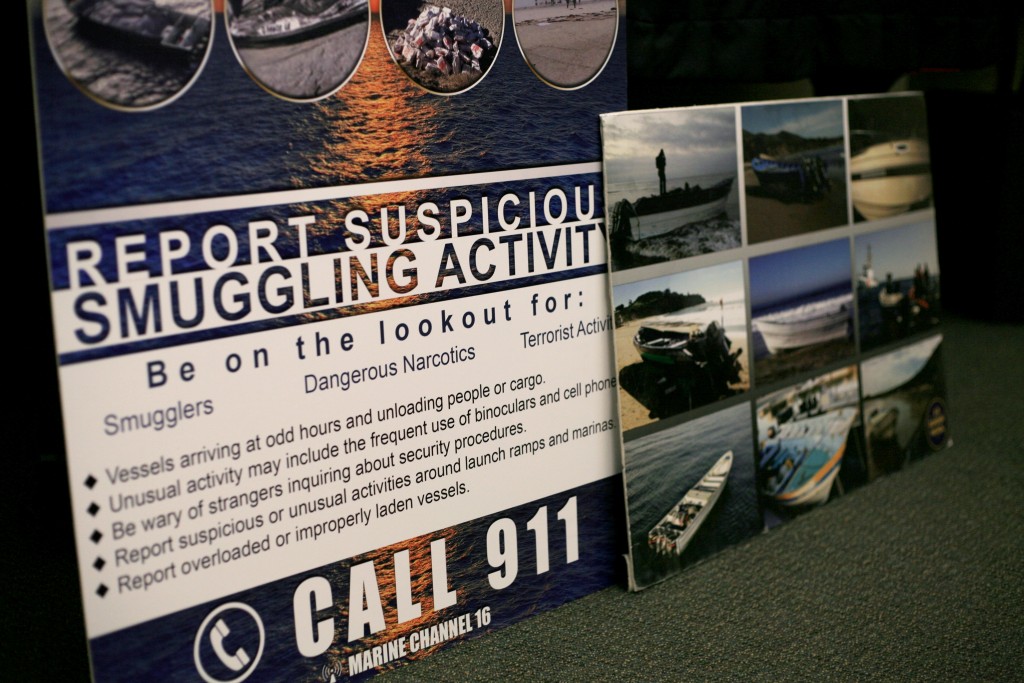 There are about 64,000 square miles that they have to patrol, he added.
"That's very daunting for us," with a limited number of personnel, boats and aircraft, he said.
"The curvature of the coastline really creates a challenge for us," Powers continued. "There is a lot of water to have to patrol."
Through the ReCoMs they work together on various issues, including community engagement, like the Chamber's public meeting on Thursday.
Getting information out and working with the public is important, all four officials agreed.
People have been confused about who to call if they see a maritime threat, Dunbar said, so they have encouraged the public to call 911 and the dispatcher will forward the message to the appropriate agency.
Part of the ReCoM campaign was working with local agencies and informing them about which agency handles each type of situation and who should be contacted.
They have been promoting the "See something? Say Something!" message, Dunbar added.
"That's why it's so important for us to be here with you, to get our message out so we can all help protect the coastal region together," Dunbar said.
"We rely heavily on the public and intelligence and detection and monitoring," Thompson said. "We rely as much on you guys as you us."