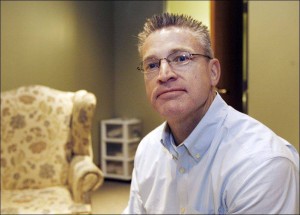 "Imagine trying to move forward in life when you could be at risk of violence any time," Gary Haugen said recently to the group gathered at the home of Newport residents Geoff and Lucie Moore. "People need a fair chance in life. We can't do everything, but we can do something. If we only save one life, or rescue one child, it's worth it."
Haugen is the founder, president and CEO of International Justice Mission, a nonprofit human rights organization that secures justice for victims of slavery, sexual exploitation and other forms of violent oppression. Their vision: "To rescue thousands, protect millions and prove that justice for the poor is possible."
Haugen, a graduate of Harvard and the University of Chicago School of Law, was inspired to start IJM after directing the United Nations investigation of the Rwandan genocide in 1994. There, he led an international team of lawyers, criminal prosecutors, law enforcement officers, and forensics experts in gathering evidence against the perpetrators of the genocide. 
"I was sent to Rwanda, where 800,000 were murdered in eight weeks," Haugen said.  "We had to sort through the physical evidence to recreate what happened. It was transforming for me to stand amidst mass graves. I realized that hundreds of millions of the poorest people in our world are vulnerable to brutal violence every day, with no defender. This gave me the idea: What if a group of investigators, lawyers and social workers came together in their own country to rescue victims of abuse, and advocate on their behalf to see the perpetrators sent to jail so the violence stops?"
International Justice Mission began operations in 1997.  It is founded on the Christian call to seek justice, protect the oppressed, and defend and care for widows and orphans.  International Justice Mission focuses on four categories of violence in the developing world: gender violence against girls and women; slavery; police abuse; and violent taking of land. 
International Justice Mission's justice professionals work with state and local authorities to ensure proper support for the victim and appropriate action against the perpetrator.  The organization has 16 field offices in Asia, Africa and Latin America.
"There are more people in slavery in the world today than in any other time in history," Haugen said. "But they tend to live under the radar. Trafficking humans generates more than $32 billion a year. Nearly two million children are exploited in the sex industry, and in many places, police extort from the poor."
"We seek four outcomes: to rescue the victims, bring perpetrators to account for their abuse so they don't repeat it, provide long term aftercare for victims, and provide structural transformation," Haugen continued. 'We've been doing this for 16 years.  Several years ago the Bill & Melinda Gates Foundation funded a program to measure the impact of our work in a city in the Philippines. We'd hoped to demonstrate a 20 percent reduction in the sex trade over four years. Instead the study measured a 79 percent reduction!"
International Justice Mission is recognized as the preeminent organization in the world for fighting human trafficking and other violent oppression of the poor. The Moores have been involved with IJM for five years, and are excited for others to know about, and become involved in, something so life-changing.
 "International Justice Mission's mission is unique because IJM is bringing structural transformation to legal systems so that the laws to protect the poor start being enforced; that is the only way to break the cycle of oppression," Lucie Moore said. "I am so impressed with the caliber and professionalism of the staff and their authentic dedication to seek justice for the poor. Their results are amazing."
International Justice Mission will host its first benefit in Orange County on March 15, 2014.  For information, go to ijm.org or email Johanna Talley at [email protected]
 Cindy can be reached at [email protected]