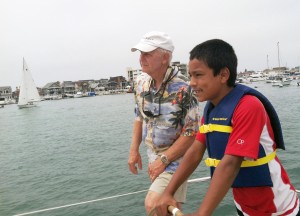 In 1997, philanthropists, John "Jack" Shaw and Ellen Shockro, Ph.D. of Corona del Mar founded El Viento Foundation to help redirect the lives of the working poor in the vulnerable Oak View neighborhood of Huntington Beach.
El Viento, which translates in Spanish to "the wind," operates on a model of community change, and, like the changing wind, the non-profit organization provides a steady course for its students, their families and community.
Shaw and Shockro's commitment to providing a constructive and disciplined course in order to help alter the perspective, expectations and the well-being of an entire community is showing some incredibly positive results.
During the summer, the kids of El Viento learn to swim and sail, go camping and visit museums. Despite living only three miles from the ocean, many of the kids have never been to the seaside, nor are able to swim.
After completing swimming lessons at Goldenwest College and a two week sailing course at the Newport Sea Base, a group of students were invited last Sunday for a special treat: the opportunity to sail aboard towering 40 foot sailboats, skippered by members of the Balboa Yacht Club (BYC) where Shaw has been a longtime member.
The event marked the second time the 20 fifth graders, aka Flight 14, stepped aboard these size boats, six of which were on hand at BYC to take them sailing in the harbor.
My friends and BYC members Karen Rhyne and Michael Michel invited me to join in the fun aboard their gorgeous 49 foot Jeanneau, "Lagniappe" (pronounced lan-yap), and they didn't have to ask me twice.
 The Flight 14 students have been practicingin sabots, which prepared them for the opportunity. Adult captains and supervisors lead the students along with El Viento board members. Aboard Lagniappe with us were El Viento students Johnny and his mom Olga, Victor, and board member Louise Upham.
The boys brought a list of sailing questions to ask. After Karen gave them a tour of the boat and Michael had them help trim the sails and take the helm, their use of nautical terms was pretty impressive.    
Louise told us that because El Viento is a long-term educational program that starts when the kids are in grade school, when they reach high school, the volunteers of El Viento work with them to focus on their true interests and help them go on to college. As a result, she says that over the 10 years she's been involved, many of the students have gone on to graduate with degrees, the first in their families ever to do so.
"We get them out of their comfort zone by participating in activities like sailing," explained Louise, who is a retired Spanish teacher. By doing so, she says, "it opens up the children's world and develops the life skills and confidence necessary to be successful, independent, responsible citizens."
El Viento's mission to provide children and young adults with long-term relationships based upon mutual trust and respect, exemplary character, skills building, leadership, teamwork and learning was absolutely evident throughout the day. 
We were impressed with Johnny and Victor's concentration, manners and willingness to learn. As the group disembarked Lagniappe to join in a post-sail barbeque back at the club, I couldn't help but think it was we that had the best time that afternoon out on the water with a group of promising kids working hard to make the most of their lives.
For more information about El Viento, log on to www.elviento.org.
 Columnist and First Mate Lynn Selich resides in Newport Beach. Reach her at [email protected]