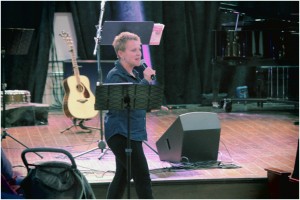 "God called me to this ministry full time," Laura Johnson said. "I've always had a passion for the marginalized. I used to go to motels, knock on doors, bring food and Bibles, and tell people they're loved by God; it's a call God gave me. I recognize my own brokenness and I need to come alongside anybody with life-controlling issues that separate them from God, and help them know Christ. God has also brought me out of my own alcohol addiction."
On July 1, Johnson was hired as the full-time Executive Director of NorthEast of the Well (N.E.W.), a Christ-centered, worshipping community that "provides discipleship, encouragement, accountability and a network of resources that empower people to move from lives of dependence to independence under Christ."
In 2007, Johnson began a Bible study at Heritage House, and N.E.W. evolved as an outreach to women recovering from life controlling problems and addictions, though men are involved now too. 
In 2009, N.E.W. became an independent 501(c)(3). Johnson was on staff at St. Andrew's for 11 years, until joining N.E.W. full-time.
"NorthEast of the Well has outgrown three homes, and we're grateful St. Andrew's lets us meet in their chapel," Johnson said. "We're more than a church; we're people's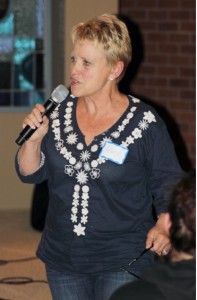 consistent, life-long community. We address long-term needs and help people break out of generational sin and patterns. We walk people through court issues and probation, and getting children back. We refer people to housing, and we're connected to ministry partners. We're a resource, but we build relationships."
N.E.W. meets Mondays at 6 p.m. at St. Andrew's and offers dinner, fellowship, worship and teaching. Presently they feed 150 people weekly, including 40 children.
"We've operated with part-time help and volunteers," Johnson said. "But we're finding a lot of girls are coming out of prostitution and addiction, and we want to expand into other communities. We need more leadership, so we're trying to disciple women and multiply our reach. We also want to broaden our support base, and include other churches and ministries."
Emily Schilling, a N.E.W. board member who has been involved in the ministry since it began, shares Johnson's passion.
"I love this ministry and help as much as I possibly can," Schilling said. "I love pouring into the women and they pour into me. I love Jesus and these women and I see the changes God is making in them, and the changes He's making in me. I see myself in a lot of the women. I don't have the same background, but I know where I'm broken and that's where people connect; being there is something I would pay to do.  It's a lifeline for me."
N.E.W. partners with Teen Challenge, Orange County Rescue Mission, Heritage House, Mika, and other non-profits. Laura said the ministry helps people learn life skills, dependability and accountability, as well as spiritual transformation, and there are many carefully vetted people available for part and full-time jobs.
"The ministry's name comes from the Bible passage in John where the woman at the well had the critical encounter with Christ and then went back to her community saying, 'Come, see a man who told me everything I did. Could this be the Christ?'" Johnson explained. "Many came to believe because of her faith, and many of our members return to their communities and share their stories."
"We're seeing people transformed into leaders," Johnson continued. "We're thrilled that the community is giving these women a chance by offering jobs. We're hoping for more.  If you can support us financially or have an employment opportunity for one of our carefully vetted people, give us a call. Or better yet, come and see."  
For information, visit northeastofthewell.org
 Cindy can be reached at [email protected]