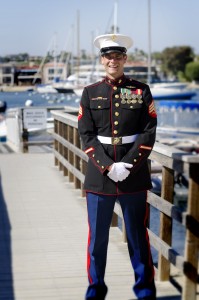 "Every year is wonderful, but this year is unique in that we have the theme of honoring our military, specifically our Veterans," explained Pamela Curry, Newport Beach resident and Chairman of Orange Coast Christian Outreach. "We always put a table of Veterans together for the Mayors' Prayer Breakfast, but this year we also have several Veterans speaking at the different events around the county. "
Orange Coast Christian Outreach Week began in 1964 as a community outreach in Newport Beach and has since expanded to include nine cities in Orange County. OCCO is a non-profit ministry whose mission is to change lives one story at a time. This year 25 churches are involved. Vanguard, Concordia and Trinity Law School are sponsors. Curry has led the organization for 13 years.
"It's a week to hear ordinary people share extraordinary stories about how Jesus changed their lives," Curry explained. "People invite friends and co-workers who might not be comfortable going to a church to come to people's homes or clubhouses and hear speakers talk about how their lives have changed."
The Mayors' Prayer Breakfast is Friday, March 13 at the Irvine Hotel, and it kicks off the week of community gatherings. The speaker for the breakfast is Brent Theobald, a USMC Combat Veteran.
"Brent is a US Marine Corps Elite Combat Soldier who suffered from Post Traumatic Stress Disorder," Curry said.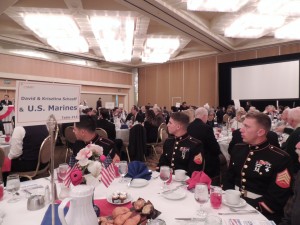 "It was so bad that he was at the point of wanting to kill himself. After a group of us heard his story about how Christ miraculously rescued him from PTSD, we all realized that he needed to be the keynote speaker at our Mayors' Prayer Breakfast. He may not have a name that is well known, but he certainly speaks to a well-known situation. There's a real problem out there with Post Traumatic Stress Disorder that we need to address."
"We'd already decided that he would be our speaker, and then the movie 'American Sniper' came out, increasing people's awareness and interest in PTSD," she added. "Brent was among the first on the ground in search of Osama Bin Laden in 2001. He was no stranger to our committee; we knew him and knew that he'd been Director of Veterans Affairs at Vanguard. Through connections through the Prayer Breakfast, Brent met Caitlin Barney who sang for five years at the Breakfast, and they are now married and have a baby girl."
Some of the topics addressed in Newport Beach at various times and in various locations from March 13 – 21 are:
Debbie Siciliani, Debi Rooney and Gina Pastore are three widows who will each share about how they forged a deep friendship as they bonded in grief after the loss of their husbands.
Sally Afable, wife of Dr. Richard Afable, CEO St. Joseph-Hoag, will talk about surviving grief after the loss of their son.
Dave and Rose Kuhn will share about their daughter donating a kidney to Dave, a Vietnam Veteran who had been exposed to Agent Orange.
Nancy Rielly will talk about how she felt God pulled her out of a house fire when she was just a child.
Tess Rutherford, USMC Veteran, will speak about overcoming her rebellious early years to become a successful entrepreneur and author.
Carol Labeau, former TV News Anchor, will talk about recovering from overachieving.
For a complete listing of all of the events during the week of Orange Coast Christian Outreach, go to outreachweek.org.
Cindy can be reached at [email protected]