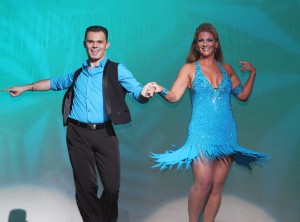 A star-studded lineup of high profile Orange County community leaders will participate in this year's "Dancing For Tomorrow's Stars" gala to benefit Assistance League of Newport-Mesa on Saturday, March 21 at the City National Grove of Anaheim. Assistance League of Newport-Mesa will commemorate their 75 years of philanthropic services to tomorrow's stars, the children in Newport Beach and Costa Mesa, with this elegant evening of dinner and dancing competition.
Community leaders are paired with professional ballroom dancers in a format similar to the popular ABC television production, "Dancing with the Stars."
The six "celebrity dancers" at the gala include Cate Heck, Milena Kitic, Dennis Kuhl, Lynn Pyle, Mario Rodriguez, and Sean Williams.
Each of these dancers has committed to a minimum of 20 complimentary private dance lessons with professional dancers under the supervision of Eddie Alba from Century DanceSport. They will prepare and learn two 90-second routines before they are ready to compete on stage at the gala.
The dancers are competing for titles such as Best Male Dancer, Best Female Dancer, and Fan Favorite. Voting for the dancers begins online before the event and continues in person during the event. The dancing pair with the most votes at the conclusion of the evening wins the competition.
This year is also stacked with celebrity judges, who have the role of scoring the dance routines and adding commentary as the dancing pairs take center stage. The three judges include Alfred Molina, Chairman of Black, Starr & Frost; Tina Aldatz, Founder of Foot Petals, and Christopher Schulz, President and Publisher of Orange Coast Magazine.
The 2015 "Dancing for Tomorrow's Stars" fundraiser begins with a cocktail reception, followed by dinner and the competition. Tickets are $200 per person and are available through the Assistance League of Newport-Mesa.
For more information, ticket purchasing, and to vote for your favorite dancers, please visit alnm.org.
Assistance League of Newport-Mesa began in 1940 in Newport Beach with a small group of women wanting to make a difference in the lives of children. Today, they are one of the largest chapters in the national organization.