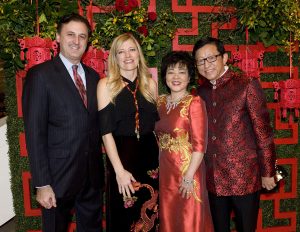 By Christopher Trela & Catherine Del Casale | NB Indy
 It was a case of East meets West when the Pacific Symphony presented its inaugural Chinese New Year Celebration and Concert on January 28 at Segerstrom Concert Hall.
The event was a true feast of the senses for 180 guests who enjoyed a special reception and dinner before joining more than 1,500 concertgoers for a fascinating evening of music, art and dance from both Eastern and Western cultures.
After walking a red carpet into the concert hall, event attendees enjoyed a cocktail reception with tray passed appetizers. An energetic lion dance (a traditional dance in Chinese culture) led to patrons ascending the Segerstrom Hall's staircase to the Box Circle level, which was transformed into an elegant dining room filled with the bright yellow blooms of forsythia branches, colorful LIULI sculptures and an installation of lucky Chinese infinity knots.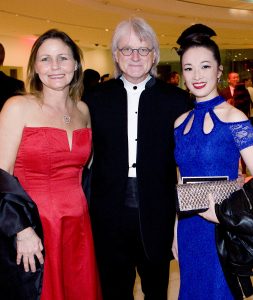 During the dinner chaired by Pacific Symphony board member Charles Zhang and his wife, Ling, guests enjoyed a performance of Chopin's Waltz Op. 42, Mozart's Turkish March and Yundi Li's "Colorful Clouds Chasing the Moon" by pianist Fei Fei Dong.
To conclude the dinner, the Silk Road Girl Band performed on a mix of Eastern and Western instruments while Master Peng painted to the music.
The three-course meal began with a trio of Roast Duck Bao with hoisin and scallion; Five-Spice Seared Rare Beef Cucumber Salad; and a Chilled Soba Noodle Salad with Hamachi Fish and ginger soy dressing.
The entrée was a Meyer Lemon Chilean Seabass with miso, bok choy, soy beans, asparagus, carrot butter and crispy wonton. Dessert featured a quartet of Ferrero Rocher Chocolate Cake, Coffee Chantilly, Cake Tuile and Chicory Meringue.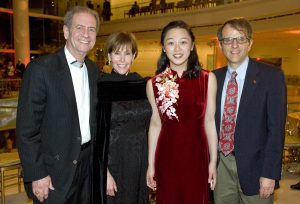 Richly decorated in red and gold, each table featured an illuminated LIULI crystal glass sculpture. LIULI fine glass art served as a visual manifestation of the Chinese philosophy and culture also expressed in the evening's music.
"The evening was a celebration of the rich heritage emanating from Chinese culture and an opportunity to bring our diverse Southern California community together for a grand celebration framed in the glories of symphonic music, dance, art and vocal music," said Pacific Symphony President John Forsyte. "To make the sumptuous pre-concert dinner even more spectacular, we were honored and delighted that both LIULI artist Loretta H. Yang, and her husband, LIULI artist/CEO Chang Yi, were guests of honor at this event! Both artists strive to conserve Chinese culture and heritage through crystal art with a modern twist."
"Each table had its own special piece to view during dinner," noted Catherine. "Each one is unique and filled with meaning. The dinner itself was incredible, one that I'll remember for a long time."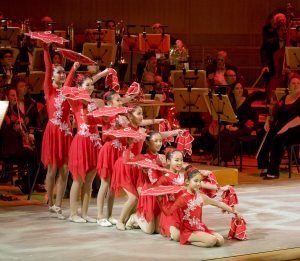 "I agree, the dinner itself was spectacular, and to have such a fascinating array of music and culture represented for the music during dinner was a true delight," added Christopher.
The concert itself was equally fascinating. In addition to the Pacific Symphony, led by Music Director Carl St.Clair, the singers and dancers included the Yaya Dance Academy, UCI Dance, and the Pacific Chorale.
The music included "Butterfly Lovers Concerto" by He Zhanhao/Gang Chen and Hua Wu's "Deep into the Night" featuring erhu master George Gao, as well as Li Huanzhi's "Spring Festival Overture," Debussy's "Clair de Lune" and the inspirational "Ode to Joy" from Beethoven's Ninth Symphony—classical music's universal theme of sharing and brotherhood.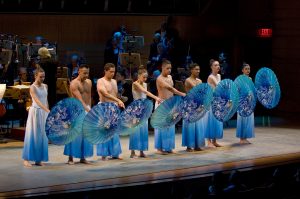 "That was a unique and inspirational evening," declared Christopher. "Between the colorful dancing, unusual instrumentation, fascinating music, and the 20-minute finale from Beethoven's Ninth Symphony, it was unlike any Pacific Symphony concert I've experienced. And, since this is the Year of the Rooster, you could say this concert was really something to crow about!"
In addition to a VIP intermission reception, event attendees enjoyed a post-concert reception with the guest artists.
Each guest received a red envelope filled with a two-dollar bill, a symbol of good fortune. Christopher had two of them in his envelope while Catherine's was empty, so he shared his abundant luck with her.
The elegant affair raised $80,000.
"Because this was truly a feast of love, all proceeds from the dinner will go to support Pacific Symphony's many education and community programs so that underserved children and community members can also enjoy the wonderful art of music," said Symphony Board member Charles Zhang.
For more information, visit PacificSymphony.org.