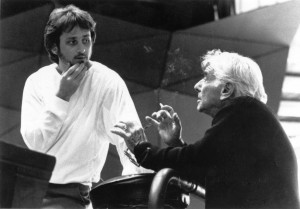 Composer, conductor and teacher Leonard Bernstein was one of the undeniable giants of 20th-century music, and the first American-born conductor to become a major star.
His "West Side Story" musical broke theatrical boundaries and is still one of the most produced shows in the theater world, while his "Candide" enjoys immense popularity in opera circles.
Bernstein also composed orchestral music, often conducting his own works.
He came to prominence in 1943 when he was only 25, leading the New York Philharmonic on a few hours' notice filing in for the ailing Bruno Walter in a concert that was nationally broadcast on the radio from Carnegie Hall.
In 1985, a young Carl St.Clair met Bernstein as a conducting fellow at Tanglewood Music Center. A few years later in 1990, St.Clair stepped in for the ailing Maestro and conducted his "Arias and Barcarolles" during what turned out to be Bernstein's last concert—he died later that year.
St.Clair would soon be named music director of Pacific Symphony (a post he's held for 25 years), but the impact of Bernstein's mentoring to St.Clair has remained to this day.
As part of his 25th anniversary season, St.Clair has programmed an all-Bernstein program called "For the Love of Bernstein" that takes place Jan. 29-31 in the Renée and Henry Segerstrom Concert Hall.
This tribute to the man St.Clair calls the greatest influence on his musical life includes a fascinating mix of Bernstein's best music: Symphony No. 2: "The Age of Anxiety," "Slava! A Political Overture," "Somewhere" from "West Side Story," Overture to "Candide," plus selections from "On the Town," "Arias and Barcarolles," "Trouble in Tahiti" and "Wonderful Town."
"For the Love of Bernstein" features pianist Benjamin Pasternack and American soprano Dawn Upshaw (both of whom performed with Bernstein), and special guest host Jamie Bernstein, the daughter of Leonard Bernstein.
"Prelude (Doa Day Trio)" from "Trouble in Tahiti" is performed by three vocal students from Chapman University: mezzo-soprano Erin Theodorakis, tenor Marcus Paige and baritone Elliott Wulff.
This program is part of "Music Unwound," a series of three concerts during the symphony's 2014-2015 season with enhancements underwritten by the Andrew W. Mellon Foundation that deliver new innovative formats and thematic programming as part of the concert experience.
A Sunday Casual Connections concert called "The Bernstein Legacy" takes place Sunday, Feb. 1 at 3 p.m., and features a deeper exploration of Leonard Bernstein and his music with "The Age of Anxiety" (featuring Pasternack as piano soloist), "Slava!; A Political Overture," and the Overture to "Candide."
The St.Clair and Bernstein Connection
Throughout his career, Bernstein displayed an extraordinary combination of impassioned musical creativity, personal charisma, and a restless intellect. He became music director of the New York Philharmonic in 1958 and over the next 11 years led more concerts with that orchestra than any previous conductor. He gained additional fame as a music lecturer and teacher with his television show "Young People's Concerts."
Given those traits and accomplishments, it's no surprise that he became St.Clair's mentor.
"In the summer of 1985, I was selected to be a conducting fellow at Tanglewood," explained St.Clair. "To be included in this group was a huge honor. Bernstein himself was a fellow. I will never forget the day he walked in. I expected a 10-foot tall conductor, a great maestro of incredible stature, and one of the first things he said was, 'Where's my cowboy from Texas?' He had read our bios, and was very happy to meet me because he hadn't met a conductor from Texas. That's how he coined the pet name of 'Cowboy' for me. That was the beginning."
"The first day we worked on the second symphony of Beethoven," added St.Clair. "I thought I really knew it and three hours later we had gotten as far as measure five. You were completely and totally spellbound by his knowledge and his positive attitude, how he helped people. To see music through his eyes really changed my vision about the world of classical music. It was a great gift and set me out on a whole different path. My musical journey changed immediately."
For more information on the "For the Love of Bernstein" concert, visit PacificSymphony.org or call (714) 755-5799.