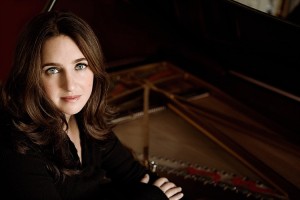 "Stay seated, this is not Hee Haw," Pacific Symphony conductor Carl St. Clair quipped, dispelling any confusion as to what the audience was about to experience with the banjo-accompanied rendition of the hoedown classic "Camptown Races" that opened the Symphony's program at Segerstrom Concert Hall last Friday night.
Indeed, what followed was not banjo, barn-raising kitsch, but an exploration of American music through the folk and jazz-inflected pieces that carved out our nation's place in the European-dominated classical music world.
Before beginning with Charles Ives' Symphony No. 2, a symphonic tapestry of American music that pieces together melodies of classic folk songs from "Turkey in the Straw" to "America the Beautiful," St. Clair, the symphony, and baritone William Sharp demonstrated several of the melodies to prep the audience for the musical treasure hunt.
The Pacific Symphony was in top form, squeezing every ounce of poignant majesty out of the ode to American song. Evoking visions of our nation's past, the symphony draws on a wide variety of American experience, as melodies from slave songs "Old Black Joe" and "Wake Me Up For The Great Jubilee" mingle with "Bringing in the Sheaves" and "Pigtown Fling."
The result is an appropriately complex symphonic portrait of our nation's troubled and storied past, climaxing in an all-out sprint of American brawn, combining the previous melodies for a triumphant announcement that American music has arrived.
To explore the global influence of American jazz on classical music, the symphony played Maurice Ravel's Piano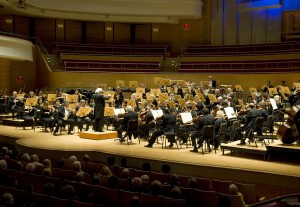 Concerto in G Major. A French composer, Ravel greatly admired jazz and was dumbfounded as to why American composers were not incorporating it into their symphonic works.
The symphony's rendition of his blues-inflected concerto featured soloist Simone Dinnerstein, an absolute revelation who captivated the audience as well as the orchestra. Her masterful and emotive passages during the final movement inspired the orchestra to play so fervently that an unknown object (a piece of an instrument?) flew up in the air during the final measure, to Dinnerstein and St. Clair's delight.
A night of American music would not be complete without George Gershwin's "Rhapsody in Blue," whose intermingling of jazz and classical music awakened the world to American melody and rhythm, while signaling with one clarinet glissando that the metropolitan age of flappers, speakeasies, and skyscrapers had arrived.
A locomotive of a piece, "Rhapsody" was not let down by the kinetic symphony, who appeared to be just as propelled by its bulldozer energy as the audience.
Dinnerstein was spellbinding at the piano, captivating the audience with the mesmerizingly elegant motion of her hands, and the bluesiness of her interpretation. By the close, the audience was indeed enraptured, giving the Pacific Symphony, St. Clair, and especially Dinnerstein a standing ovation and multiple shouts of "Brava!"
For information on upcoming Pacific Symphony concerts, visit PacificSymphony.org.