Some 15 years ago, I attended events at the old Pelican Hill Country Club, which as I recall had a small but charming patio with a water fountain, and a nondescript ballroom that held maybe 250 guests for dinner.
Imagine my surprise the first time I visited the new Resort at Pelican Hill, which opened on November 26, 2008. I was confused, delighted, and a bit overwhelmed. The old clubhouse was gone, replaced by a beautiful, sprawling Italian village.
The more time I spent at Pelican Hill Resort, the more I came to appreciate the breathtaking views, incredible architecture and artwork, the effortless hospitality, and the fabulous cuisine from the resort's three restaurants.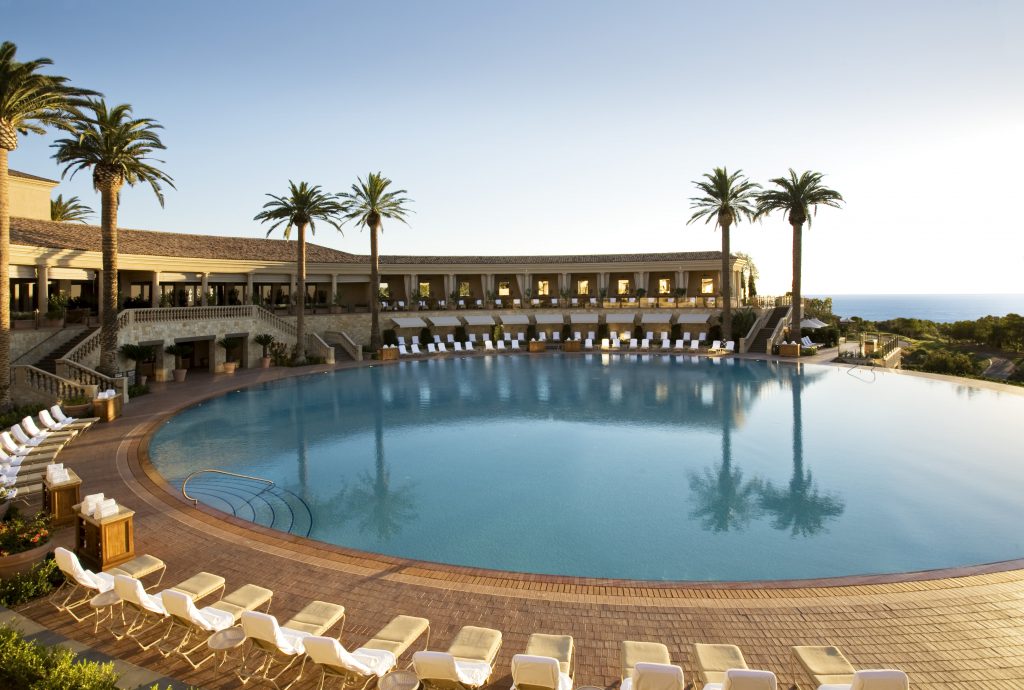 The Pelican Hill Resort, which celebrated its 10th anniversary this week, has helped put Newport Beach on the international tourism map. The Five-Star, Five-Diamond destination received a Condé Nast Traveler Readers' Choice Awards Top Southern California Resort (2012), Top U.S. Resort (2011), Top-Rated Golf Resort Worldwide (2012) and Top-Rated California Resort Spa (2012). It was also one of Travel + Leisure's "Top 100" World's Best Hotels (2011 Readers' Poll), and with two courses ranked among Golf Digest's America's 100 Greatest Public Golf Courses (2015).
The accolades keep coming, and so do the guests. Pelican Hill Resort attracts visitors from around the world, who stay at Pelican Hill for weeks at a time (some for months, and even years). However, a major market for Pelican Hill Resort is Southern California, and even Newport Beach. Pelican Hill is a fun weekend getaway destination, and the restaurants are popular with locals who also appreciate the easy and complimentary valet parking (something seldom seen at other resorts).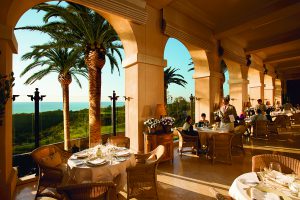 The amenities at Pelican Hill Resort attract guests and keep them coming back. The 504-acre Resort offers 128 Villas with around-the-clock butler service; 204 residentially appointed Bungalow guest rooms and suites with private terraces and hand-carved limestone fireplaces; a Five-Star Spa with 22 treatment rooms; a trio of superb restaurants including authentic Northern Italian cuisine at Andrea; an iconic Coliseum Pool, one of the world's largest circular pools, with tiered decks and luxury cabanas; and Pelican Hill Golf Club with 36 ocean-view holes designed by Tom Fazio.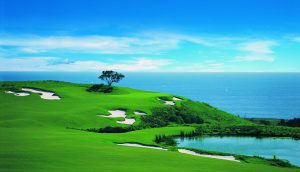 The more I visit Pelican Hill Resort, the more I want to return. I hold meetings at Pelican Hill Resort, either in the cozy Caffe (their caramel lattes are terrific) or in the Great Room near the fireplace. And of course, Andrea Restaurant is one of my favorite dining spots in Orange County.
One of the things that attracts me to Pelican Hill Resort is the architecture. I have taken guided tours of the resort and learned about the designs and the artwork that sets Pelican Hill Resort apart from other similar destinations.
According to material form Pelican Hill Resort, Andrea Palladio (1508-1580), the acclaimed architect of the High Renaissance and one of Italy's most influential architects, is celebrated for his churches, villas, palaces and other grand structures in Northern Italy. His architectural style emphasizes perfect harmony with the natural landscape. Pelican Hill Resort has adapted his Palladian style. And coincidentally, the Resort opened November 26, 2008 – virtually 500 years to the day of Palladio's birth.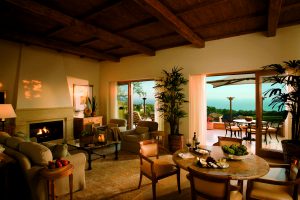 Stroll the grounds and the interior halls of Pelican Hill Resort and you'll find everything from plein air paintings to Renaissance tapestries and antiques.
Last Monday, the official 10-year anniversary, I was invited to a luncheon under the rotunda near the golf course, with spectacular views of the ocean and the resort. It reminded me how lucky we are to have Pelican Hill Resort in our backyard.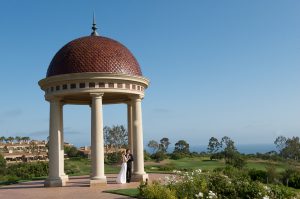 "During our first decade, we have had the privilege of welcoming guests from near and far, but the local support of the Newport Beach community is key to our success," said Pelican Hill Managing Director Tom Donovan. "We appreciate what an important role our neighbors continue to play in the Pelican Hill story, and we look forward to the next chapter together."
Perhaps Gary Sherwin, president and CEO of Newport Beach & Company, summed it up best: "Pelican Hill has transformed Newport Beach as a luxury aspirational destination by being the first Five Star resort in the city and setting the entire city's tourism industry on a completely new trajectory. Given the amenities and appeal of the property, we now can attract visitors from countries within the Middle East, Asia and Europe in the upper tier category that we had not been able to secure before and whose overall destination spending is unparalleled. Pelican Hill's unique architecture and services have also attracted the Hollywood community who value privacy and exclusivity and allowed us to tell a truly luxury hotel experience that supports the special lifestyle of Newport Beach. No other development in the last 50 years has transformed our city's hospitality industry as much as Pelican Hill and we congratulate them on a decade of great success."
For more information, visit PelicanHill.com.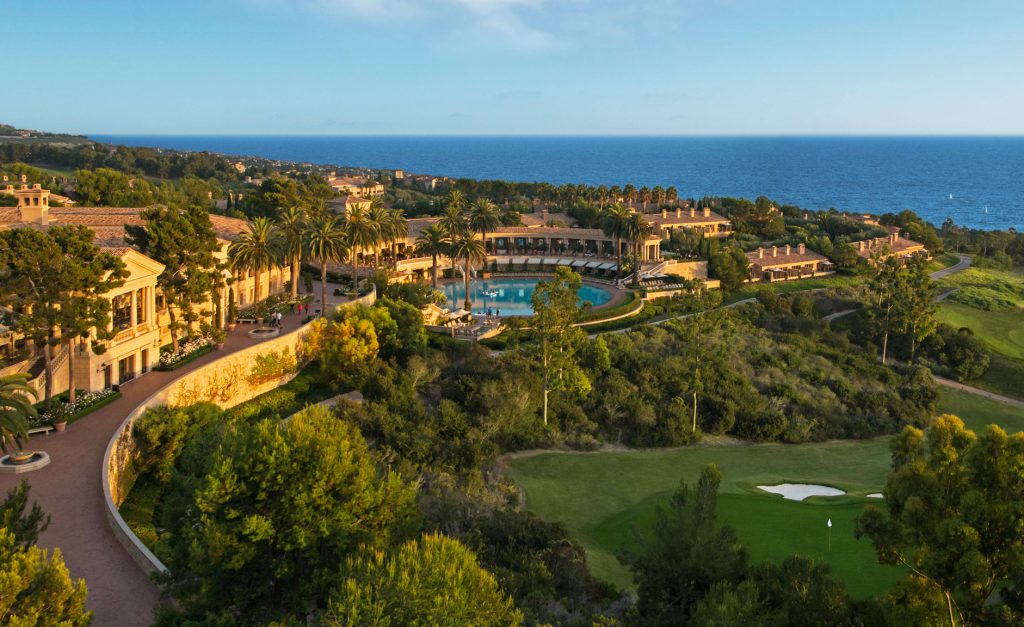 PELICAN HILL TIMELINE
September 2005: The Resort at Pelican Hill breaks ground
November 2005: Pelican Hill Golf Club's two courses close for two years, as architect Tom Fazio begins "re-perfection" design work
August 2007: Giuseppe Lama appointed as The Resort at Pelican Hill's opening Managing Director
November 2, 2007: Pelican Hill Golf Club and Pelican Grill open
February 2008: The Coliseum Pool's five-month process of laying 1.1 million hand-cut mosaic glass tiles by hand begins
July – August 2008: The Resort at Pelican Hill interviews more than 20,000 candidates and selects less than 1,000 to join its opening team
November 26, 2008: The Resort at Pelican Hill opens and welcomes its first guests
May 2009: Condé Nast Traveler selects Pelican Hill for "Hot List: 2009" recognizing the best new hotels and spas
June 2009: Travel + Leisure names Pelican Hill to the "It List" 2009 recognizing the best new hotels
September 2009: GolfWorld names Pelican Hill among "Top 50 Resorts" in 2009-2010 Reader's Choice Awards
November 2009: The Spa at Pelican Hill earns Forbes Travel Guide Five-Star Award and The Resort at Pelican Hill earns AAA Five Diamond rating Spa Magazine Silver Sage Readers' Choice Awards selects The Spa at Pelican Hill as Favorite New U.S. Spa
November 2010: The Resort at Pelican Hill debuts at #22 among "Top 100 Best in the World 2010" ranking by Condé Nast Traveler readers
April 2011: Pelican Hill named top California Golf Resort by Condé Nast Traveler readers
May 2011: Pelican Hill's two courses each rank among Golf Digest's America's 100 Greatest Public Golf Courses 2011/2012
August 2011: Travel + Leisure ranks Pelican Hill #6 "Top Resort in U.S./ Canada" & "Top 100" in World's Best Hotels 2011 Reader's Poll
October 2011: Pelican Hill presents inaugural Festa dell'Autunno Weekend, a celebration of the harvest season, along its olive tree-lined lanes
November 2011: Condé Nast Traveler readers vote Pelican Hill the Top U.S. Resort
April 2012: Condé Nast Traveler readers rate Pelican Hill the World's Top Golf Resort
June 2012: Condé Nast Traveler readers rank The Spa at Pelican Hill as California's Top Resort Spa
February 2013: Pelican Hill becomes Newport Beach's only Forbes Travel Guide Five-Star Resort
March 2017: Tom Donovan appointed as The Resort at Pelican Hill's Managing Director
November 2018: Pelican Hill Resort celebrates its 10th anniversary