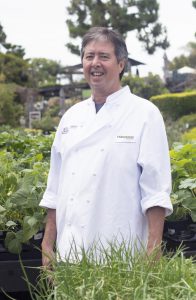 The phrase "farm-to-fork" has become somewhat of a cliché in the restaurant industry, but for Rich Mead, owner and executive chef of Farmhouse at Roger's Gardens, farm-to-fork has been his trademark at all of his restaurants for the past 20 years.
"In 1998 I decided to begin sourcing as much of our produce as I could through local farms and farmers, and my weekly trips to the market began. Once we made a commitment to this philosophy, our cooking and routines were changed forever," said Chef Mead.
Not only does Chef Mead make the weekly trek to the Santa Monica Farmer's Market, he has established relationships with boutique purveyors of fish, meat, produce and other items that reflect his desire to provide the best ingredients from the best sources.
Those ingredients are on full display with the new fall menu that Chef Mead recently unveiled. It's full of seasonal ingredients prepared in both simple and creative ways.
Two weeks ago, I accompanied three fellow Firebrand Media editors on a field trip to Farmhouse to sample the new menu items.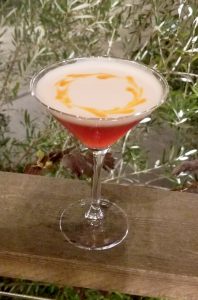 We began our adventure by tasting the seasonal cocktails: Dirty Dish Water with lemon, Jardesca, Amass gin, and evoo, and the Triple B Flavor Town with blackberry, bourbon, and egg white. We added The Answer (Benedictine, chartreuse, sweet vermouth, rye whiskey) and the Whim, which that day consisted of rye whiskey, wild honey, lemon, and marionberry liqueur from Oregon.
Next came the Autonomy Farms chicken liver pate ($15) with pickled green garlic, mustard greens, cucumber, radish, red onions, house made peach-apple jam, and grilled bread from Rye Goods Co.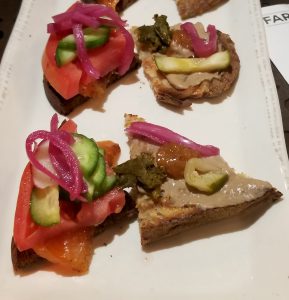 "Rye Goods is going to build a bakery in the Fun Zone," Chef Mead told us. I made a mental note to follow up—nothing better than fresh baked artisanal bread. And if you like pate, which I do, you'll love Chef Mead's version with his market-fresh toppings.
Then it was on to a grilled pomegranate glazed salmon salad ($26) with roast butternut squash, pink lady apples, roast leeks, cherry tomatoes, quinoa, mixed lettuces, dijon vinaigrette, candied pecans, and pomegranate seeds. Like the other dishes to come, it was pretty on the plate and the flavors and textures mixed perfectly.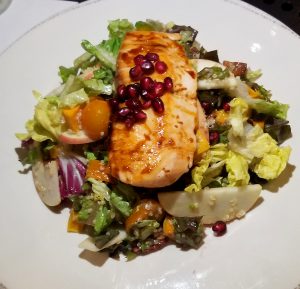 Next came the market salad ($11), which was brought to us by Chef Mead's right-hand man, Chef Allan Aguinaga, who has been at Farmhouse for the past two years after stints in the kitchens at Juliette, True Food, and Studio at the Montage.
"The salads here are very veggie forward," Chef Aguinaga told us. "The market salad has been on the menu forever, and changes with the marketplace."
The fall menu version has persimmons, raisins, radish, Persian cucumbers, cherry tomatoes, lettuces, balsamic vinaigrette, pistachios, and goat cheese.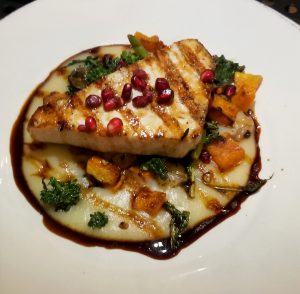 We chatted with Chef Aguinaga, who stated that "Rich is an amazing mentor, it's incredible to be here. I am passionate about what we do here. The market salad is a representation of what get from the farms. It goes beyond just buying produce. Food is more than just something to put out to sell for money. It's an ideal."
We also loved the grilled dijon soy glazed pork tenderloin ($29) with parmesan potato cakes, braised red cabbage, apple raisin compote, and apple jack brandy sauce, and the grilled pomegranate glazed swordfish ($34) with rapini and roast butternut squash, charred leek and potato puree, and pomegranate seeds.
We completed our meal with a trio of desserts (all $9 each): Windrose Farms apple cobbler with cornmeal thyme biscuit, vanilla bean ice cream, and apple sage sauce; banana and sweet potato bread pudding with white chocolate sauce, blueberry compote, vanilla bean ice cream, and toasted pistachios; and toasted almond cake with pomegranate honey sauce, poached pear, and sweet cream.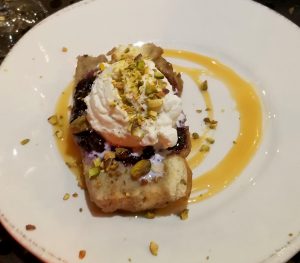 Overall, the dishes were indeed an ode to fall, and a salute to the fresh produce carefully curated by Chef Mead and his team.
"Rich's undying devotion to his true cause is nothing I have ever seen in this industry," noted Chef Aguinaga. "I have seen people think of food as a way of making money, but that is not how we think here. Even though we are a successful restaurant, we make food to encapsulate what the farms give us, and that ideal will permeate my career and leave a lasting legacy for Rich."  
For information on Farmhouse, visit FarmhouseRG.com.