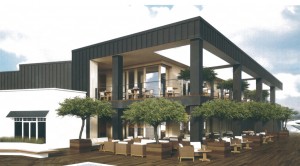 The name Nobu can cause gourmands to take notice and sushi lovers to salivate.
Celebrated Japanese chef Nobu Matsuhisa has more than 30 restaurants around the world that bear his name.
Dinner at Nobu can run $100 to $200 per person. It's a dining experience that locals normally have to drive to L.A. for, but that will be changing soon.
At last week's Planning Commission meeting, the commissioners voted 6-0 to approve a conditional use permit to allow Nobu to open a restaurant in Lido Marina Village.
Nobu will go in the old Warehouse Restaurant space (which closed in 2001) overlooking the harbor.
Lido Village has been undergoing a makeover and will be welcoming new tenants in early 2016. Nobu is seen as the primary anchor tenant for Lido Marina Village
Surprisingly, the commissioners approved a permit with later hours of operation than those recommended by staff.
According to the staff report, the restaurant includes 2,907 square feet of interior net public area (seating and customer) with 79 seats at the first floor and 2,243 square feet of interior net public area with 76 seats at the second floor level. The accompanying outdoor dining patios facing Newport Harbor are 1,696 square feet in area with 56 seats at the first floor and 1,960 square feet with 56 seats at the second floor.
Nobu restaurant proposed to stay open until 1 a.m. but staff recommended 12:30 a.m. due to concern for the historically higher crime rate on the peninsula and bars in the area that closed around the same time or later.
The commissioners asked about nearby residences, and learned they were all 500 or more feet from the restaurant.
Staff said they had met with representatives of the restaurant, and with the Newport Beach Police Department, and came up with the 12:30 a.m. closing time as a "subjective time."
Nobu representative Brian Leon, who is overseeing several projects for Nobu including the Lido Marina Village location, noted that the restaurant is "five star dining. People can enjoy a great meal and ambiance in a classy and controlled environment."
He said he had talked to Councilwomen (nor Mayor) Diane Dixon, whose district includes Lido Marina Village, and they came up with a plan to have "lights up at 12:30 a.m. on weekdays, 1 a.m. on weekends. The goal is to offer a dining experience with late reservations that start at 10 or 11 p.m."
After more discussion from the public and from commissioners, including the desire to review the CUP in a year, the commission agreed to allow operating hours of 7 a.m. to 12:30 a.m. Sunday through Thursday, and 7 a.m. to 1 a.m. Friday and Saturday.