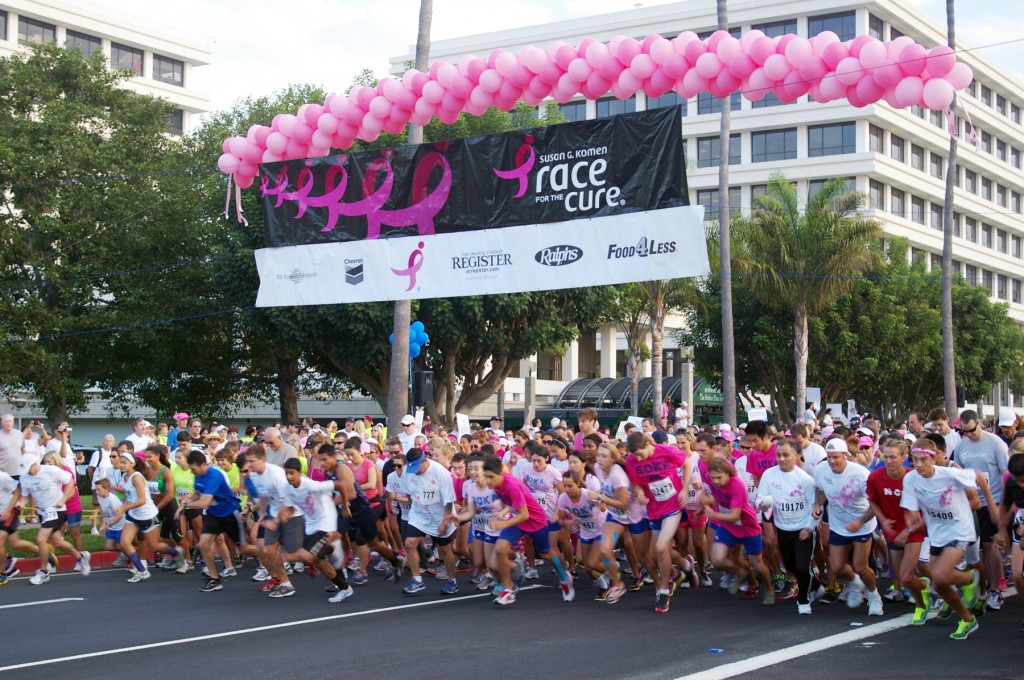 Thousands of runners will be taking to the streets of Newport Beach this Sunday, September 22, for the 22nd annual Susan G. Komen Orange County Race for the Cure.
The event connects breast cancer advocates, survivors, families and friends, in support of Komen's mission to serve people and save lives.
"Each year, the Race is the one inspirational community event that honors those whose lives have been touched by breast cancer," said Marie Cammack, 2013 Race for the Cure chair. "Every $125 raised above the registration fee can pay for a mammogram for a woman in need."
The Race is a family-friendly public event filled with poignant memories, celebrations of life, inspirational moments, and a passion toward the fight against breast cancer.
Participants are encouraged to run, walk or stroll at their own pace. The first 5K run/walk begins at 7:15 a.m. A second 5K run/walk begins at 9:45 a.m. Registrants, especially children and families, can participate in a one-mile "fun walk" at 8 a.m.
A Wellness Expo will be held from 6:30 a.m. to noon near the Pacific Life Building at 610 Newport Center Drive.
In addition to the races, more than 1,000 local survivors will be celebrated. During a Breast Cancer Survivor Parade at 8:45 a.m., survivors will march together to the steps of the Pacific Life Building. Wearing a pink beaded necklace for each year of survivorship and pink roses, they will be honored for their courage and triumph over the disease. This Survivor Tribute is a moving ceremony that includes an uplifting address to all participants and the release of white doves.
"Through events like the Race, Komen continues its vital work to provide advocacy, outreach and education that leaves a measurable imprint, helping uninsured and underserved women in the community," said Lisa Wolter, executive director of Komen Orange County. "We honor all those affected by breast cancer and look forward to more breakthroughs in cancer treatment and research to help end this disease."
One in eight women will be diagnosed with breast cancer in her lifetime. Oftentimes, the biggest barrier to receiving healthcare is lack of resources. Funds raised for Komen Orange County Race for the Cure support the Komen vision of a world without breast cancer.
Seventy-five percent of funds raised from the Komen Orange County Race for the Cure will support local breast health educational outreach as well as low or no-cost mammography and treatment services for underserved and underinsured women. The remaining 25 percent will go directly to the Komen Global Research Fund to energize science to find a cure.
In 2012, more than 18,000 participants raised $2.6 million, making Orange County's Race for the Cure the largest event of its kind in California.
Pre-registration for adults is $35 and includes a Race for the Cure T-shirt and bib. Registration for breast cancer survivors, seniors, and youth is $25. Registration on Race day is $40 for all categories.
To register or for more information, visit komenoc.org/race.