There are a lot of benefits that can come with having a non-medical professional helping out around the home and allowing seniors to remain independent.
FirstLight HomeCare in Orange provides just that service to all Orange County senior citizens, including Newport Beach resident Jeannette Lindsten, 95.
They provide non-medical in-home care, which can include help for seniors, new moms, anyone recovering from surgery and adults with disabilities.
"Anyone who may need assistance around the house," said OC FirstLight co-owner, Charles Park.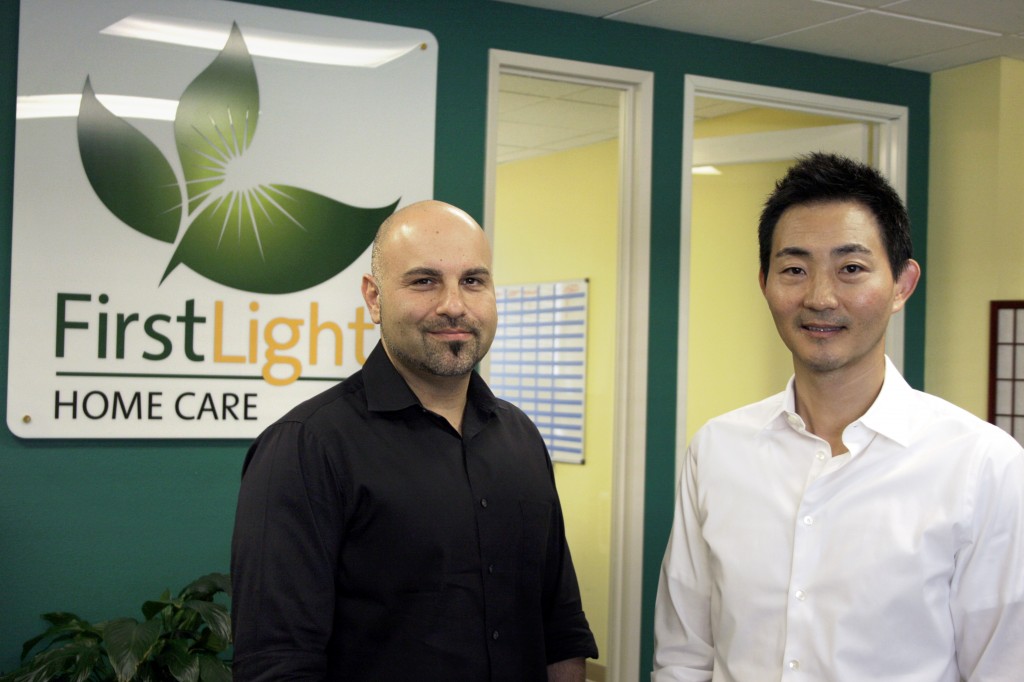 Homecare provides personal care, companionship, light housekeeping, transportation, laundry, bathing, and more.
"It's like an extension of another family member that is outside the house," explained co-owner Ray Kikavousi.
Lindsten agrees. She has become close with her caregiver, Ana Velazquez, who is a student at Santa Ana College and is working toward her EMT license.
"I consider her a friend," Lindsten said. "She's like family."
Born and raised in Oakland, she came to Newport Beach in 1995 from the bay area. She had a variety of jobs throughout the years, including 10 years in Tupperware.
She was married for 45 years, her husband worked as a lab technician for Dutch Boy Paint for 29 years and many more at the Associated Oil Company.
Now, the mother of grandmother of three and great-grandmother of 11, once known for her delicious ravioli and her love to entertain others, spends her life quietly at Seaview Lutheran Plaza in Newport Beach.
She and Velazquez swap stories as Lindsten teaches her how to cook and Velazquez updates her on her schooling.
Lindsten just celebrated her 95th birthday and Velazquez and her family took her out to brunch.
"It was excellent, I really enjoyed it," Lindsten said.
"It was really meaningful for both of us," Velazquez added.
They go shopping together, Velazquez drives her to and from doctor appointments, they go for walks, and more.
"I like to get out in the fresh air and walk," Lindsten said.
It's a positive experience for both of them, Velazquez said.
"It's rewarding," she added.
Lindsten got connected with FirstLight while she was staying at Victoria Healthcare and Rehabilitation Center in Costa Mesa while she was sick.
Family is also the reason Kikavousi and Park opened the business. They had owned a business together in the financial industry.
Kikavousi's grandmother got sick and the family hired someone to help when they weren't able. After about a month she was sent back to the hospital with tuberculosis, which she contracted from the caregiver, Kikavousi recalled.
Because of that, all of OC FirstLight's caregivers have to test clear for hepatitis and tuberculosis, Kikavousi said.
Park's grandmother had a homecare provider and as his parents are getting older, he started thinking about who he would want helping them.
"We're thinking, 'What if that was our family? Who would we hire?'" Park said
The family is leaving their loved ones in their hands, Kikavousi said, it's a big responsibility.
All caregivers are insured, bonded and certified, and have special training in dementia and Parkinson's diseases and are trained and certified by the Alzheimer's Association. They also go through national-wide criminal and driving background checks. Caregivers also go through random drug testing.
A few things make them unique, Kikavousi said, and sets them apart from the many other home care providers in Orange County.
The people they hire, he continued, have experience and are specially trained. And they pay for the extra training out-of-pocket, he added. They also provide California worker's compensation and liability insurance on all of their caregivers as well. They are also a Kaiser approved vendor.
It's competitive pricing for Orange County homecare, Kikavousi said. There are discounts, programs to help and some insurance coverage.
It's about improving the quality of life, Kikavousi said.
If there are any complaints about a caregiver they look into it and immediately send in a new caregiver, Park said.
"If you're unhappy with a (caregiver), we'll send out another one and make sure you're happy," he said.
Lindsten is familiar with how home caregivers sometimes don't work out.
She has had a variety of homecare providers in the past, and some of them have been pretty bad experiences with them, including theft, Lindsten said. There are some crooks in the business, Lindsten said.
There are also good people and positive experiences as well, Lindsten said, like Velazquez and the first woman she worked with, Caroline.
"I love her to death," said Lindsten, who really appreciated Velazquez and her company. "She's just a good person."
For more information, visit firstlighthomecare.com/home-healthcare-orange-anaheim.