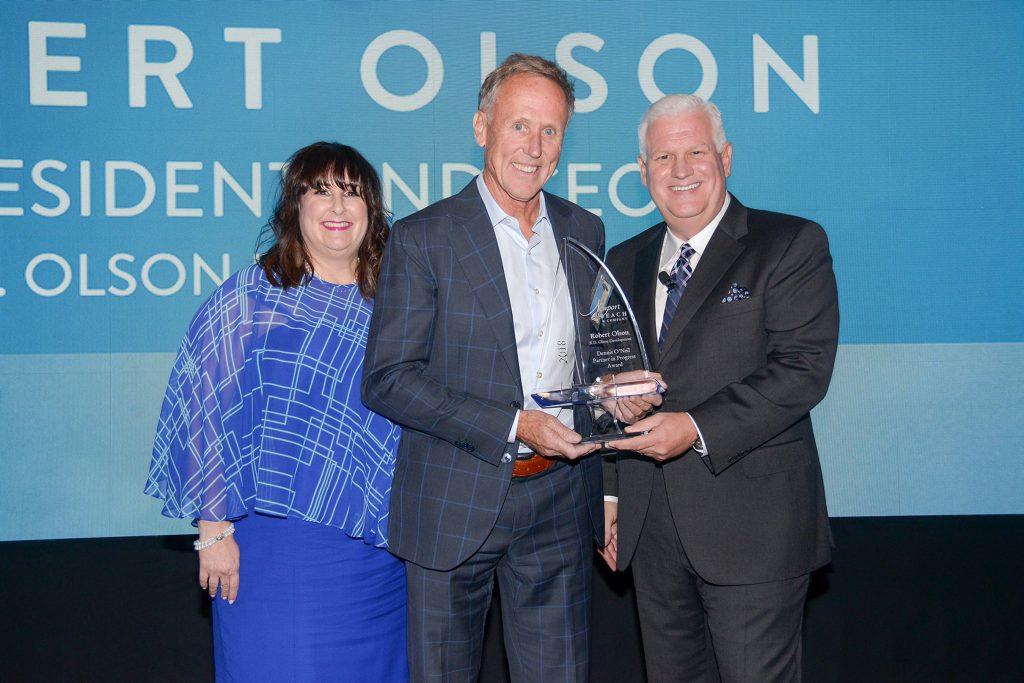 Tourism is a vital component of the economy of Newport Beach, a fact that was punctuated by impressive statistics at the annual Newport Beach & Company's Marketing Outlook dinner on Oct. 18 at The Resort at Pelican Hill.
According to Newport Beach & Company, the city's global marketing arm, it booked 216,118 room nights into the city during its last fiscal year, a 16.8 percent increase over the prior year, and generated $102.5 million in overall economic impact to the city, a 9.08 percent increase from 2017.
These numbers account for approximately one-in-four rooms sold in the city annually.
The group sales team, which books meetings into the city, exceeded its annual goal and booked 90,318 room nights, resulting in $25.5 million in direct revenue for Newport Beach hotels and resorts, and a total economic impact of $63 million.
Leisure advertising campaigns garnered 125,800 visitor room nights, with an economic value exceeding $39 million, including the spending on hotel and resort stays, shopping, dining and in-market activities.
"We are proud of the contribution our tourism marketing efforts make on the city's economy," stated Gary Sherwin, president and CEO of Newport Beach & Company.
"Tourism is vital to the wellness of our community.  Without visitor spending of $1.2 billion, each Newport Beach household would need to spend an additional $43,922 annually to support our local businesses," said Sherwin.
According to the Newport Beach & Company's fiscal year 2017-2018 report, 7.3 million people visited Newport Beach. They spent $1.2 billion, which supported 16,828 jobs and resulted in $43 million in taxes generated.
Digital marketing also proved to be a successful way to reach potential visitors. Visit Newport Beach, a division of Newport Beach & Company, had more than 1.1 million visits to its website, nearly 200,000 social media followers, and a total social reach of 28.4 million.
Along that line, Newport Beach & Company unveiled a new mobile tool at the Economic Outlook dinner to assist visitors with their trips and help customize their stay. Named Ask Marina, this "digital concierge" makes personalized recommendations for where to eat, things to do and hotels to stay at based on the visitor's interests and desired experiences. To view Ask Marina on desktop, visit AskMarinaNB.com, or download the app to your phone.
During the dinner, two outstanding community members were recognized for their dedication to Newport Beach and serving its guests.
For his many years of commitment to the development and growth of Newport Beach, Robert Olson, resident and local commercial developer, was honored with the prestigious Dennis O'Neil Partner in Progress Award. Olson created the Lido House Hotel that opened earlier this year.
"Tonight's honoree embodies everything Dennis stood for," said Sherwin. "Bob Olson loves this city, and his vision was not to create not just another hotel, but one that would embody the soul of this city inside and out. He said this project would be different. It was essentially a scaled replica of his home on Balboa Island. He wanted to take our destination brand and make it come to life. From the model of John Wayne's Wild Goose in the lobby to naming the restaurant Mayor's Table, Bob is truly a partner of this city. More than a hotel, it embodies the aspirational lifestyle that is uniquely Newport Beach."
Rebecca Willis of Balboa Bay Resort received the Rosalind Williams Service Excellence Award for her unwavering commitment to customer service, elevating the experience for locals and visitors alike.
Roger Dow, president and CEO of U.S. Travel Association, the Washington, D.C.-based organization representing all segments of the travel industry in America, delivered the keynote presentation.
Founded in January 2013, Newport Beach & Company is a non-profit organization established to serve as the official marketing agency for the city of Newport Beach. The agency brings together all of the marketing entities connected to the Newport Beach brand, and is designed to oversee separate business units that include Visit Newport Beach, Dine Newport Beach, Celebrate Newport Beach, Enterprise Newport Beach and Newport Beach TV.
For more information, visit VisitNewportBeach.com.