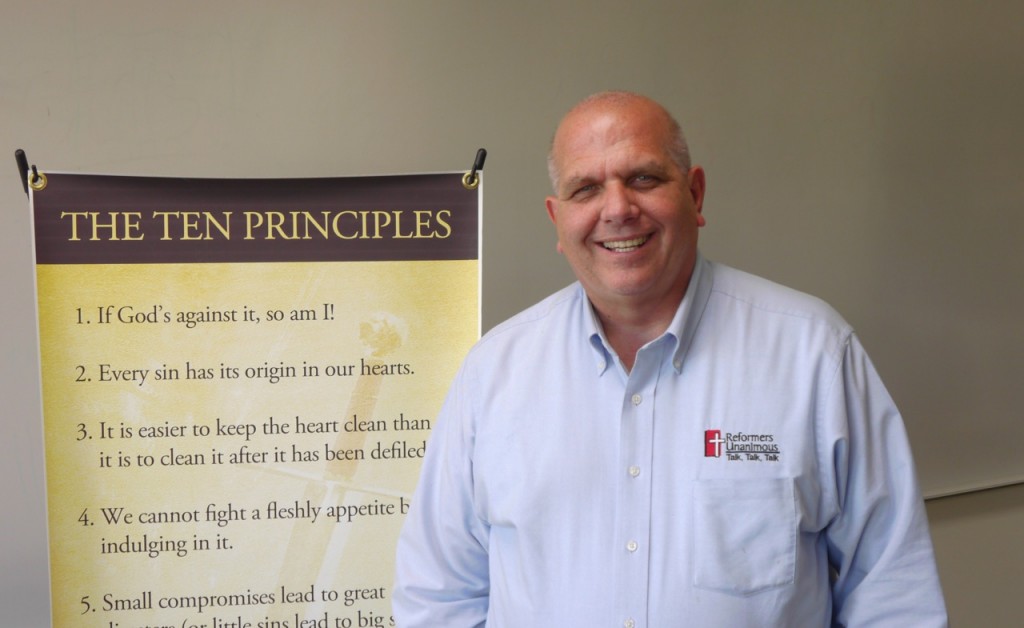 Do you, or does someone you know, have an anger issue, an addiction problem, or any other recurring issues that you or they can't overcome?
If so, then Doug McMains invites you to come to Reformers Unanimous on Friday nights. The Reformers Unanimous (RU) program meets on the property of Liberty Baptist Church.
"Reformers Unanimous is really for people with any kind of problem, addiction or stronghold," explained McMains, Reformers Unanimous director. "It's so exciting to hear and see the healing and the victories that happen in RU, the marriages that are strengthened, and the lives that are changed. I've seen great results for those who go through RU."
Reformers Unanimous just celebrated its one-year anniversary at the Liberty Baptist Church location.
"It was challenging to learn the program, but so encouraging to see people having victories over their struggles," McMains explained. "Our numbers are increasing as needs are being met. People come from all over, and the issues include drugs, alcohol, and pornography addictions as well as those who are struggling to have a better marriage, those trying to deal with anger issues, or trying to stop smoking. People come to learn how to deal with life's challenges. It's God's Word that does the changing."
Reformers Unanimous is a faith-based, nationwide program built on Biblical concepts.  It began in 1996 in Rockford Illinois by a man named Steve Curington. He grew up in a Christian home, but ended up with a cocaine and alcohol addiction for almost a decade.  He nearly died after a drunken driving accident, and while in the hospital, a former Sunday School teacher visited him and strongly encouraged him to go back to church.  Curington heeded the advice, and followed his pastor's guidance for the next few years, resulting in an astonishing recovery from his addictive and destructive behaviors.
Curington began counseling other addicts using the same steps in a Bible-study format that he had used to overcome his addiction, and others began experiencing freedom over their addictions too.
By then, Curington had a successful career, but felt God wanted him to leave it and go full-time into the ministry. Curington began a small Friday night Bible study with four regular attendees with four different addictions: food, cocaine, alcohol and pornography. That was the beginning of Reformers Unanimous.
Before long, there were more than 300 people. The National Ministry of RU soon launched, and shortly after that, the International Ministry began.  Today there are more than 900 chapters throughout the nation and in 12 foreign countries. The ministry is now growing at a rate of a hundred chapters per year.
"Reformers Unanimous is a faith-based recovery program based on ten principles," McMains said. "It differs from AA in that we don't talk about the Higher Power, we talk about Jesus Christ. The AA principles are great, but ours come from the Bible because our help comes from God. We do three main things: talk, talk, talk."
McMains said that first they talk to God by sharing a need or prayer request, praying about those requests and sharing testimonies of how God is changing their lives. Secondly, they talk to each other, by breaking into small groups with a leader. Third, God talks to them through the message that McMains shares from the Bible.
"People are not going to heal unless they talk," he said. "People feel safe sharing struggles; they know that what is said there, stays there. And everyone loves cheering each other on and sharing victories. It's really for people with any issues that get in the way of a healthy life and healthy relationships."
Participants are thrilled about the program, and about their progress.
"Reformers Unanimous has given me the first opportunity ever to see others and myself, and address our sins as something that doesn't have to be a permanent part of our lives," one member said. "Through Christ, Reformers Unanimous opens the door to freedom through the truth. The RU principles cut right to the heart of the matter. There is finally a light at the end of the tunnel and it's Jesus."
RU meets Friday nights at Liberty Baptist Church, 1000 Bison Ave, Newport Beach, CA 92660   To learn more, go to http://libertybaptistchurch.org/reformers-unanimous or call 949-287-3139.
Cindy can be reached at [email protected]