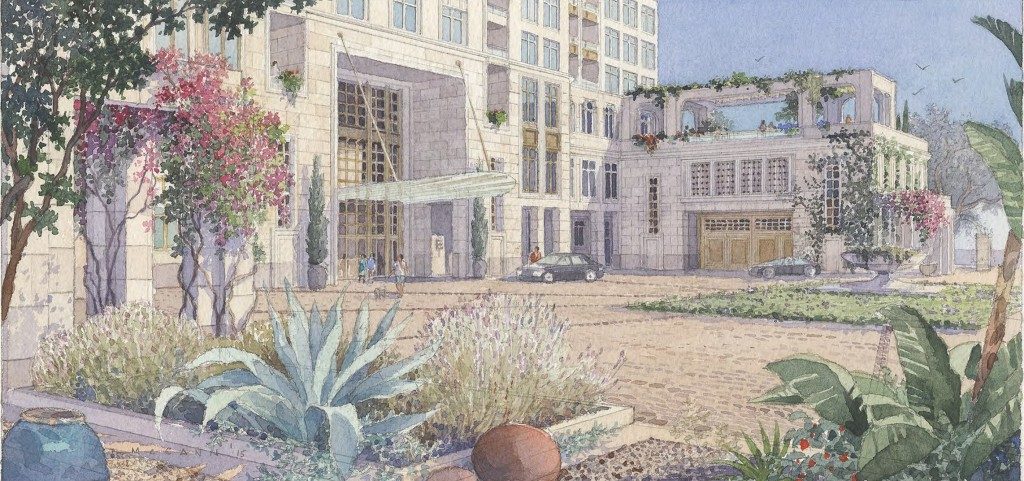 A petition that would force a citywide vote on the 25-story Museum House condominium tower is grappling with complications just a few weeks before its deadline.
Supporters of Line in the Sand PAC and Stop Polluting Our Newport decided to collect signatures for a referendum after the Newport Beach City Council voted 6-1 to approve the project on Nov. 29. Councilman Tony Petros was the only dissenter.
The petition can move forward if its supporters collect more than 5,620 signatures of registered Newport Beach voters by Dec. 29.
"I don't think I've ever been involved in something that has as much emotion in it," said Nancy Skinner, a Line in the Sand committee member.
The cost and logistics of a special election have yet to be determined, City Clerk Leilani Brown said. She added that the City Council has the ability to repeal its vote on Museum House and thereby nullify the need for an election.
While it's not collecting signatures, a mysterious nonprofit called Citizens Against High Rise Urban Towers (CAHRUT), has been paying for city-wide direct mailers and television ads aimed at drumming up opposition to Museum House.
Susan Skinner, a spokeswoman for Line in the Sand, said she has been in contact with Santa Ana Attorney Mark Rosen, the registered agent for the nonprofit.
"We don't control their messaging but we welcome that they're raising awareness about Museum House," Skinner said.
Sean Matsler, attorney for developer OCMA Urban Housing LLC, said Rosen should disclose who is donating money to launch a "very expensive smear campaign" against his client.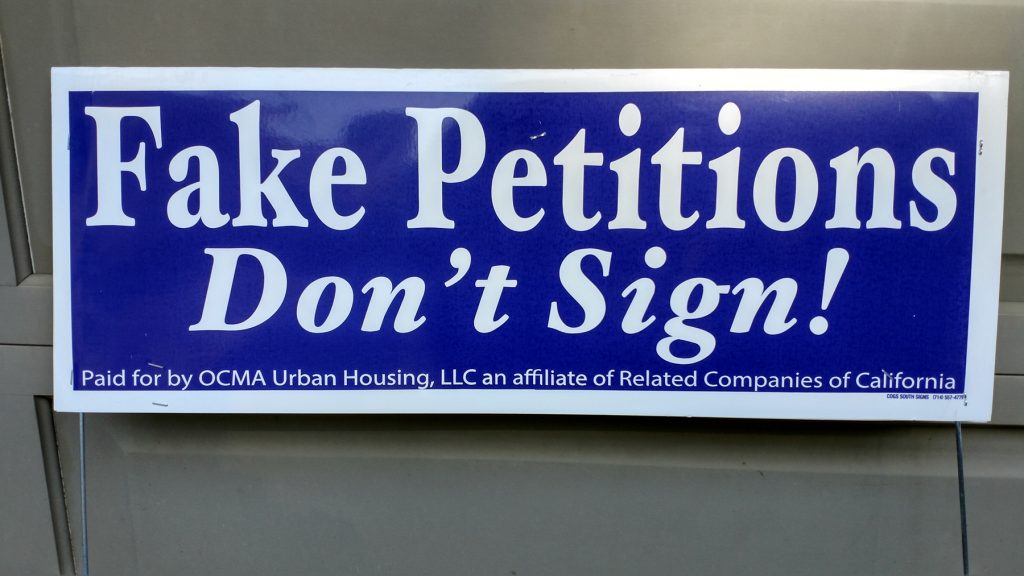 "Over the past two months, Mr. Rosen's group has spent tens of thousands of dollars in false citywide mailers and TV commercials," Matsler said. "The centerpiece of this effort was a doctored, and grossly inaccurate image of Museum House appearing approximately 103-stories tall."
On Monday, Matsler sent a cease and desist letter to Rosen, who has since replied with his own letter claiming CAHRUT has a first amendment right to produce advertising about the project.
Newport Beach resident Bob McCaffery filed a complaint in November with the Fair Political Practices Commission (FPPC) accusing CAHRUT of being a "dark money committee" that evaded disclosure filing requirements when it paid for direct mail and other forms of advertising. The FPPC responded on Nov. 30 with a letter saying it declined to open an investigation of the matter.
"The mailers discuss the potential build of the Museum House which goes before the Newport Beach City Council for approval," said Galena West, chief of the FPPC Enforcement Division. "However, the mailers do not express advocacy, nor do they unambiguously urge a particular result in an election."
OCMA Urban Housing, an affiliate of Related Companies of California, has countered the petition by paying for door hanger notices and yard signs warning voters of "fake petitions circulating in Newport Beach."
Susan Skinner urged voters to steer clear of paid signature gatherers working for an illegitimate petition. She believes this effort is an attempt by some unknown entity to confuse voters and kill Line in the Sand's petition.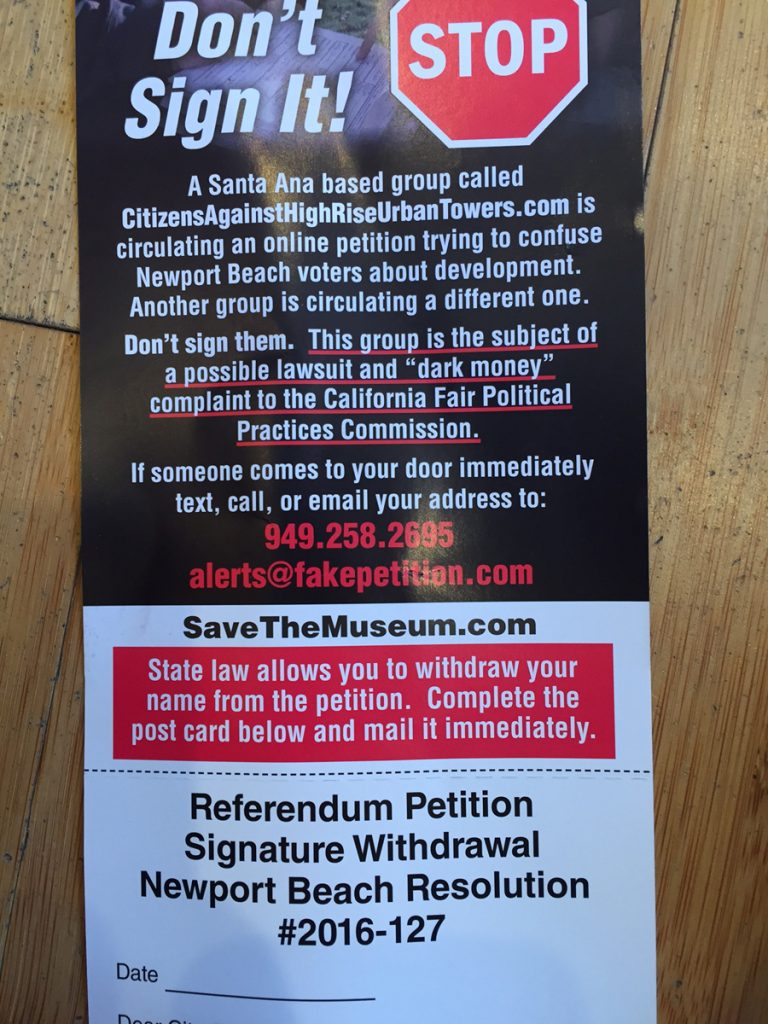 If voters have any doubt whether a signature gatherer is legitimate they are welcome to register their intent to sign at the Line in the Sand website and a volunteer will reach out to them with a convenient place to meet, Susan Skinner said.
Another hurdle for the petitioners is that they must comply with a city requirement that each petition be accompanied by about 3,800 pages of supporting documents including the project's environmental impact report. Skinner said her group has been able to condense and print these documents on 1,100 doubled-side pages. Each packet costs $100 each.
"This action explicitly shows this is not a fair playing field," she said. "All that has done is made people that much more energized to see this through."
According to the Line in the Sand website, the referendum petition is available to sign at the following locations:
• Friday: OASIS Senior Center (801 Narcissus Ave, Corona del Mar), from 9 a.m. to 3 p.m.; and Central Library Front Entrance (1000 Avocado Ave, Newport Beach), from 10 a.m. to 6 p.m.
• Saturday: CdM Farmers' Market (3201 E Coast Hwy, Corona del Mar), from 9 a.m. to 12 p.m.; Central Library Front Entrance (1000 Avocado Ave, Newport Beach), from 10:30 a.m. to– 6 p.m.; and North Bluffs Community Club House (2490 Vista del Oro, Newport Beach) from 11 a.m. to 3 p.m.
• Wednesday: 621 Bayside Drive (just south of Harbor Island Dr), from 10 a.m. to 5 p.m.
Line in the Sand recommends that voters interested in signing the petition but are unable to attend can register their intent to sign at lineinthesandpac.com.