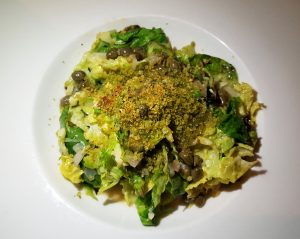 By Christopher Trela & Catherine Del Casale | NB Indy
 We're counting down the days until Christmas—and the number of days left in A Restaurant's 12 Days of Christmas lunch.
Yes, that's correct: A Restaurant is offering a special holiday lunch menu available on weekdays (except Monday) from 11:30 a.m. to 2:30 p.m. through Friday, Dec. 16.
Executive Chef Jonathan Blackford has curated a menu that combines a handful of classic A Restaurant favorites along with a few lunch-only specialties.
Some of the new menu items: braised niman meatballs with whipped ricotta and tomato/piquillo sauce,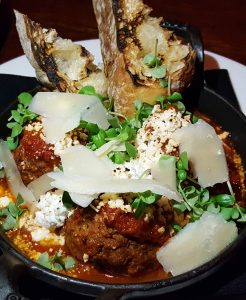 yellowfin ahi sandwich, fusilli pasta, and blackened shrimp salad.
A Restaurant's classic steaks and four sides are also available during lunch.
To start we ordered the meatballs ($12) and, being Brussels sprout fans, ordered the Brussel leaves ($12) with capers, shallots, garlic, lemon, butter and croutons.  
"This is a first for us," said Christopher as he scooped a healthy portion of the leaves onto his fork and into his mouth. "These are a nice start to the meal, light and flavorful, the lemon and garlic is a great combination. And I can see you like the meatballs—save some for me!"
"Everything about this dish was on point," said Catherine as she mopped up the sauce with the grilled sourdough bread.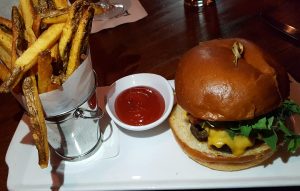 For entrees, Catherine selected the free range chicken ($26) with mole spice, mixed baby squash and potato puree.  
We've never tried the classic A burger ($20), so Christopher ordered one. It comes piled with arugula, cheese (we substituted cheddar for the blue cheese), bacon and caramelized onions, and is served with a generous portion of bistro fries.
"This is a really good burger," stated Christopher between bites. "The caramelized onions add a sweetness to the dish, and I like the brioche bun. And these are the kind of fries I like best—thick cut with the skin on."
"You know me—I normally head full speed ahead for any of the steaks on the menu here, because they're all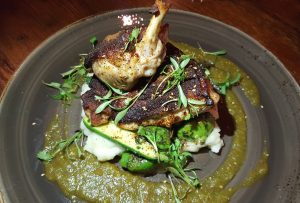 so amazing, but this time I'm taking a different path," explained Catherine. "It's lunchtime in the middle of the week, and with the holidays coming up I wanted to try something a bit on the lighter side, so I ordered the chicken—and I'm so happy I did. The chicken was juicy and flavorful with notes of Mexican spices. The squash was cooked perfectly so that it was firm and added a nice texture when eaten with the smooth pureed potatoes."
"You're right—this is excellent chicken," stated Christopher as he tried a couple of bites. "And the vegetables are perfect—not too al dente, not too soft."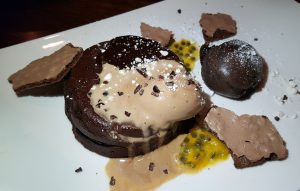 Somehow we managed to share a warm flourless chocolate cake with ice cream for dessert.
If you can't make it in for lunch, this is also a terrific time of year to come to A Restaurant for dinner—the restaurant is decorated for Christmas in a classy display of décor and lights, and carolers entertain diners Thursdays through Saturdays from 6:30 to 10 p.m.
And one last thing: the service at A is superb. The wait staff is attentive, upbeat, fun, and can help guide you through the menu (they even asked if we wanted to substitute cheddar for blue cheese on our burger without even knowing both of us hate blue cheese).
Because this is a limited time menu, contact the restaurant for reservations at (949) 650-6505 or visit arestaurantnb.com.