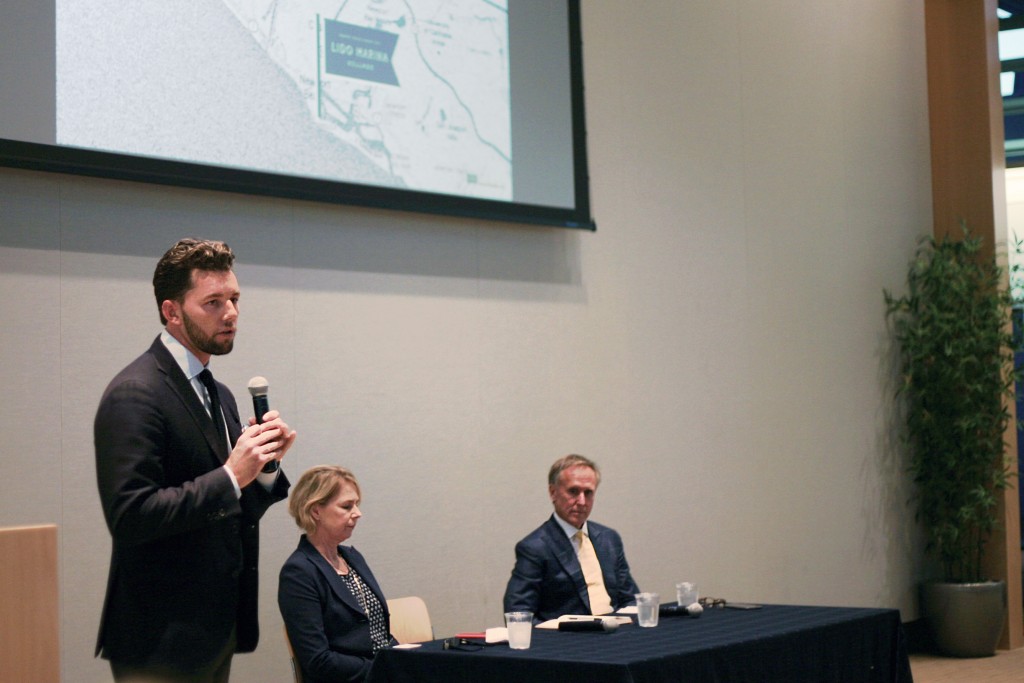 The revitalization of Lido Village is well underway, as a group of residents learned Wednesday during Speak Up Newport's monthly meeting.
Moderated by of Newport Beach Community Development Director Kim Brandt, panelists were Stenn Parton  of DJM Development speaking about Lido Marina Village and Robert Olson of R.D. Olson Development presenting an update on Lido House Hotel.
"It's the rebirth of the entrance to the peninsula," said former mayor and SUN board member Rush Hill as he introduced the speakers.
Parton spoke about the history of Newport Beach and Lido Village, the process, timeline, and tenants.
Lido Marina Village is a unique property, he said. It's a combination of the marina, waterfront space, retail opportunities, and history. It's about 120,000-square-feet of ground floor retail, restaurant, second floor offices, and 47 boat slips.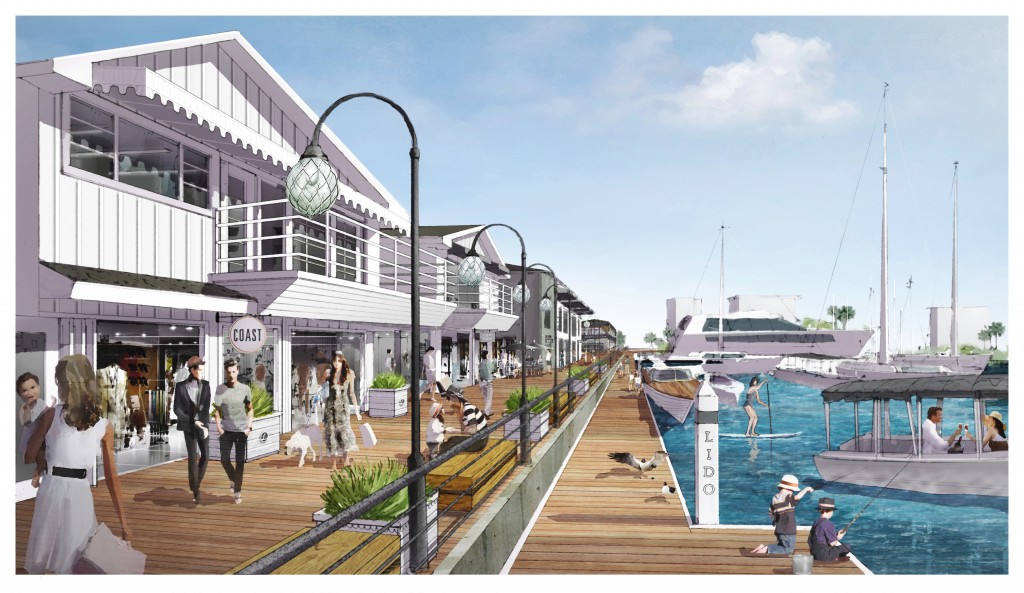 They hope to have created a unique project that will help return the village to the jewel it once was, he said.
"It was once the crown jewel of Newport Beach," Parton said. "We felt responsible for restoring it (properly)."
Parton admitted that it has taken a little longer than some people excepted and it has been challenging. But, a smooth sea never made for a skilled sailor, he quoted.
"We appreciate the people of Newport Beach and their patience while working with us," he noted. "We hope the community will be proud."
They have worked to keep the history of the area in mind, he said. It didn't need to be changed, it needed to be restored, Parton said.
"To move forward, you have to start by looking back," Parton said. "We started looking at this deep history that Newport Beach has."
Some of the tenants (some already open, others slated to open soon) will include Nobu, Zinque, Lido Village Books, Jenni Kayne, Steven Alan, Clare V, Alchemy Works, Faherty, TReSs Apothecary & Salon, Curl Fitness, Juice Served Here, Charlie and Me, and more.
For the Lido House Hotel, Olson revealed the hotel's logo, a simple and small lighthouse shape above the hotel name, and focused his discussion on the design and style of the boutique hotel. He spoke about the Newport nautical theme, architecture, and hotel features.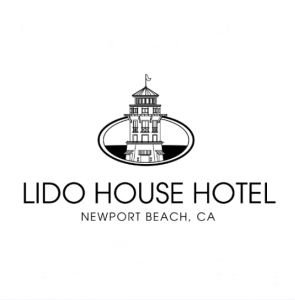 "The idea is when you stay here at Lido House, you feel like you're staying in someone's home in Newport Beach," Olson sad.
The brand promise is to deliver a beach house soiree atmosphere: Elegant, but still a relaxed Newport Beach feel, Olson explained.
They hope to start demolishing the old building in early April and open by Summer 2017, Olson said.
"We're going to tear down (the old) city hall soon," Olson said.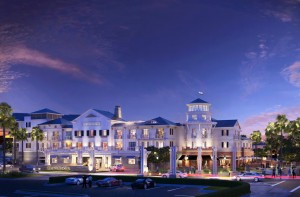 That is an aggressive timeline, he admitted, but it would be ideal so they could have a strong start before the winter season.
Brandt added some information about two projects from the Dart Development Company, the Lido Villas and the Newport Bay Marina.
The Lido Villas residential community will be 23 town homes on 1.2 acres in the village, Brandt explained. The building permit valuation is at $16 million, she added. They hope the project will start in spring.
The marina mixed-use project will include 27 luxury condos, a marina, and 36,00-square-feet of commercial retail use, valued at $25 million.
For more information, visit djmcapital.com/in-development/lido-marina-village, lidohousehotel.com, speakupnewport.com and newportbeachca.gov.